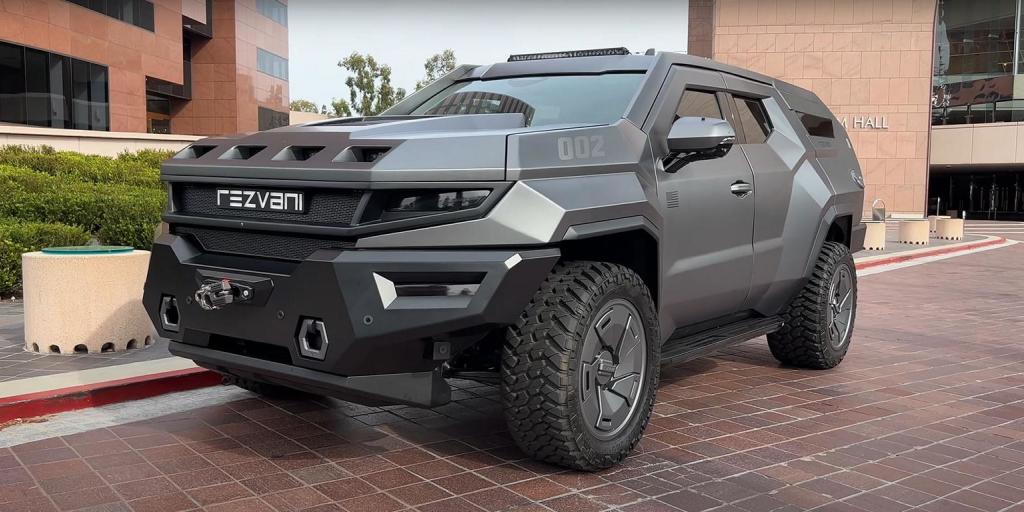 California-based Rezvani Motors has been making headlines for years with its aggressive SUV designs, but its 2023 Vengeance SUV has the internet abuzz after videos of it in California have gone viral. It's billed as the world's toughest three-row SUV, and you can get it with an available bulletproof Military Package with over 20 security features such as electrified door handles, strobe lights, blinding lights, a smoke screen feature, pepper spray dispenser, and more.
The 2023 Rezvani Vengeance is Rezvani's third SUV. It's based on a Cadillac Escalade and comes with a 6.2-liter V8 engine that can be upgraded to a 3.0-liter turbodiesel, or buyers can opt for a supercharged V8 with either 590 horsepower or a whopping 810-hp!
The Rezvani Vengeance starts from $285,000 but if you want all the ridiculous military-grade security features, then you'll end up paying a lot more.
Learn more about the 2023 Rezvani Vengeance SUV and why one social media influencer's video of it has people talking, by reading the rest of this article!
Standard features for the $285K base Rezvani Vengeance model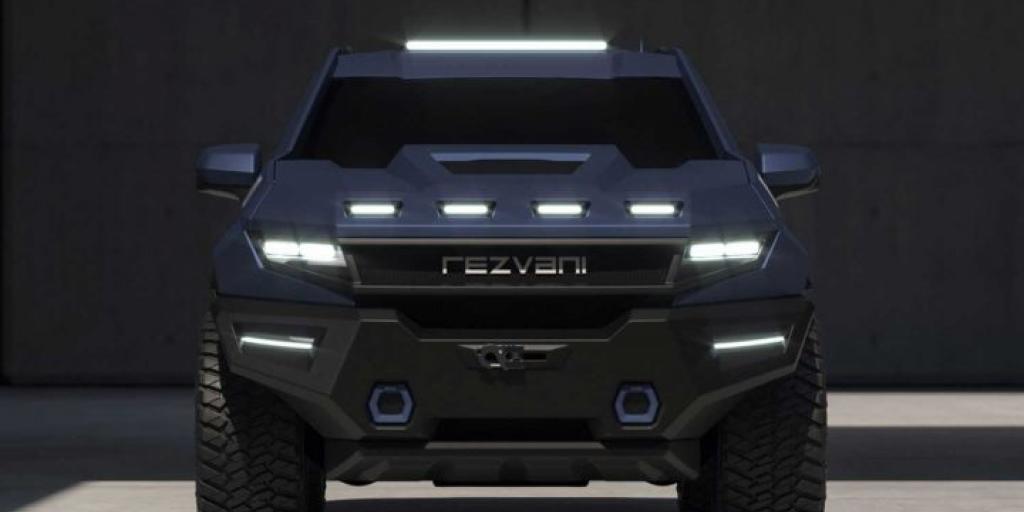 Before we talk more about the bulletproof Military Package you can opt for and all of the wild defense mechanisms it comes with for the three-row SUV, let's first go over the features you get as standard when shelling out $285,000 for this vehicle.
The exterior is menacing looking and is said to not only be inspired by the military, but also by the vehicles you see in video games. It comes in a Stealth Gray Satin color. There are massive 35" tires and 22" wheels. Inside, you'll find a more luxurious looking interior compared to the toughness of the exterior. There's room for either seven or eight passengers inside this three-row SUV. You get heated and ventilated leather seats, a heated steering wheel, a large curved OLED digital dashboard display, wireless smartphone connectivity and device charging, a heads up display, rearview camera mirror, and more. You also have a standard panoramic sunroof to help your menacing SUV feel more light and airy on the inside. And there's an AKG Studio Sound 19-speaker audio system, as well as two USB A and five USB C ports.
As for safety features, there's the convenient Super Cruise hands-free driving system which you'll also find available on the Escalade, automatic emergency braking, forward collision alert with active braking, a 360-degree camera system, navigation system with augmented-reality capability, and more.
The base Rezvani Vengeance comes with a 6.2L V8 gasoline engine that makes 420-hp and is paired with a 10-speed automatic transmission. There's optional four-wheel drive, an independent rear suspension, magnetic ride control, and trailering package.
Available engines for the Rezvani Vengeance
For $3,500 more, you can opt for the 3.0-liter turbodiesel. A 590-hp supercharged 6.2-liter V8 is available next for $55,000. And then there's a highly impressive 810-hp version of the supercharged 6.2L V8. It makes 770 pound-feet of torque! That option would add $125,000 to the price of your Rezvani Vengeance! More add-ons for your extra tough Rezvani Vengeance SUV include performance brakes for $6,500 and a sport exhaust system for $4,500.
What's included in the $125K Military Package for the Vengeance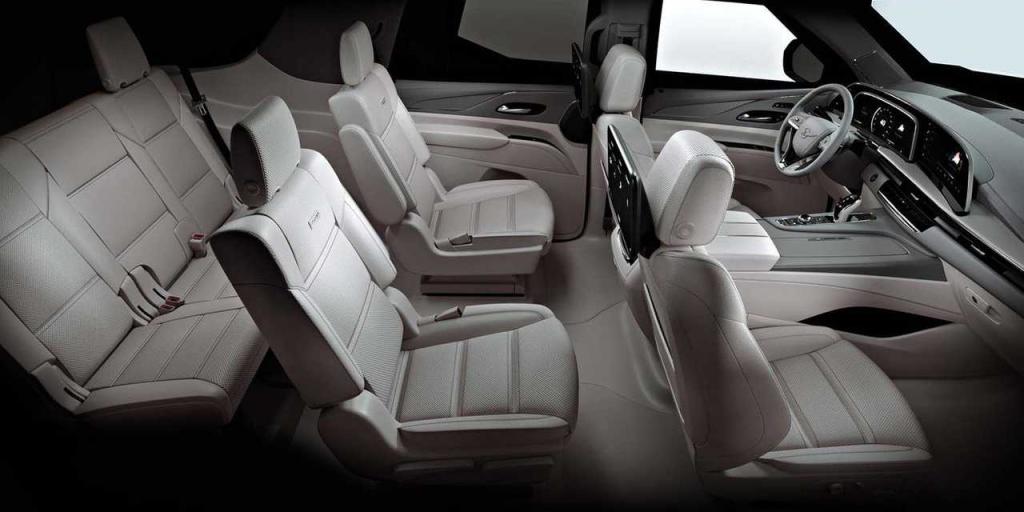 The military package gets you these features: bullet proof glass and body armor, underside explosive protection, smoke screen, military runflat tires, thermal night vision system, reinforced suspension, electromagnetic pulse protection, steel ram bumper, optional explosive device detection, continuous video recording, electrified door handles, siren and horn options, strobe lights, blinding lights, intercom system, magnetic dead bolts, pepper spray dispenser, seven bullet proof vests, seven bullet proof helmets, gas masks, first aid kit, and hypothermia kit.
You might be wondering, what even are some of those features? The blinding lights are highly powerful front and rear blinding lights that turn night into day and serve to blind trackers at night. Another way to lose "trackers" is by the smoke screen feature. With just the push of a button, dense smoke is released.
Influencer's video of the 2023 Rezvani Vengeance SUV has people talking
Rezvani's vehicles seem to always generate buzz online, but a recent video of the Vengeance has people talking in particular. It was posted by an influencer on TikTok by the name of @mobile_mama, who targets moms specifically with her auto-related content. Her video about the Vengeance SUV had racked up over 7 million views as of late January, and it's because the internet has pointed out how absolutely ludicrous and unpractical it would be for a mom or any parent to actually own of these vehicles! One Twitter user even joked that buying the Rezvani Vengeance SUV as a parent would be like paying hundreds of thousands of dollars only to possibly electrocute or pepper spray your child on accident after misfiring the unlock button at school pickup. We certainly hope it wouldn't be that easy to make such a grave mistake, but the internet has a point here! Social media users truly had a field day with the influencer billing the Vengeance as a "mama-mobile," as she even showed users how you could fit a stroller in the back and car seats inside.
Have the cash needed for a Rezvani Vengeance SUV?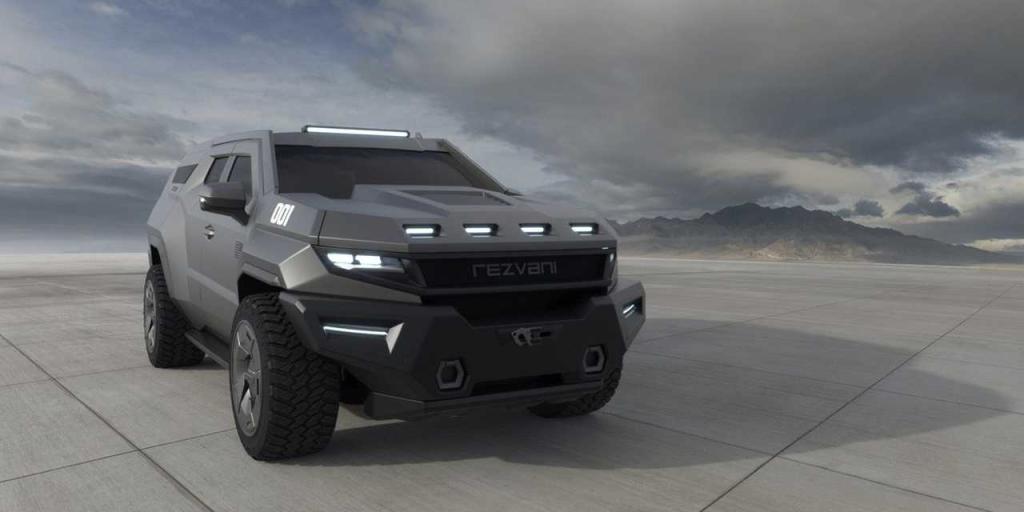 If you have all the cash that's needed to buy a Vengeance SUV and you have the burning desire to put one in your driveway, you can reserve one now for $1,500. Again, it starts at $285,000, but it can easily cost a lot more.
The Rezvani Vengeance takes drivers from the imaginary joystick to their driveway, and that just may be something people are willing to pay an arm and a leg for.
"The goal was to put a science fiction video game concept car in people's driveways," says Rezvani CEO Ferris Rezvani.
So what do you all think of the hardy Rezvani Vengeance? Is it the vehicle of your dreams? Let us know what you think and thanks for reading!
Useful SUV Links
---
Recommended SUV News & Reviews