China's state-owned Guangzhou Automobile Group, also known as GAC MOTOR, made its third appearance at the North American International Auto Show in Detroit where it unveiled two SUVs, its GS7 and electric GE3, as well as a plug-in hybrid crossover concept called the EnSpirit. It also had its luxury GA8 sedan on display. GAC executives told reporters at the annual auto show that they hope to enter the U.S. market no later than 2019. They said they plan to introduce a five-passenger SUV for about the price of a compact car. Phys.org reports that, through an interpreter, GAC Director and General Manager Yu Jun said the company is already working on setting up a dealer network, building a U.S. research center this year and complying with stricter U.S. safety regulations. While GAC certainly has a number of obstacles to hurdle before making its U.S. entry, it's important to note that it claims to be China's fastest growing auto brand and therefore has plenty of momentum behind it. It also says the fact that it was the first ever Chinese brand to present on the main exhibition hall of the auto show in Detroit sets it apart and proves it has the stuff to enter the U.S. market.
GS7 SUV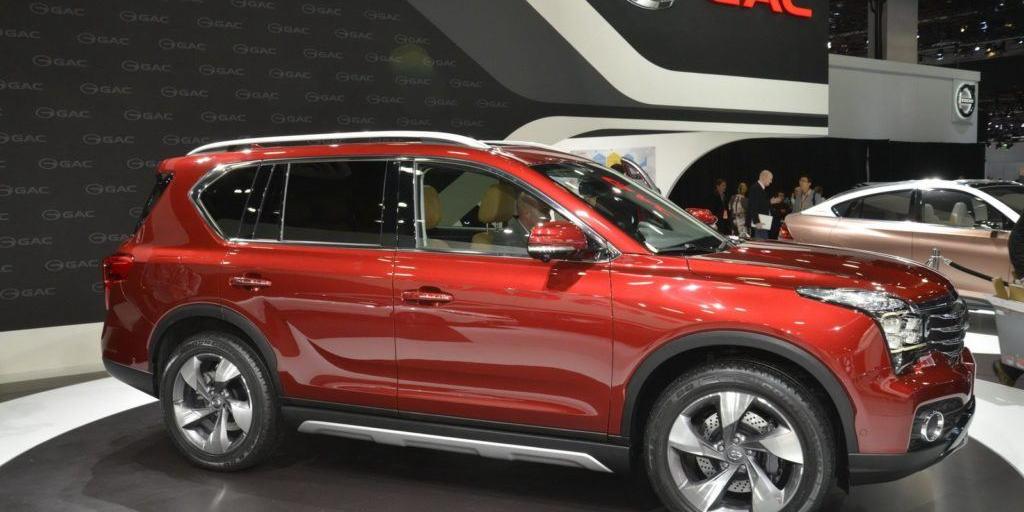 The GS7 is a five-passenger SUV that GAC says fully reflects the company's confidence in its product design and manufacturing capability. It's the one that will most likely hit our shores first. The vehicle is a bit boxy looking and features GAC's "Flying Dynamic 2.0" grille in the front. The company says the design fits aesthetic trends of young consumers. "The high-spirited upwards lines draw the vehicle outline, and chrome plate trimming strips decorate the strong and solid D pillar, integrating the young and stylish sense of sport and the natural strength of SUV," writes the company in its translated press release. The GS7 has a wheelbase of around 107 inches and an overall length of about 186 inches. GAC says that translates to a roomy interior. When it comes to stowing luggage, there's about 29 cubic feet of trunk capacity and hidden storage space. As for the GS7's interior, GAC's press release claims its hale and hearty styling impressed Americans and the global media at the auto show in Detroit. GAC says the SUV features cutting-edge technology including a 10-inch screen, a wireless charging module for occupants' phones and smart key system.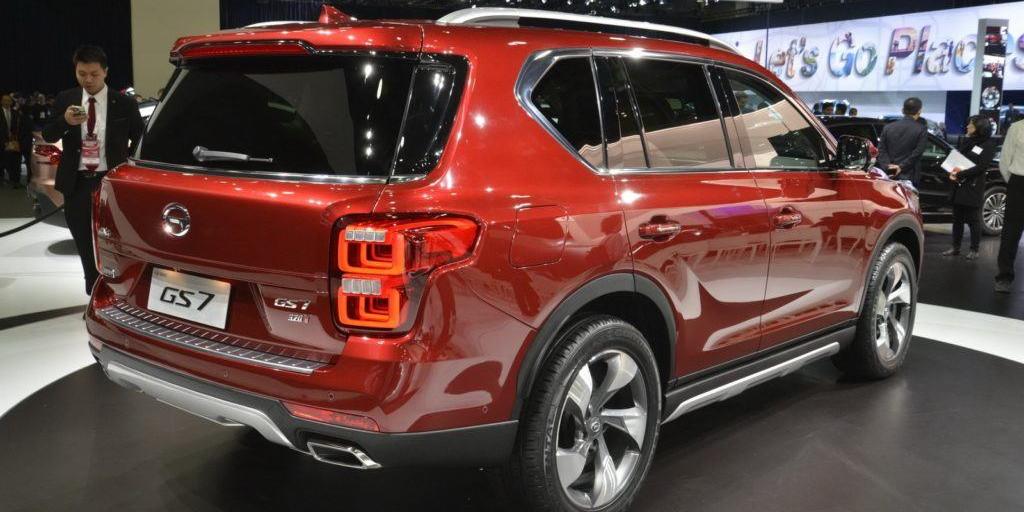 "Moreover, GS7 also carries In-Joy intelligent interaction system which is independently developed by GAC MOTOR, and full of human centered design with science and technology feeling to offering pleasant travel experiences," writes the company in its translated press release. The interior also features multi-way adjustable leather seats and a panoramic sunroof. When it comes to performance, the GS7 uses a turbocharged 2.0-liter four-cylinder engine. It offers 198 horsepower and 236 lb.-ft. of torque. It's paired with a six-speed automatic transmission. "With sporty and hale styling, 320T engine with strong power output, terrain response 4-WD system with extremely strong throughput capacity, and wide-angled safe configuration, GS7 gets back to the natural sense of power and driving, providing drivers with the experience of charms of SUV power and motion in a comfortable way," writes the company in its translated press release. The vehicle is expected to go on sale in the U.S. in either 2018 or 2019.
GE3 SUV & EnSpirit Concept
The GE3 SUV was also unveiled at the auto show and is the first electric vehicle developed on GAC's new energy platform. It goes on sale in China in June. The vehicle's electric motor is said to offer 161 hp and 214 lb-ft. of torque. It's reportedly powered by a 47-kWh lithium-ion battery pack that provides a range of about 192 miles. The company claims it can achieve a charge of 80 percent in less than 30 minutes using a fast-charging system. As for GAC's EnSpirit concept, it previews a future sporty electric SUV-coupe. The company calls it an innovative achievement. "It perfectly integrates the features of coupe, SUV and open car, meeting modern consumers' demands for diversity, which will be embodied on subsequent GAC models to be massively produced," writes the company. The company says the plug-in hybrid is based around a 1.5-liter four-cylinder engine. There's no word yet on its output. It boasts a unique exterior color and on the inside, there's one feature we just can't fail to point out. It comes with a real Bonzai tree in its rear center console. But that feature is still not as wild the one included in the WitStar concept vehicle that GAC unveiled at the 2015 auto show in Detroit. That concept had a fish tank in it. While the tree, like the fish tank, is a great conversation starter we doubt it will ever make its way to a production vehicle.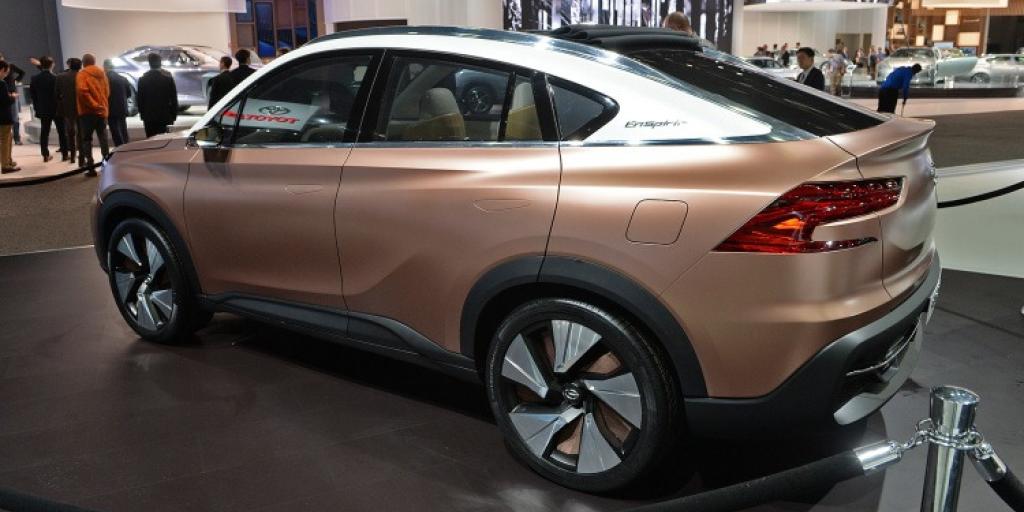 Our Take
General Motors and Volvo are already selling their Chinese-made vehicles here so it's not that difficult to imagine a Chinese automaker doing the same. Of course, any product made in China runs the risk of being perceived by American consumers as low quality. The GS7 is also not terribly attractive, so there's that battle. However if it's priced as competitively as GAC executives suggest it will be, we could see Americans being attracted to it. Of course there are also plenty of hurdles, including U.S. standards, which GAC will need to overcome before its vehicles make their way here. However, the company seems committed and is also riding on the momentum it has seen in China. It says it has achieved an average compound annual growth rate of more than 80 percent for six consecutive years. It sold 370,000 vehicles in 2016, a 97 percent year-to-year increase, making it the fastest growing auto brand in China. While the company said at its press conference in Detroit that it plans to enter the North American market by 2018, executives admitted to reporters that 2019 was a more realistic target. And while the company had both its GS7 and GE3 SUVs on display at the annual auto show, many believe the GS7 will be the first, if any of GAC's vehicles, to make a U.S. entry.
Useful SUV Links
---
Recommended SUV News & Reviews