There are a number of estimates being tossed around as to just how many vehicles were damaged by both Hurricane Harvey and Hurricane Irma. Some experts are estimating up to a million vehicles may have been damaged by the hurricane force winds and flooding in Texas alone. It has created a nightmare for countless vehicle owners in both Texas and Florida who are now navigating the insurance claim process. What's possibly most frightening, however, is that according to Carfax, many of those vehicles will likely return to the road. Carfax says typically, about half of the vehicles damaged by floods make their way back into the market. That means hundreds of thousands of Americans are at risk of buying vehicles that aren't any good.
"They're getting duped out of thousands of dollars with a vehicle that's literally rotting from the inside out," Carfax spokesman Christoper Basso told USA Today.
Carfax research shows there are already more than 325,000 flooded cars on the roads nationwide from previous storms. That research even lists the top 10 cities with the most flooded cars. Ironically, Houston tops out the list with more than 25,000 flooded vehicles on the roads today. What's frightening is that number is expected to rise significantly in the near future.
How it's possible: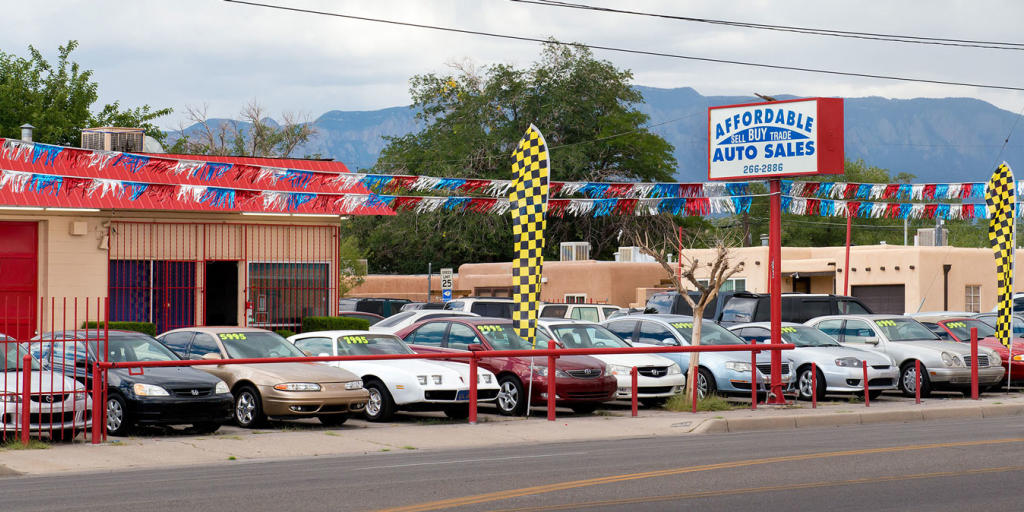 You might be wondering how it's even possible that a vehicle damaged by hurricane floodwaters could end up back on the market. The sad reality is that it happens often. After an insurance company declares a vehicle a total loss from flood damage, it should be sent to the junkyard. But often times, experts say it doesn't end up there. Instead, many of the vehicles wind up in used car lots or for sale on the internet.
"Vehicles that have suffered water damage could hit local markets soon, and the problems aren't always immediate or easy to spot, especially after a thorough cleaning and some new carpeting and floor mats," said Jim Temmer, President and CEO of the Better Business Bureau Serving Wisconsin in a press release.
It often happens because the flood-damaged vehicle doesn't wind up getting the new title it's supposed to. In some states, it ends up being plainly marked with the word "salvage" or "flood." However in other states, it can appear on the title as a coded letter or number. That can make things confusing. That's why Consumer Reports urges buyers to thoroughly examine the vehicle's title before purchasing and be wary of buying any vehicle with a "lost" title.
Problems with the vehicles: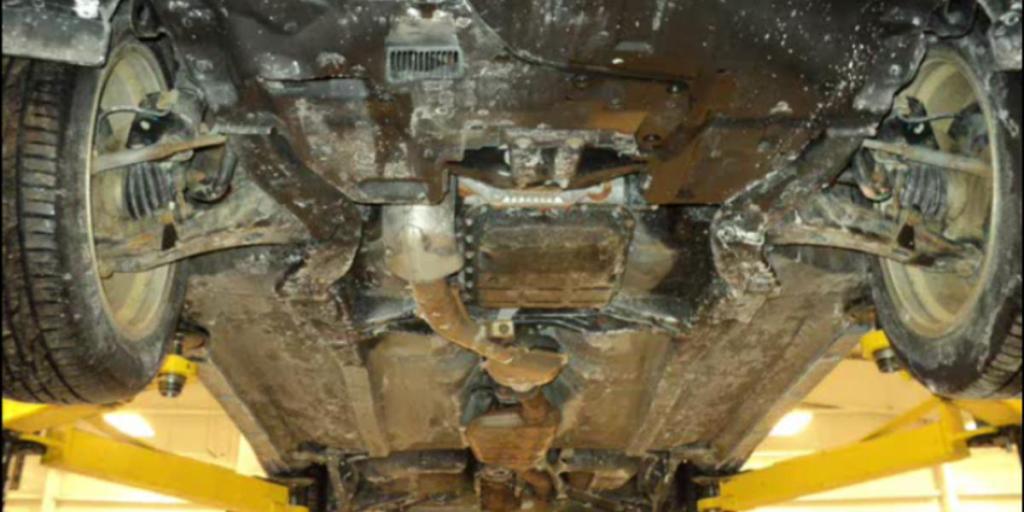 You want to avoid buying a vehicle that has been damaged by flood waters because it will likely cause you a slew of issues.
"Cars exposed to flood waters can have hidden problems including mold and mildew, computer malfunctions, rusty wiring, and safety items such as airbags that don't inflate," said Temmer.
"It's like putting a computer into a bathtub," Basso told ABC News. "It's really impossible to tell when it's going to break those systems down, but sooner or later the mechanical, the electrical, and the safety systems could be compromised which puts you and your family in danger."
How to spot a flooded vehicle: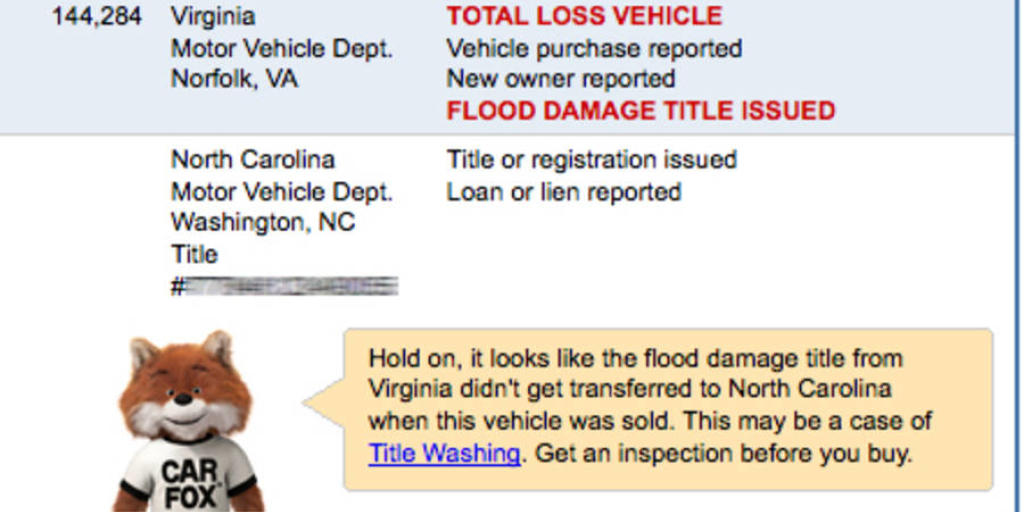 So how is it possible to spot a vehicle damaged by flood waters to protect yourself? There are a number of things you can do. Here is the National Automobile Dealers Association's list of tips:
Check a vehicle's title history using the National Insurance Crime Bureau's VinCheck, the National Motor Vehicle Title Information System or a commercially available vehicle history report service, such as Experian or Carfax, etc. Reports may state whether a vehicle has been flood damaged.
Examine the interior and the engine compartment for evidence of water and grit from suspected submersion.
Check for recently shampooed carpeting.
Look under the carpeting for water residue or stain marks from evaporated water not related to air-conditioning pan leaks.
Inspect for interior rust and under the carpeting, and inspect upholstery and door panels for evidence of fading.
Check under the dash for dried mud and residue, and note any mold or a musty odor in the upholstery, carpet or trunk.
Check for rust on screws in the console and in other areas water would normally not reach unless the vehicle was submerged.
Look for mud or grit in alternator crevices, behind wiring harnesses and around the small recesses of starter motors, power steering pumps and relays.
Inspect electrical wiring for rusted components, water residue or suspicious corrosion.
Inspect other components for rust or flaking metal not normally found in late model vehicles.
Other tips:
Another solid tip is to check out the vehicle's lights. Headlights and tailights can be expensive to replace so sometimes people avoid doing so. If they chose not to, you might still be able to see a visible water line on the lens or reflector. You might also want to check to see if the rubber drain plugs under the vehicle and on the bottom of doors look like they might have been removed. They could have been removed to drain the water out. Finally another solid tip is to take any vehicle you fear could be damaged for a test drive. While you're out and about, stop by a trusted mechanic. They can often spot water damage in minutes. It may cost you a small fee to have them check, but that cost is worth it in the long run when considering the fact that you could wind up purchasing a vehicle that will need to be completely tossed as soon as hidden problems start to creep up.
More things to consider:
Something else to consider is that if you live in Florida or Texas and have a vehicle that you want to sell but that wasn't damaged by flood waters or hurricane force winds, you might find some difficulty in selling it. Because so many people are concerned about purchasing a damaged vehicle, there are things you can do to prove it's in good condition. It might make sense to have a mechanic inspect your vehicle before you put it up for sale. That way, you can show potential buyers it is healthy.
Useful SUV Links
---
Recommended SUV News & Reviews