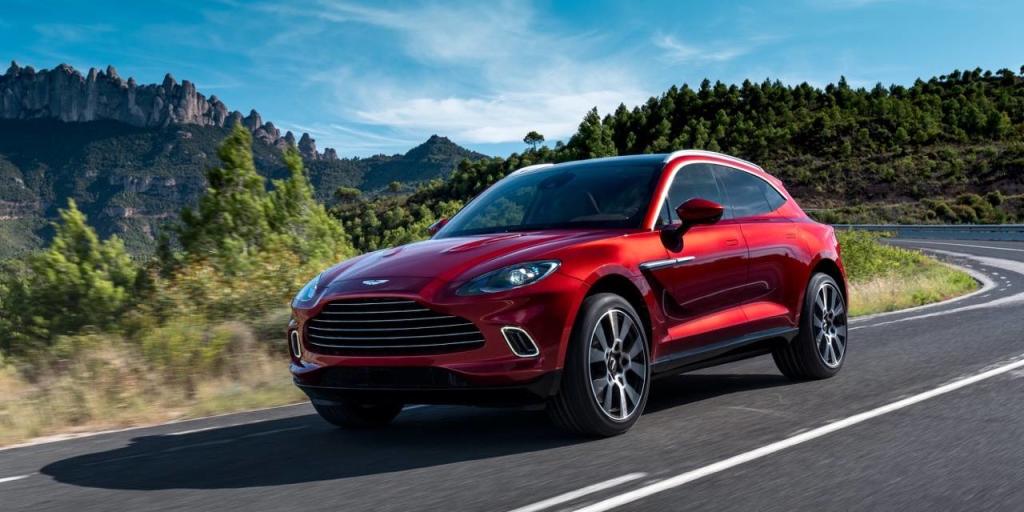 Luxury automakers continue to embrace SUVs and that now includes Aston Martin!
The new Aston Martin DBX is the first SUV for the 106-year-old British marque. It has a starting price just shy of $193,000 (including the final destination charge), making it an extremely premium SUV option.
Main things to know about the new Aston Martin DBX SUV: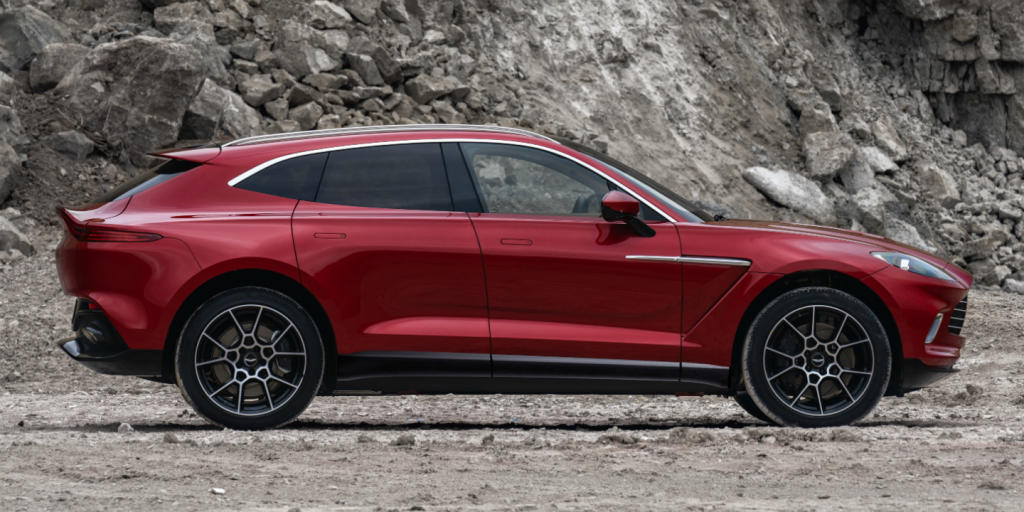 - It's powered by a 4.0-liter twin-turbo V8 engine, sourced from Mercedes-AMG. The engine produces 542 horsepower and 516 lb-ft. of torque.
- The engine helps the DBX sprint from 0 to 60 mph in just 4.3 seconds! It can also reach a top speed of 181 mph.
The DBX is built on brand-new architecture.

You can accessorize your already expensive DBX in a number of impressive ways, like by opting for a pet package with a portable dog washer.
"I can't emphasize enough how incredibly exciting and significant DBX is for Aston Martin," said Aston Martin Lagonda President and CEO Andy Palmer. "Through its development alone, this beautiful SUV has already taken the company into new territories and in inspiring directions."
Why the all-new DBX is so important to Aston Martin
The new DBX is incredibly important to Aston Mastin as the SUV is intended to expand the sales reach of the brand worldwide. The hope is to specifically attract more female customers with the new SUV. The luxury marque worked with their "Female Advisory Board" to gather input throughout the design process. Decisions about small touches throughout the vehicle were also carefully guided by the input of private focus groups and dealership feedback.
Continue reading below for more information on the all-new DBX!
Exterior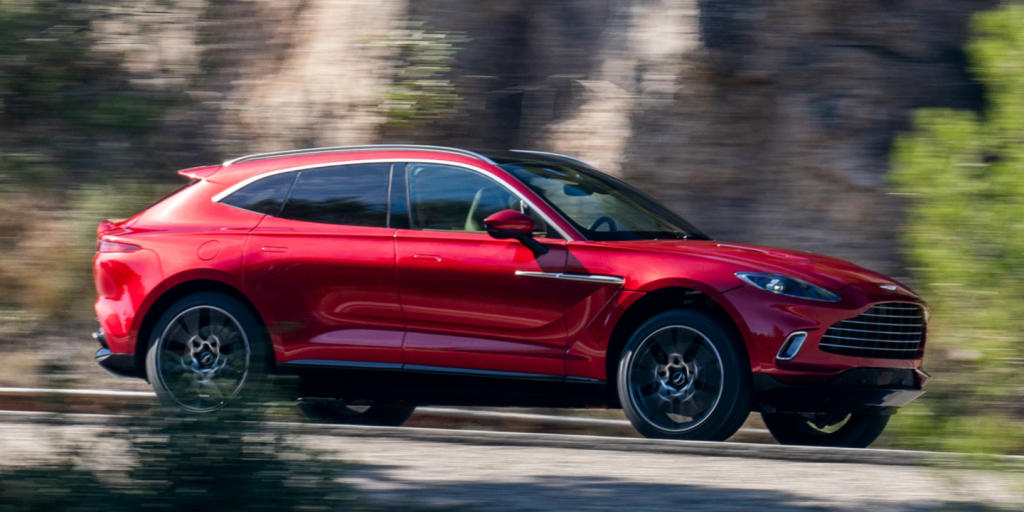 Built on brand-new architecture, the DBX is designed to carry occupants in true Aston Martin style!
"From the signature 'DB' grille at the front, through the sculptured sides and design feature line, to the tailgate with a flip that draws inspiration from Vantage, this is an Aston Martin from first glance to detailed inspection," wrote Aston Martin in a press release.
Aerodynamics were also said to be an important consideration with the design process.
The first 500 owners of the landmark model will benefit from an exclusive '1913 Package.' It will be fitted with a unique fender badge, sill plaques, and an inspection plaque detailing its limited build-run!
Other highlights of the DBX's exterior include 22-inch wheels, frameless doors with flush glazing and hidden seals, satin chrome trim, and a stunning panoramic glass sunroof.
Interior / Technology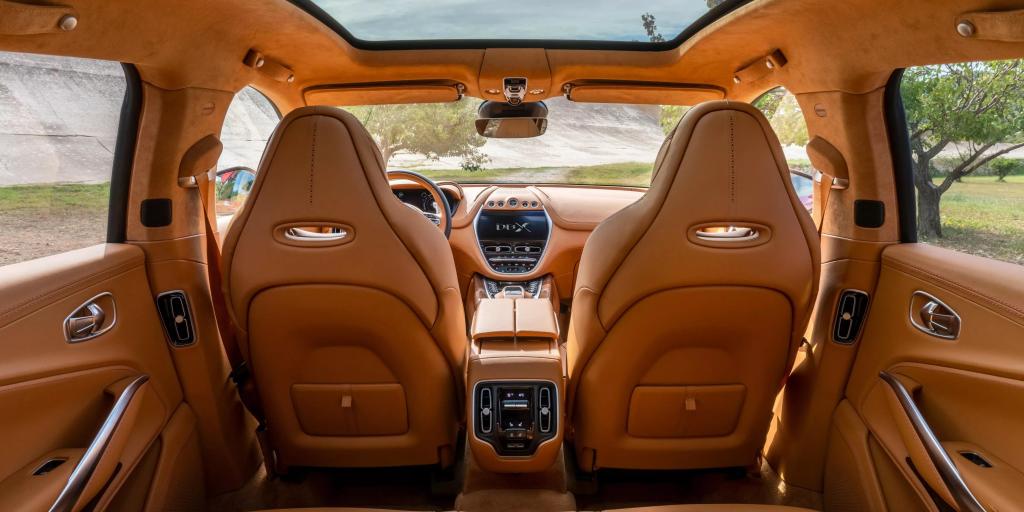 Inside, the DBX just exudes luxury! You can tell this is an expensive SUV right off the bat!
What's nice is the luxuriously handcrafted interior has been designed to provide equal space and comfort whether you're sitting in the front or the back of the SUV. There's a solid amount of headroom and legroom in both zones. The full-length glass panoramic roof and frameless door glass also help contribute to a beautifully light and spacious cabin environment!
The DBX's seats are trimmed in stunning full grain leather sourced from Bridge of Weir. There's also sports car seat packaging in the front that not only provides great support to the driver, but also provides knee and footwell clearance for those sitting behind. A contemporary range of exquisite wood, composite, and metal veneers, meanwhile, help ensure the cabin can be tailored to any taste.
Another design highlight is the elegantly crafted bridged center console that allows for flexible storage below and also serves as a beautiful centerpiece for the vehicle.
There's plenty of technology to go along with the DBX! There's a 10.25" TFT screen elegantly flush in the center of the dash and another 12.3" display for driver information. Apple CarPlay comes standard, as does an ambient lighting system that offers 64 different colors in two zones, and a 360-degree camera system.
Performance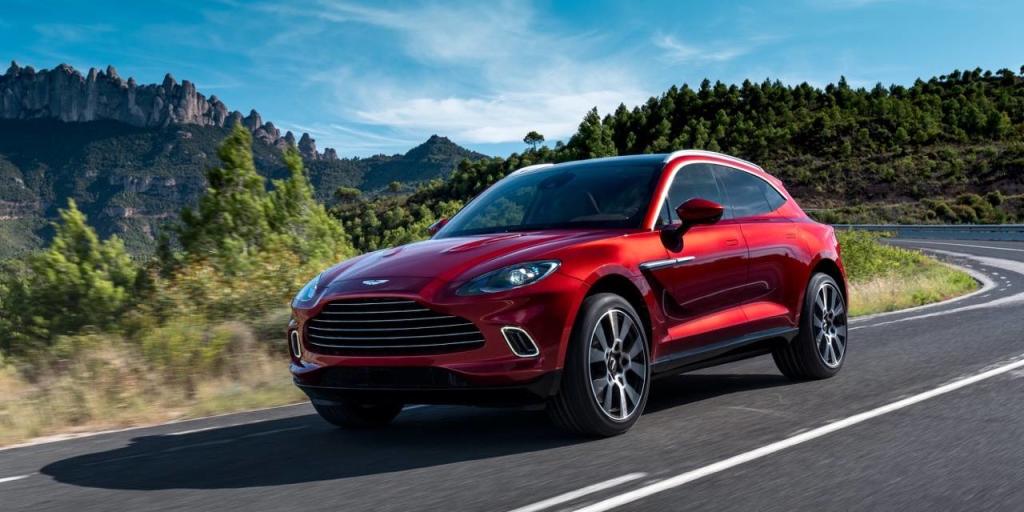 The Aston Martin DBX's engine is the same AMG-sourced one you'll find in the DB11 and Vantage. It's a 4.0-liter twin-turbo V8 that produces 542 horsepower and 516 lb.-ft. It can reach a top speed of 181 mph and sprints from 0 to 60 mph in 4.3 seconds. The engine is paired to a nine-speed automatic transmission and comes with all-wheel drive.
"With its all-wheel drive system, DBX is a car that will allow the company to increase its presence in markets where perhaps the weather or terrain is less than conducive to rear-wheel drive sports cars," writes Aston Martin on its website.
The DBX features an adaptive triple volume air suspension with a 48-volt electric anti-roll control system and electronic adaptive dampers to provide the new SUV with a "huge breadth of ability." It has the capacity to raise the ride height by 1.77 inches or lower it by 1.97 inches, giving the driver added confidence to tackle a wide variety of terrain.
Accessories
While the new Aston Martin DBX has a starting price just shy of $193,000 (with the destination charge included), that price can easily go up with customizations and special packages.
For example, you could opt for the pet package! It includes a portable washer to help clean up your furry friend after a hike or trip to the beach. Alternatively, there's a Snow package. It includes boot warmers to help make a ski trip that much more enjoyable!
Our Take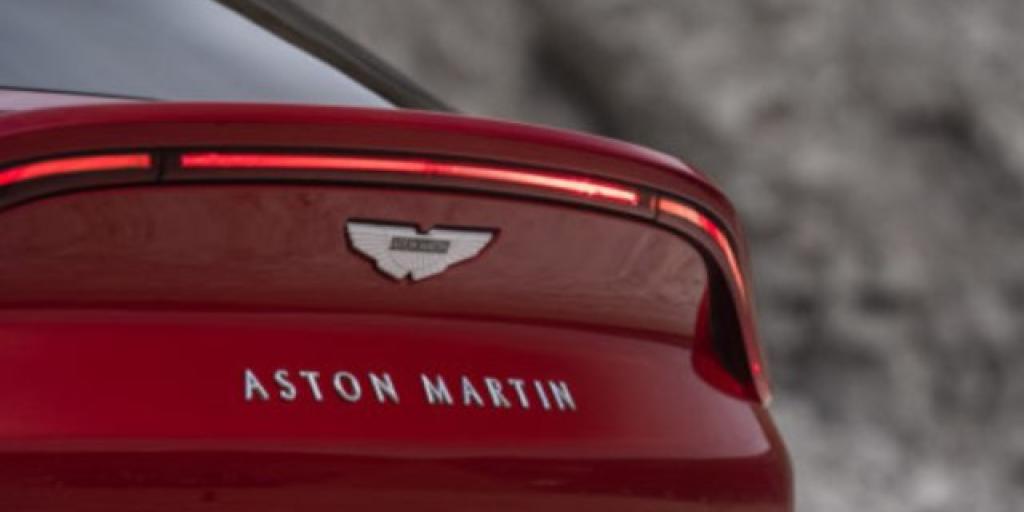 We're certainly impressed by Aston Martin's new SUV, which the luxury British marque is evidently quite proud of.
"To have produced such a beautiful, hand built, yet technologically advanced car is a proud moment for Aston Martin," said Palmer.
While the DBX is no doubt a stunning vehicle, it remains to be seen how well it will perform! It is up against some stiff competition, including the Lamborghini Urus, Bentley Bentayga, and the Rolls-Royce Cullinan. Aston Martin is specifically hoping to win big with female consumers, just as Lamborghini has done with its Urus.
The Aston Martin DBX is on sale now, with first deliveries scheduled to begin in the second quarter of 2020. The vehicle is being built in Britain at Aston Martin's St Athan, Wales manufacturing facility.
Useful SUV Links
---
Recommended SUV News & Reviews