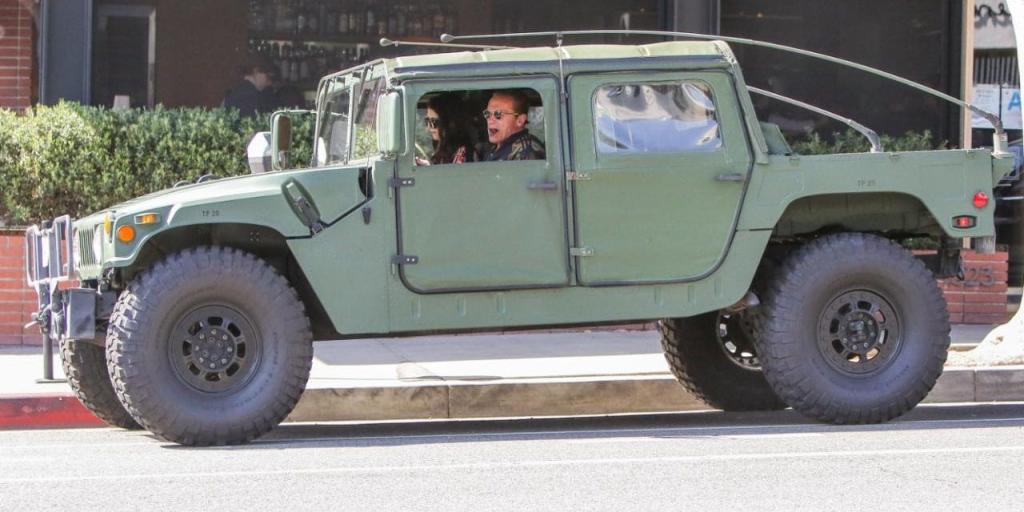 We all know Arnold Schwarzenegger loves his SUVs and trucks! Some argue the actor is a large part of the reason why the SUV segment has become so popular. He's a huge fan of anything that's big and mean looking and that fits his Terminator persona. He also has a love for military style vehicles and those that resemble a tank. In fact, Schwarzenegger once used a tank to help raise money for charity by raffling off the chance to hang out with him for a day and crush things with that vehicle. Because who wouldn't want to do that, right?
Schwarzenegger is a Fan of Electric SUVs
While Arnold Schwarzenegger is part of the reason why the gas-guzzling Hummer ever made its way to consumers, he started to focus more on clean energy later on in life. While serving as governor of California, for example, he spent a lot of time promoting clean vehicles. That became a big part of his political identity. You might remember he converted his H1 Hummer so that it could run on vegetable oil.
And just last year, he helped unveil a custom electric Mercedes-Benz G-Class in Austria. Kreisel Electric executed the impressive Mercedes-Benz G350d EV conversion. By replacing the diesel powertrain of the G-Class with an electric one, drivers in this conversion could go up to 186 miles on a single charge. Talk about impressive!
"This amazing off-road vehicle as a clean and fast electric car? A dream has become real!" said Schwarzenegger at the time.
Schwarzenegger's Mercedes-Benz Unimog: Extreme Off-Road Utility
But, while Schwarzenegger may ideally want all of his vehicles to be electric, he's still been known to drive around in some that are simply too massive and mean for that!
Take the Mercedes-Benz Unimog! He was spotted many times driving that behemoth around California before he decided to sell it. The Unimog has serious off-road capability. They have a very high ground clearance and flexible frame that is essentially a part of the suspension. That means the trucks can't carry as much as regular trucks. In some places, they're used as snow plows or forest ranger vehicles. They're also used by the military and fire fighters. You can find them in jungles, mountains, and deserts. If you just Google search Unimog, you'll find a number of insane videos showing how the truck is able to conquer the most challenging terrains. It's pretty impressive stuff!
Schwarzenegger's Unimog was actually up for sale several times. We're not exactly sure why the actor and former governor decided to put it on the market. But, it might have been because of the diesel engine. The seller that got its hands on the Unimog had it online and up for sale several times. It likely did not sell on the first try because of the price tag attached! The seller of this unique Mercedes-Benz off-roader was asking around $350,000 for it at one point!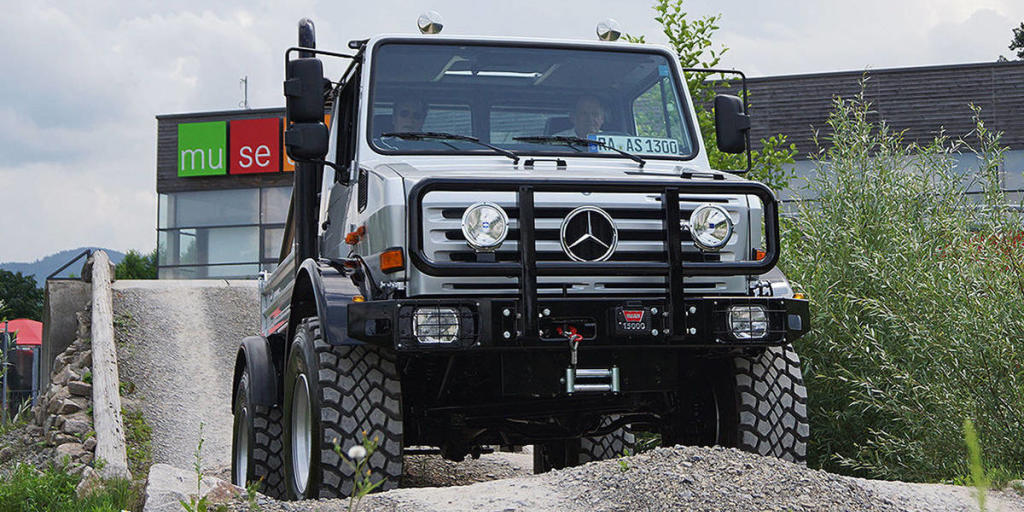 The rugged vehicle did feature Schwarzenegger's signature on the dash. So, that adds some value to the vehicle! But, some were quick to point out that the Unimog didn't have that many extra features to justify the hefty price it was being advertised for. The vehicle did, however, come with a 6.4-liter inline-six turbo diesel that produced 315 horsepower. There was only 1,865 miles on the odometer at the time, so the actor clearly did not drive it around too much! It also came with a Blaupunkt audio system, off-road lights, and a four-passenger built-in flatbed bench seat. It really does look like something straight out of a movie!
Actor Credited with Bringing Hummer to Market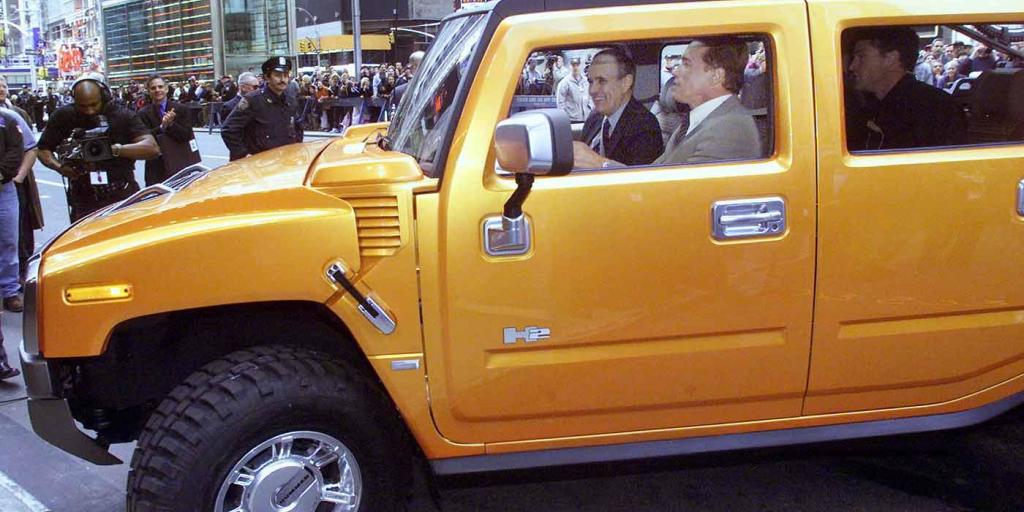 What you may not know, is that the actor played a large role in bringing a well recognized nameplate to the masses. In 1990, fresh off filming Total Recall, Arnold Schwarzenegger decided he needed a Humvee like the ones he saw Marines driving on CNN as Desert Storm got underway. While filming Kindergarten Cop, the Washington Post reports the actor was also inspired by seeing a troop of Humvee's roll past the filming location. So, he decided to reach out to AM General to sell him one. Then, he convinced executives to sell it to the masses.
The Humvee was originally built for war, a four-door passenger car on a truck chassis. While it didn't always protect its occupants very well from gunfire, it was still a warhorse that could not be stopped. It was also used in Kuwait and in Panama. It was mean looking and people liked that. With Schwarzenegger's coaxing, the Humvee became the Hummer. It was more luxurious than the Humvee, with its beautiful leather interior. It was an instant hit. Celebrities quickly flocked to the Hummer, including Paris Hilton and Hugh Hefner. Hefner happened to have a stretched one with leopard-print interior, quite fitting! Dennis Rodman even bought one and paid to have nude women painted all over it.
The Hummer had its highs and lows after that. Cheaper versions, including the H2 and H3, made their way to the market. The H2 came out for the 2003 model year, when gas prices were low and the economy was doing well. But, things drastically changed with time. Over the years, gas prices went up and the economy tanked. People driving large SUVs started to be looked at differently, even vilified. It was seen as not being a responsible vehicle to have. But, it also fell out of style. While its design may very well have inspired the look of other SUVs on the market now, the Hummer name itself has simply become less popular with time. But, there are still those die hard Hummer fans out there who love their H2, for example, and wouldn't trade it for the world!
As for Schwarzenegger, he actually had his H1 Hummer converted to be more environmentally friendly! It runs on vegetable oil, something that definitely caught the attention of people in California and elsewhere!
Useful SUV Links
---
Recommended SUV News & Reviews