An electric vehicle startup based in Upstate, NY recently revealed an awesome "sport utility truck" in New York City. Upon first glance, it looks like a big SUV. But the Bollinger Motors B1 has convertible cab panels that help transform its look. Those panels take it from a full cab to half cab and when in half cab mode, it looks a lot meaner than your typical pick-up truck. What's possibly most surprising is this utility vehicle is all-electric. Bollinger Motors calls it the world's first all-electric, all-wheel drive, off/on road sport utility truck.
"This environmentally-friendly project is a showcase for American ingenuity and a model for clean energy enterprise and innovation designed, engineered and manufactured in the US," writes the company.
While the vehicle is just a prototype, Bollinger is definitely looking to get this vehicle to market soon and has lofty goals.
"While we'll be announcing pricing and manufacturing targets later this year, the business case for the B1 makes sense at a very realistic and modest production number and at a price point of a nicely equipped sport utility vehicle," said founder Robert Bollinger.
Once manufacturing is finalized, Bollinger says B1 deliveries are targeted to start within 19 months.
Exterior
When in full cab mode, the vehicle looks similar to the Jeep Wrangler or Land Rover Defender. It is painted in a "Gunhouse" Grey that definitely gives it an aggressive look. Completing the exterior are black accents and a black satin wheel finish.
"The vehicle incorporates a rugged, heavy-duty truck design with a classic, 3-box look that will resonate with contemporary and traditional off-road vehicle enthusiasts," writes the company.
The Bollinger B1 has an overall length of 150 inches, a width of 76.5 inches and a height of 73.5 inches. It has a base ground clearance of 15.5 inches, which is impressive stuff. However, clearance will be adjustable five inches in either direction using a self- leveling, 4-wheel independent, hydro-pneumatic suspension.
The vehicle's all-aluminum chassis with a high-strength, low-alloy steel rollover structure is also said to be designed for optimal off-road vehicle proportions.
Interior
Bollinger says because the vehicle was designed with the rugged outdoorsman in mind, the sport utility truck can seat up to four occupants wrapped in a steel passenger safety cage.
As for the design, the Gunhouse Grey color continues inside the vehicle. There are also black accents inside which match the black leather seats. You won't find excessive buttons and switches in this vehicle, Bollinger wanted to provide only the necessary controls to operate the vehicle on and off the road. The instrument panel has large, simple circular gauges that display range updates, the B1's charging status, speed, and the necessities.
Just because the vehicle was designed minimally, doesn't mean it lacks unique features. What makes its standout feature possible is that the vehicle is all-electric. That means there's no front engine taking up space! The front trunk is actually connected to the cockpit by a 13 inch by 14 inch pass through door. Bollinger says it's perfect for the do-it-yourselfer or hard working contractors. It can accommodate up to 24 2X4 boards. Meanwhile, when both lift gates are closed, 12-foot boards can be fully stored within the enclosed truck. When the rear liftgate is open, you can store even larger boards of up to 16 feet.
The HVAC system is also rugged and unique. It employs an industry first 3-section roller system that sits atop the dashboard and runs the length of the interior from the driver to passenger side. Occupants can either turn the roller toward or away from them for varying degrees of air flow. Bollinger says it allows for quick and direct manual defrosting or defogging of the windscreen.
Performance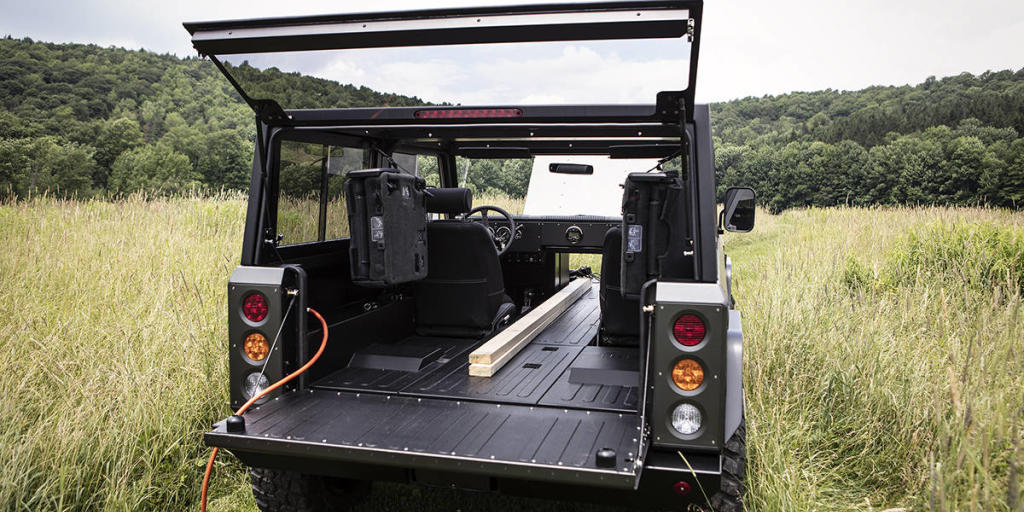 The Bollinger B1 employs a dual-motor powertrain configuration using front- and rear-mounted synchronous electric motors driving all four wheels. All the bells and whistles are located below the B1's floor, giving it a low center of gravity. The powertrain is capable of churning out 360 horsepower and offers 472 lb.-ft. of torque. The vehicle is able to go from 0 to 60 miles per hour in just 4.5 seconds and is capable of reaching a top speed of 127 miles per hour.
"The B1 combines Bollinger Motors' advanced all-wheel-drive system with our all-electric powertrain to produce best-in-class horsepower, torque and ground clearance," said CJ Winegar, an engineer with the company. "The vehicle signifies a huge leap above what is currently on the market. There's nothing like it out there."
The company plans to sell the vehicle with two lithium ion battery pack options. With the standard 60kWh battery, you'll get 120 miles of range. If you go for the 100kWh battery, however, you can stretch it to about 200 miles.
"At either a 120 or 200 mile estimated range, the Bollinger B1 will have more range than most electric vehicles on the road today," said John Hutchison, another engineer with the company. "The average U.S. driver travels less than 36 miles per day, so the B1 has plenty of charge for anything you throw at it. I think we found the right combination of utility, off-road capability and range options."
Our Take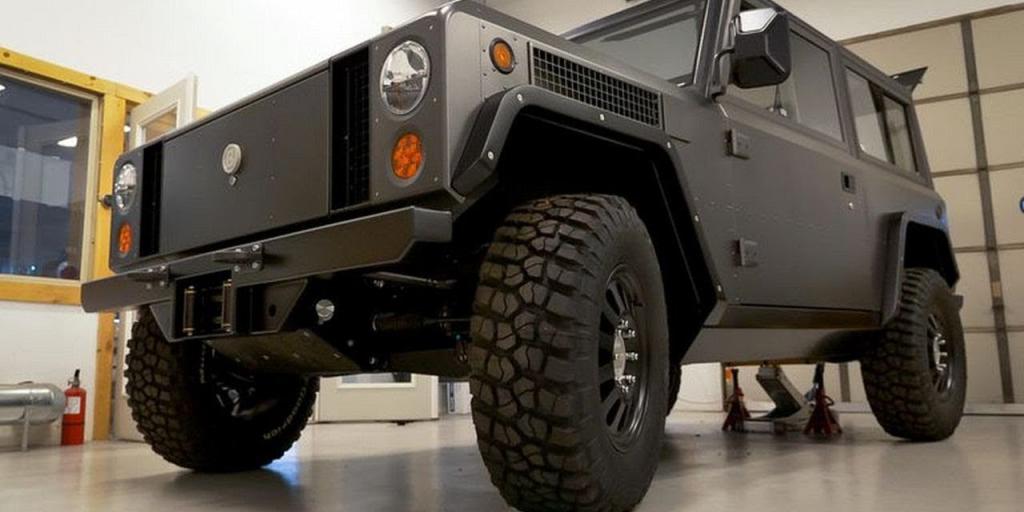 The Bollinger B1 is impressive stuff. It's rugged, it's minimalist, yet has plenty of room for cargo and tools and supplies. While it has the stuff to be a solid off-road performer, it's also environmentally-friendly and offers a solid range.
The company says, initially, a direct to consumer sales model will be employed for the B1. However, Bollinger hopes to open retail stores in major cities across the country. For now, the vehicle will be available through the company's website. In early 2018, people who reserve a spot online will be able to order their vehicle with a $1,000 down payment.
Useful SUV Links
---
Recommended SUV News & Reviews