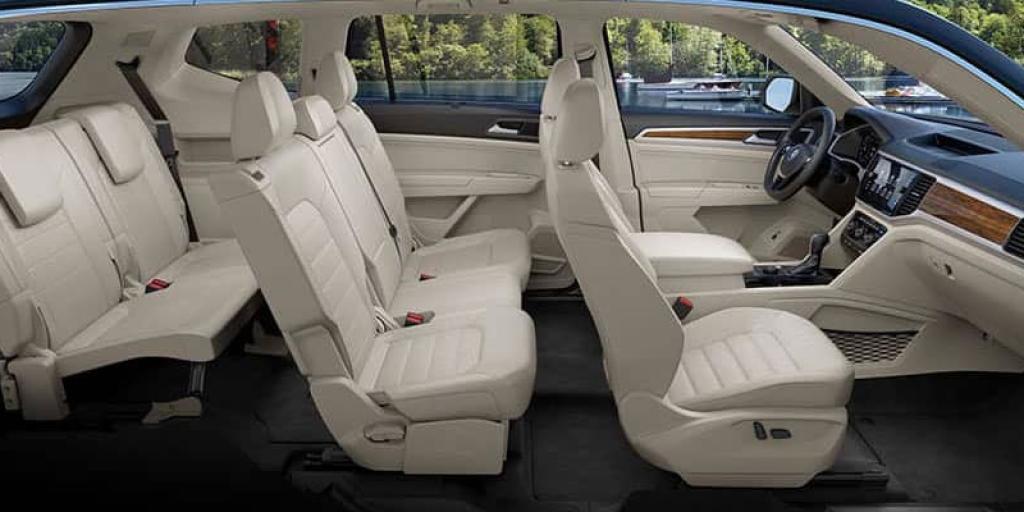 Having an SUV with a large cargo capacity has many benefits. It's easy to load the back with groceries or other shopping bags. If you have dogs, it can be a great place for them to sit while you drive. SUVs that offer plenty of cargo space are also excellent for transporting camping gear or bulky items. You don't necessarily need a pickup truck when you can fold down multiple rows of seats to completely open up the back of your SUV! You could even sleep back there if you wanted!
Automakers know that people are turning to SUVs for the capability and versatility they offer and cargo space is certainly part of that. That's why over the years, they've tweaked their SUV designs to maximize the amount of space they offer in the back.
We've listed five attractive three-row SUV options with large cargo capacities below. While there are other SUVs out there that offer even more cargo space, they're not always that attractive looking.
The five 2020 SUVs listed below all have great road presence and offer between 94.2 and 103.4 cubic feet of cargo space!
Cadillac Escalade: 94.2 cubic feet

The three-row Cadillac Escalade is one of those vehicles that has iconic road presence. When you see it, you know exactly what it is. The thin vertical LED taillamps are unmistakable, as is the large grille and large, sporty wheels.
The Escalade is highly luxurious, spacious, and powerful. Passenger comfort is always the focus, with designers selecting the highest quality natural materials for the interior.
The large SUV can easily accommodate up to eight passengers, so there's plenty of room for all your friends.
There's also lots of cargo space in the back! With all the rows folded, there's up to 94.2 cubic feet of space.
If you need even more cargo space than that, you could opt for the Cadillac Escalade ESV. It's a stretched version of the SUV that boasts 120.9 cubic feet of space!
The 2020 Cadillac Escalade ESV starts from $75,195.
Infiniti QX80: 95.1 cubic feet

The Infiniti QX80 is another luxury SUV that offers seating for up to eight. It has excellent styling both inside and out!
Infiniti's largest SUV packs a powerful 5.6-liter V8 engine that produces 400 horsepower. The vehicle offers a smooth ride and solid handling. It can also tow up to as much as 8,500 pounds!
There are now two touchscreens in the 2020 Infiniti QX80, as well as Apple CarPlay and Android Auto. The large luxury SUV continues to have an athletic face with a flashy grille.
With all the seats folded flat, the full-size QX80 offers up to a generous 95.1 cubic feet of cargo space!
The 2020 QX80 is priced from $66,750, making it more affordable than the Escalade.
Volkswagen Atlas: 96.8 cubic feet

The Volkswagen Atlas offers a surprising amount of cargo space in the back! What else is surprising about it? Its affordable starting price! The Atlas starts from $31,545, making it much more affordable than the other two SUVs we've mentioned so far.
The full-size Volkswagen Atlas boasts great style. Its LED headlights and sporty wheels help add to its aesthetic. The SUV just looks more expensive than it is!
Families will love how easy it is to access the SUV's third row and even while carseats are attached to the middle row! You can actually install three child seats in that center row and still tilt the whole row forward to easily access the seats in the back. It helps make getting kids in and out of the vehicle that much easier.
We should note there's also a new Volkswagen Atlas Cross Sport to consider. It has two rows instead of three, making the interior feel that much more spacious to passengers. It doesn't offer nearly as much cargo space, though.
The Volkswagen Atlas has 96.8 cubic feet of cargo space to offer when all of its seats are folded flat. That's more than most families would ever need!
Chevrolet Traverse: 98.2 cubic feet

The Chevrolet Traverse is an even more affordable vehicle that offers lots of cargo space for its size. It starts from just $29,800.
Chevrolet refers to its Traverse as a midsize SUV, but others refer to it as full-size as it does seat up to 8 people. The noise-cancelling cabin helps bring peace to passengers and there's lots of nice comfort features you can opt for. Those features will hike up the price of your Traverse, though!
There's a new 3.6-liter V6 engine that makes 310 horsepower. It's paired to a 9-speed automatic transmission that makes for smooth shifting and a comfortable ride.
The Traverse offers an impressive 98.2 cubic feet of cargo space when the back rows are folded flat. Whether you need lots of space in the back for home improvement projects, a beach trip, game day, or other activity, the Traverse has plenty of it to offer.
Lincoln Navigator: 103.4 cubic feet

The Lincoln Navigator boasts the most cargo space on our list! While other three-row SUVs out there do offer even more cargo space in the back, they aren't always all that attractive.
The Lincoln Navigator, on the other hand, is a highly attractive SUV that's known for being luxurious. Its serene and lavish interior fits up to eight passengers. The SUV also packs a potent engine that churns out 450 horsepower. When properly equipped, the Navigator can tow up to 8,700 pounds.
There's 20.9 cubic feet of space behind the third row, 57.5 cubic feet of space behind the second row, and a whopping 103.4 cubic feet of space with all the seats folded down!
If you're looking for a highly luxurious, powerful, and spacious SUV with lots of room to store items in the back, the Navigator might just be for you.
The 2020 Lincoln Navigator is priced similarly to the Escalade. It starts from $76,185.
Useful SUV Links
---
Recommended SUV News & Reviews