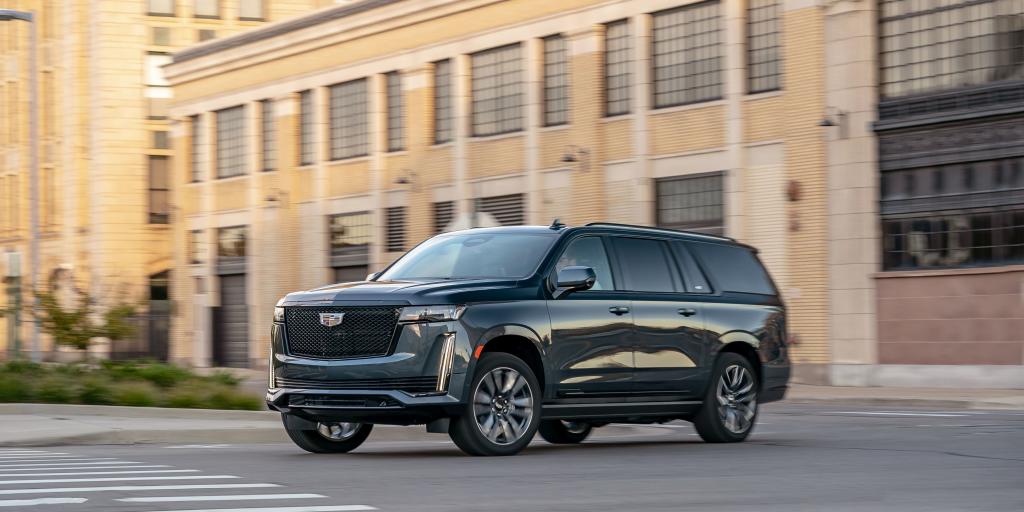 People are raving about the 2021 Cadillac Escalade and Escalade ESV because the next-generation model is new from the ground up and it has even more impressive technology and comfort features. The fifth generation Escalade is bigger, bolder, and uses an all-new independent rear suspension. There's also the impressive new curved OLED display that Cadillac says is an industry first and that has twice the pixel density of a 4K TV. The curved OLED offers a whopping 38 inches of total diagonal display! The screen isn't just incredibly impressive, but so are the systems backing the vehicle up. The 2021 Escalade offers the available Super Cruise system, for example, which Cadillac calls "the first truly hands-free driver-assistance feature for compatible highways."
The Cadillac Escalade is certainly an iconic vehicle with a distinct look to it that makes it instantly recognizable. The fifth generation model is now better than ever, but it's been beloved for years as the full-size SUV debuted back in 1999. After all, the Escalade is often the vehicle that celebrities, pro athletes, politicians, and other business leaders use while traveling. It has a sophisticated and clean look to it, but it also has all the space you need inside to stretch out, relax, and travel in true sophistication!
To learn more about the new Cadillac Escalade, continue reading below!
2021 Cadillac Escalade Exterior Design

The 2021 Cadillac Escalade is the largest and longest Escalade ever and because of that, Cadillac says its power to draw in those around it has never been greater.
"This is iconic design that announces your arrival—and gives you latitude to invite your entire crew along for the journey," writes Cadillac.
Cadillac extended its full-size Escalade by 8 inches and also lowered the floor, resulting in an additional 10.1" of third-row legroom. That means the 2021 Escalade is even more spacious than before. Plus, it offers more cargo space than you'll likely ever use! There's over 120 cubic feet of cargo space offered in the new Escalade. With the stretched Escalade ESV version, there's a staggering 142.8 cubic feet of cargo space!
The Escalade is now bigger than before and it's also bolder. You have large 22" wheels as standard. The redesigned horizontal headlamps offer a thin, sleek style and you also have the iconic 3-foot full-LED taillamps that illuminate the night and let everyone know that an Escalade has arrived. Of course, there are style differences based on the trim you opt for. The Sport trim has a blacked-out grille, for example.
The improved interior is also worth focusing on because it's more spacious and it features lots of new technology.
21' Escalade Interior Design / Technology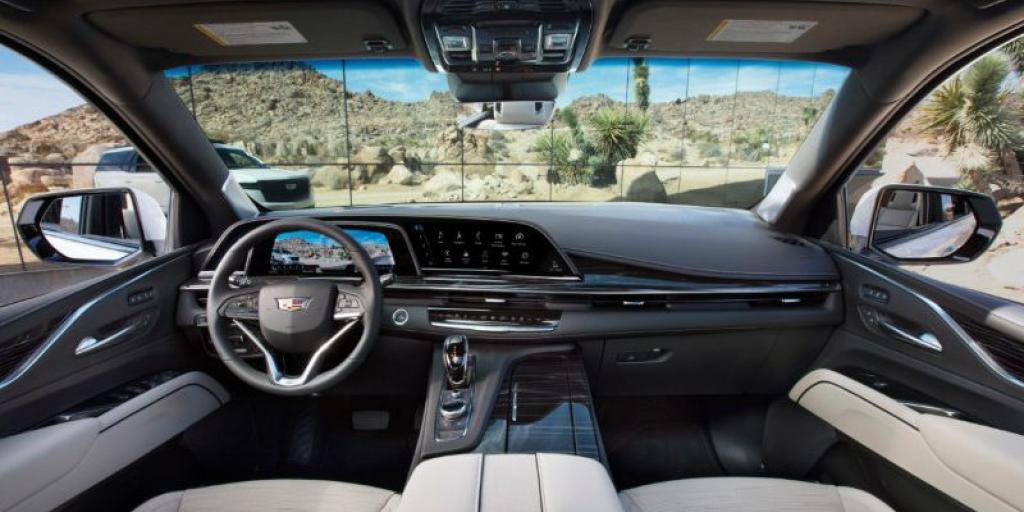 Being that this is the largest and longest Escalade ever with a new rear independent suspension, you do have a more spacious interior to enjoy. There are also nine different interior trim options and four unique seat-insert designs with varied perforation patterns and stitching. There's intricate piping on the door panels and also ambient lighting that comes in a number of different color choices.
"Every painstakingly curated material—from natural wood finishes to hand-finished leather appointments to available premium fabrics—comes together to create an atmosphere that's as inviting as it is intricate," writes Cadillac on its website.
You get an AKG Studio-19 speaker sound system as standard with the 21' Escalade. You can upgrade, however, to the more advanced 36-speaker sound system if you'd like! That more advanced sound system even includes rear microphones that project conversation from the back rows to the front of the vehicle so that you can still hear all your passengers while also enjoying music. You can ensure the whole crew is in on the conversation that way!
The highlight of the 2021 Escalade's interior is absolutely the new curved OLED screen that offers an impressive 38" of total diagonal display! There's a massive 16.9" touchscreen that handles infotainment duties, but you can also use a rotary knob or your steering wheel-mounted controls to operate it. The system also consists of two other screens, a 7.2" driver information screen on the control panel and a 14.2" screen behind the steering wheel.
"This leading-edge technology enables bold imagery, perfect blacks and the largest color range available in the automative arena," writes Cadillac about the Escalade's new curved OLED display.
What's so great about the massive display is that it's incredibly sleek and it puts all the information you could ever possibly need right directly in front of you where it's easy to see. You can control it in several different ways, including with touch controls on the steering wheel. Not to mention, you can take advantage of the in-cluster navigation. It allows you to get a full picture of where you're heading. It takes full advantage of the curved OLED display, placing a full-cluster map in the gauge cluster.
To make the cabin feel even more luxurious, you have the option of adding ventilation to your front seats. There's also the available UltraView sunroof, which treats the driver and all the passengers to panoramic views. You have wide-option options for enjoyment and it makes the interior of the Escalade feel even more spacious. Other luxurious options for your Escalade include a full-color head-up display, a rear camera mirror, and a Night Vision system that helps you see beyond your headlamps.
21' Escalade Performance / Safety


There's a standard 6.2L V8 engine that delivers 420 horsepower and 460 lb.-ft. of torque with the 2021 Escalade. There's also an available Duramax 3.0L Turbo Diesel 6-cylinder engine that you can opt for. It allows you to up your efficiency. It delivers 277 hp and 460 lb.-ft. of torque.
As for safety, the 2021 Escalade has a long list of systems backing you up like automatic emergency braking, front pedestrian braking, and rear pedestrian alert. You can also opt for rear cross traffic alert, lane change alert with side blind zone alert, and lane keep assist with lane departure warning. HD Surround Vision, meanwhile, uses multiple cameras to display a digital overhead image of the area around the vehicle when in Drive or Reverse at low speeds. It helps you park the full-size Escalade easier than you would otherwise.
Our Take
We love the improvements made to the Cadillac Escalade. Being that it's such an iconic luxury vehicle, we love to see how it grows and improves over time. What are your thoughts about the new Escalade? We'd love to know!
Useful SUV Links
---
Recommended SUV News & Reviews