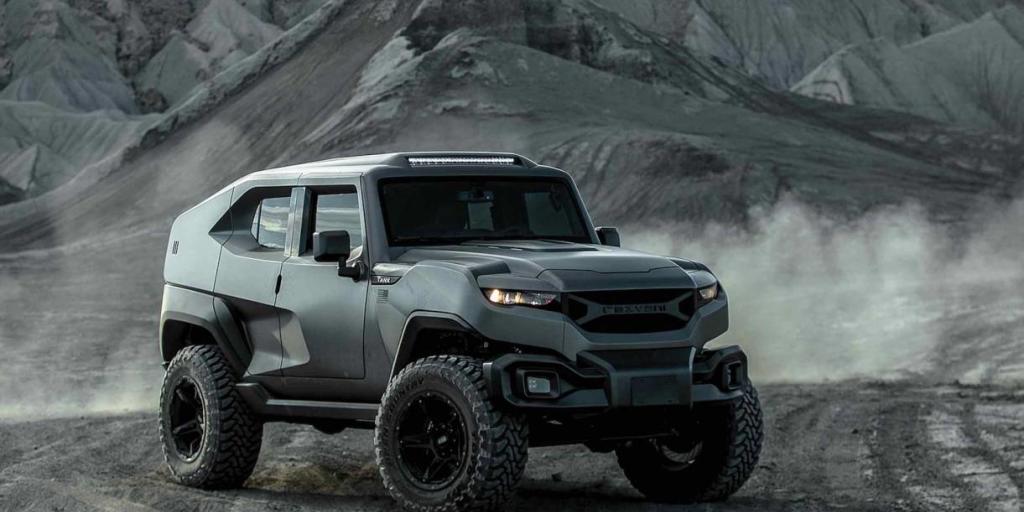 Rezvani Motors is calling it the "most powerful production SUV in the world." The range-topping X trim of its 2020 Tank SUV is fitted with an engine that churns out a whopping 1,000 horsepower! The monster of an SUV is just as expensive as it is powerful. You'll have to shell out at least $349,000 to buy a 2020 Rezvani Tank X! If you opt for the Military Edition of the 2020 Tank instead and choose to upgrade to the 1,000 hp engine, you'll pay a whopping starting price of around $450,000!
The Rezvani Tank was reworked for the 2020 model year. It's now based on the chassis of Jeep's JL Wrangler. The original Tank used the underpinnings of the JK Wrangler. Extensive development was also done on the suspension of the all-new Tank to make it more comfortable. There are now four Rezvani Tank trims to choose from. While a standard Wrangler has a starting price of less than $30,000, you'll have to shell out a lot more for even the base Rezvani Tank SUV. While not as expensive as the Tank X, the standard Tank still carries a hefty starting price of $155,000. In addition to Tank and Tank X, there's also Tank Military, and Tank X Military trims.
2020 Rezvani Tank X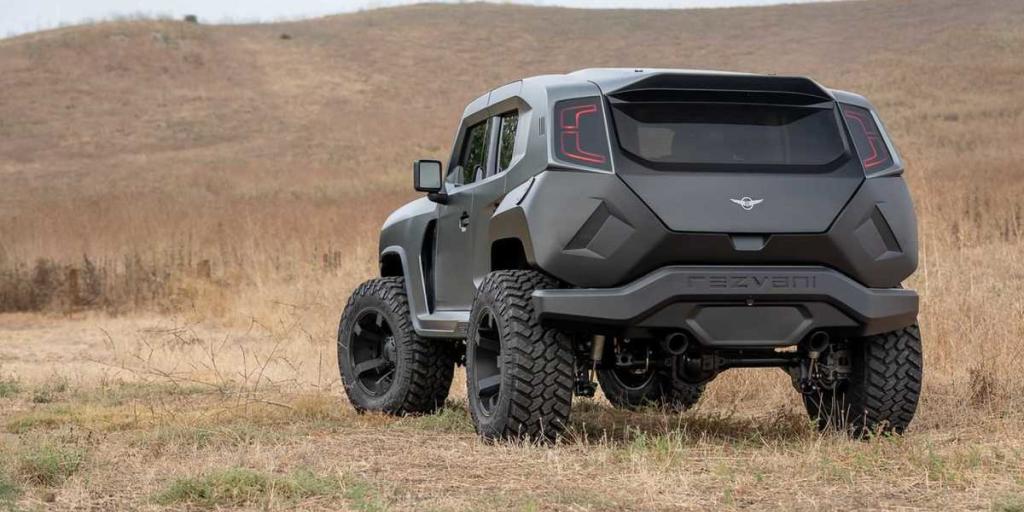 Let's get into the details of the 2020 Rezvani Tank X SUV first. It's an absolute monster! Rezvani Motors calls it an off-road supercar. It's powered by the same supercharged 6.2-liter V8 engine that you'll find in the Dodge Demon, however it was upgraded to make the Tank X "the fastest production SUV in the world." The engine was tuned to deliver more than 1,000 hp and 870 pound-feet of torque! The powerful engine is paired with an on-demand four-wheel-drive system. It can be activated when needed for off-road use, and de-activated to be more efficient on the road. Two unique off-road packages, meanwhile, are available and provide high ground clearance, top of the line FOX off-road suspension, and equally capable tires for tackling even the most challenging of terrains.
"The focus of this generation's Tank was to be athletic in design and stance, have a refined sports car ride and suspension, have a luxurious interior, and surpass 1,000 horsepower all in car that's easily a daily driver," said Rezvani Motors CEO Ferris Rezvani.
While you'd expect the Tank X to have some of the unique security features that Rezvani offers as standard, you'll still have to shell out more money for those. That includes the $5,500 FLIR thermal night vision system and the $2,500 electromagnetic pulse protection system (which we'll explain below). If you want a full leather interior, you'll also have to shell out $5,500 more for that.
2020 Rezvani Tank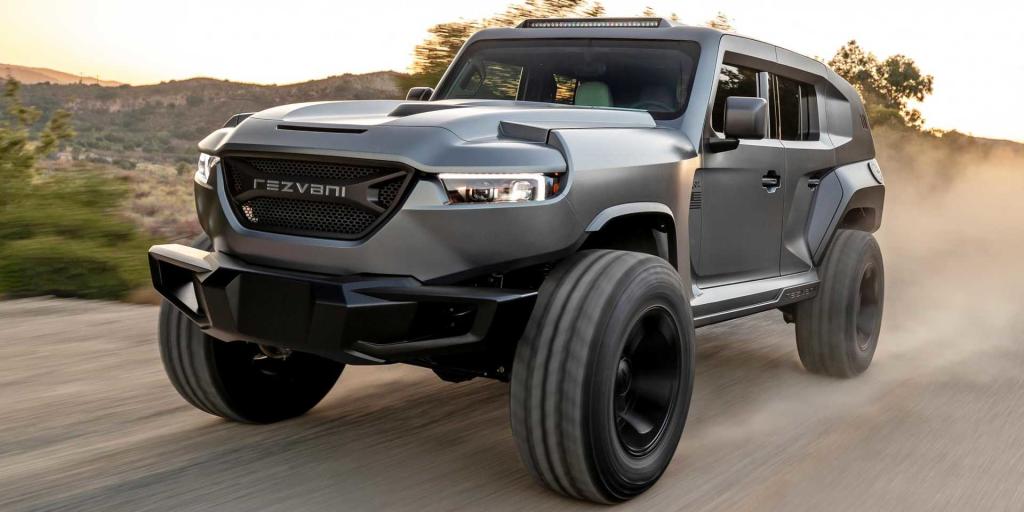 While the 2020 Tank was reworked, it still has the aggressive grille and sleek defined lines of the previous model. A roof-mounted LED light bar helps light up the trails at night and adds to the vehicle's look.
There are three different engine options for the standard Tank. There's a four-cylinder 2.0-liter turbo engine that delivers 285 hp, but Rezvani says that engine is only for exports. A 3.6-liter V6 is also offered. It has the same power output as the other engine. If you shell out an additional $35,000, though, you can get a beefier 500 hp 6.4-liter V8! Remember, the standard Tank has a starting price of $155,000.
There's lots of additions you can add to your Tank. That includes the electromagnetic pulse protection (EMP) system, which we mentioned earlier. It protects against electro magnetic pulses that are radiated after a nuclear explosion and which render electronic devices inoperable! It's designed to protect the Tank's electrical system. It was tested at a Department of Defense approved testing facility and Rezvani says the device is the world's first EMP protection technology for a vehicle's entire electrical system. Impressive! While definitely unique and something to tell your friends about, we doubt this will ever be needed by Tank customers! But, it's there!
You can also tack on the $5,500 FLIR thermal night vision system, a $1,750 sport exhaust system, an $8,500 tow package, and a number of other features.
2020 Rezvani Tank Military / Tank X Military
If you opt for the 2020 Rezvani Tank Military Edition, you'll pay a higher starting price than what you would with the standard Tank. However, you get a ton of innovative safety and security features as standard. Rezvani describes it as "luxury meets military." It's designed for defense, but also built for the road.
With the Tank Military Edition you get that thermal night vision system, the EMP protection system, underside explosive protection, bullet proof glass and body armor, and reinforced suspension as standard. There's even a smoke screen that you can deploy with a push of a button to lose trackers! This massive SUV protects against unauthorized access in a number of other ways, as well. Some of the features are definitely a bit extreme! For example, electrified door handles come standard. There's also siren and horn options, in addition to strobe lights, and even blinding lights! There are magnetic dead bolts, as well. In case things really get scary, there are gas masks in the vehicle. Plus, a first aid kit and hypothermia kit!
While the Rezvani Tank Military Edition comes standard with the 6.4-liter V8 which produces 500 hp, you can upgrade to the 1,000 hp engine that Rezvani tuned from the Dodge Demon. Upgrading to that engine will definitely drive up the cost of your Tank Military Edition, though! Since the 1,000 hp engine costs a whopping $149,000 to add, you can expect the Tank X Military trim to have a starting price just shy of $450,000! Of course, that doesn't even include the cost of some of the other extras you could add!
Our Take
If you're wealthy and looking for a mean, beefy, tank-like SUV that has insane security features to back up its tough look, then the Rezvani Tank might be for you. If speed and power is your top priority, you can find it in the Tank X. While the Tank X has a hefty starting price of $349,000, it's unlike any other vehicle out there. If insanely impressive security features are more your thing, you could opt for the $295,000 Tank Military Edition instead. Upgrading its engine to the 1,000 hp option, however, will bring the starting price of that vehicle up to around $450,000! That starting price alone is something to brag about.
Useful SUV Links
---
Recommended SUV News & Reviews