The Frankfurt Motor Show is Europe's leading platform for mobility and it takes place each September in Germany. There was a large emphasis on sustainability this year, with companies taking the opportunity to talk about how they're further electrifying their lineups. There were several debuts of electric vehicles, including from Volkswagen. The company previewed its electric crossover.
There were several other major SUV debuts at the show, as well! The most anticipated debut was for the 2020 Land Rover Defender. We've now had a chance to get a look at the new two-door and four-door models! We also love a concept utility that Audi had on display. It has huge wheels and looks fit for exploring the moon! It has hanging chairs for backseats and many other wild features.
In the backdrop of the Frankfurt Motor Show, however, were calls from protestors to have SUVs be banned! Greenpeace and Deutsche Umwelthilfe called for governments to ban SUVs in order to help curb emissions and pollutants. But, automakers insist they are doing everything possible to bring more electric versions of their utilities to market. Plus, they say you can't avoid the fact that SUVs are an affordable option for families.
"SUVs is what the customer wants," said Volkswagen's Chief Executive Herbert Diess. "Owning a car is for many people part of having a higher quality of life. We need to ensure that even middle and lower-income families can afford an electric car."
Continue reading below for more on the SUVs of this year's auto show in Frankfurt!
Land Rover Defender
Land Rover's new Defender has finally been revealed! The new two-door Defender 90 and four-door Defender 110 offer enthusiasts all they've been missing about the old model. It's big, bold, boxy, and more than off-road capable. But, it also now has impressive technology to help make adventures even better! Plus, there are more creature comforts than what was offered with the old model, which went out of production in 2016.
The new Defender 90 seats up to five people in two rows. The four-door Defender 110, on the other hand, comes in both two and three-row configurations. Both models also offer an optional jump seat up front, adding even more space if you need. The 110 model offers two engine options, whereas the 90 just has one.
The sole engine option for the two-row Defender 90 is a mild-hybrid setup called the P400. There's a turbocharged inline six-cylinder engine and an electric supercharger powered by a 48-volt lithium-ion battery. The system churns out 395 horsepower and 406 pound-feet of torque. The engine is optional on the four-door Defender 110. The base engine for the 110, by the way, is a 2.0-liter turbocharged inline four-cylinder. It produces 296 hp and 295 lb.-ft. of torque. Both engines are paired to an eight-speed automatic and permanent four-wheel drive comes standard. A two-speed transfer case, locking differentials, and an air suspension are also included.
The new Defender continues to impress off-road, but there's also now some fancy technology to help with that! For example, there's a ClearSight Ground View system which uses exterior cameras on the Defender to help create an image of the ground in front of you! Talk about off-roading made easy! A digital rear-view mirror is optional. It comes in handy when you have a lot of people or cargo in the back. Some Defender models will even be able to sense when the truck is wading in up to three feet of water and will reduce the throttle response, recirculate the cabin air, adjust the standard air suspension system to its highest setting, and even lightly drag the brakes when out of the water to help dry the rotors!
The four-door Defender 110 with the P300 engine will have a starting price of $50,925 (including destination) when it goes on sale in the United States next spring. The 110 with the optional P400 (mild-hybrid setup) will have a higher starting price of $63,275. The two-door Defender 90 will launch later in 2020. Pricing has yet to be released for that. It's safe to say people are very excited about the new Defender!
Mercedes-Benz GLB 35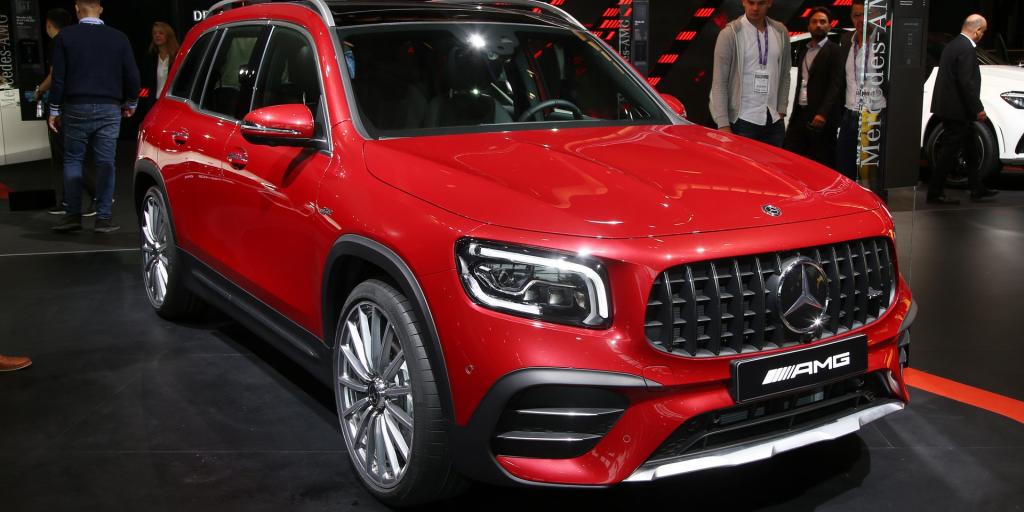 As protestors outside the Frankfurt auto show went as far as to call for SUVs to be banned, Mercedes-Benz took the opportunity at its press conference to talk sustainable solutions for the the future of mobility. The company revealed objectives like a completely CO2-neutral fleet of new cars by 2039. It also hopes to have more than 50 percent of new cars sold be equipped with electric drivetrains by 2030. Helping give us a look at the future of Mercedes-Benz is the VISION EQS, which premiered at the auto show. The show car is based on a completely new, fully variable electric drive platform that is scalable in many respects and can even be used across all models!
As for SUV news from Mercedes at the auto show, there was the world debut of the Mercedes-AMG GLB 35 4MATIC. The compact SUV features a 2.0-liter four-cylinder turbo engine, AMG SPEEDSHIFT DCT 8G gearbox, and AMG Performance 4MATIC variable four-wheel drive. It produces 305 hp. Its driving dynamics are impressive and despite being small, the GLB 35 is still plenty off-road capable! There's also space for up to seven people in this compact SUV, which is a first for Mercedes-Benz in this segment.
Also on display from Mercedes were new plug-in hybrid versions of some of its other SUVs. The Mercedes-Benz GLE 350 de 4MATIC and GLC 300 e 4MATIC were both presented to the world public for the first time.
BMW X6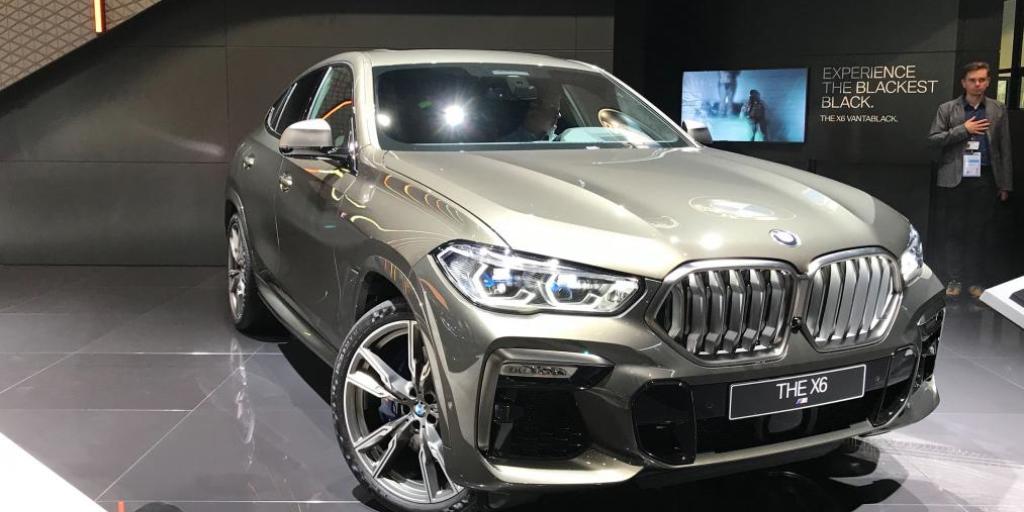 A refresh for the BMW X6 debuted in July, but Frankfurt was the first time anyone had a chance to see the updated utility in person. The SUV is now faster, fancier (with an illuminated grille), and smarter than ever! It will go on sale in the U.S. in November and there will be three powertrain options at launch: the rear-wheel drive sDrive40i (starting at $65,290), all-wheel drive xDrive40i, and all-wheel drive M50i (starting at $86,465).
What helped make the new X6 seem even cooler at the auto show was that BMW had a special version of it placed in a darkened room with unique lighting effects! The special X6 has Vantablack VBx2 coating all over it. The covering absorbs 99.6 percent of visible light. What does that mean? It makes the substance the blackest color in the world! If a blacked-out SUV is what you're after, take a second look! The illuminated grille, headlights, and taillights don't have the coating, though, so those were still able to shine bright in the exhibit room. People who saw the exhibit in person described it as surreal! Because the special vehicle reflects almost no light, it looks two dimensional even in person!
The BMW i Hydrogen Next fuel cell development vehicle was also on display in Germany. It's based on the X5 SUV, so that's cool! BMW says the next iteration of it will debut in 2022, so this isn't just some one-off concept. BMW hopes to have multiple fuel cell vehicles on sale by 2025, but admits timing is dependent on a few unknowns.
Audi AI: Trail Concept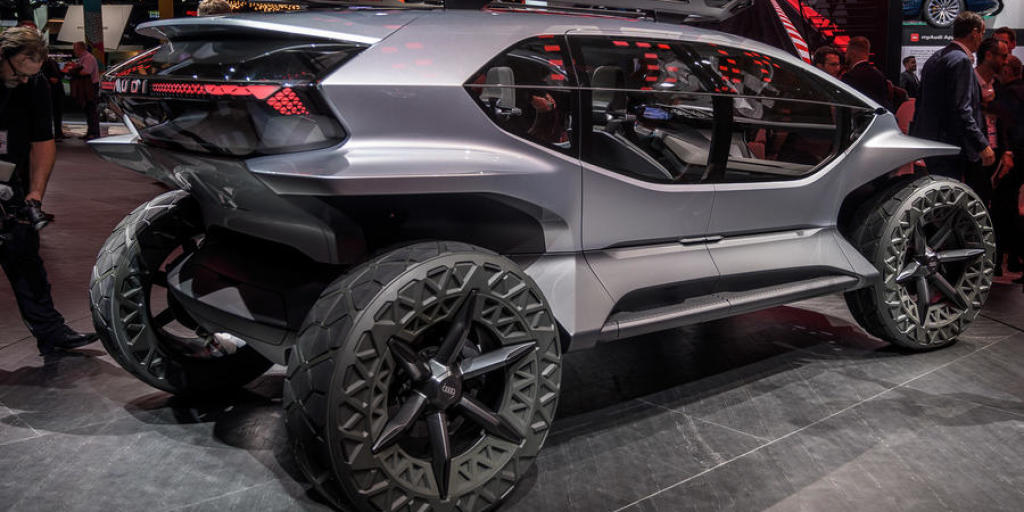 The Audi AI: Trail concept was definitely a major highlight of the Frankfurt Motor Show! Why? The electric off-roader looks like something fit for exploring the moon! The wild concept features 33.5-inch tires and it boasts 13.4 in. of ground clearance, allowing it to ford up to 1.6 feet of standing water.
You won't find conventional headlamps here! Instead, the Audi AI:Trail concept has five drones that actually light up the trail/road ahead! They can also provide video feeds when they aren't nestled in their roof-mounted inductive charging cradles. Another cool aspect of this vehicle? It's outfitted with two hanging chairs in the back that work to the same principle as a hammock. Passengers can even remove them if they want and bring them with them on a camping adventure, for example!
"This way, Audi accompanies the driver on his entire trip, whether in the car or on the hiking trail," said Oliver Keyerleber, design project manager for concept cars at Audi.
Four electric motors help power the new Audi concept. The AI: Trail's lithium-ion battery pack is good for around 250 to 310 miles. The driver can choose autonomous driving level 3 on forest roads of level 4 on paved streets. On rough terrain, though, the driver still needs to drive.
"This lets drivers either concentrate on nature with all of their senses, or enjoy a special blend of the feeling behind the wheel and the outdoor experience -- in the truest sense of the word," says Audi.
Ford Puma (unlikely to come to U.S.)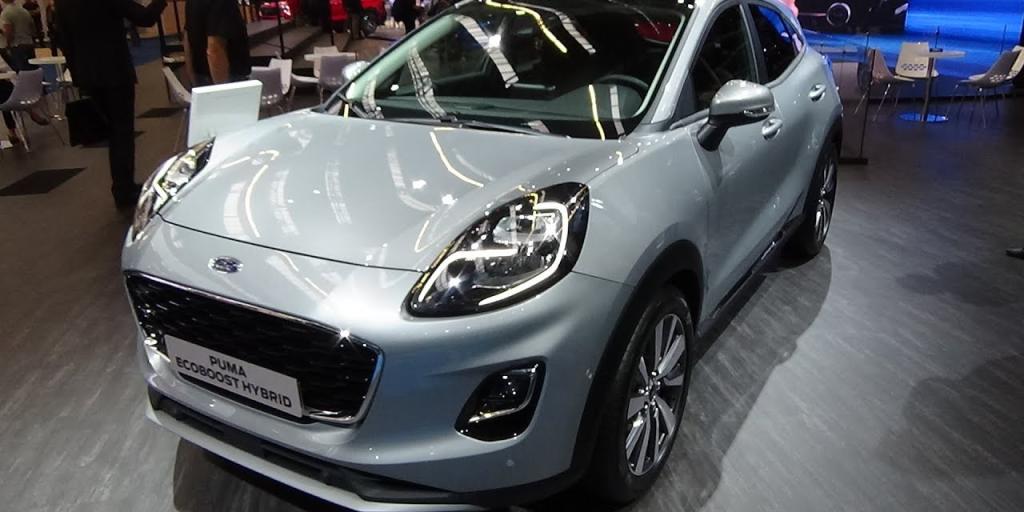 Although this compact crossover is unlikely to make its way to the U.S., it did also debut at the Frankfurt auto show. Massaging seats and Ford's CoPilot 360 system can be found inside. The crossover shares underpinnings with the Fiesta and it borrows some of the Fiesta's styling. Ford already offers a number of other SUV options in Europe, including the EcoSport, Fiesta Active, Focus Active, and Kuga. Some experts say while the Puma is not bound for the U.S. now, they wouldn't be surprised to see it stateside in several years because of Ford's overall push for more SUVs.
Our Take
Our favorites among the SUVs featured above include the new Defender and that futuristic AI:Trail concept from Audi! We're particularly excited about the two-door Defender and will be paying close attention to pricing for that when it does come out. What's your favorite SUV from this year's Frankfurt Motor Show? Please let us know on FaceBook or on our YouTube channel!
Useful SUV Links
---
Recommended SUV News & Reviews