Kia is ramping up its marketing efforts when it comes to its all-new 2017 Niro SUV, enlisting the help of a major celebrity. Commercials narrated by Melissa McCarthy began airing January 18. The 15-second spots are the first broadcast components of a larger marketing campaign that will include an original 60-second commercial which will air during Super Bowl LI. That spot will feature McCarthy alongside Kia's newest hybrid. If you happen to not know who McCarthy is, she's that hilarious actress famous for her roles in "Bridesmaids," "Tammy" and much more. Last year, a record 167 million viewers tuned in to watch the Denver Broncos defeat the Carolina Panthers in Super Bowl 50, making it the most-watched program in television history. That means a lot of people will be watching when the commercial hits. 
The 15-second spots that are airing leading up to the major sporting event are titled "Many Names" and "Need/Want."
"We call this the Kia Niro," says McCarthy in the "Many Names" commercial. "But that's only because breakthrough, game changing crossover that gets over 40 miles per gallon combined and is really fun to drive…just wouldn't fit on the back," she says. "I mean it would, but it would look ridiculous!"
The company says the commercials showcase what makes the Niro so great.
"The Niro blends great looks, real-world utility and outstanding fuel economy together in a way that consumers haven't seen before, and these initial marketing elements focus on the fact that there's now 'a smarter kind of crossover' out there for consumers to discover," said Michael Sprague, chief operating officer and executive vice president of Kia Motors America. "We've got a fantastic story to tell about the Niro's uniquely alluring yet practical package, and the incredibly talented Melissa McCarthy is the perfect partner to help us do it."
Guinness World Record
The marketing push comes fresh off the Kia Niro receiving a Guinness World Record title for the lowest fuel consumption driving across the United States in a hybrid car. The new record-setting mark is 76.6 mpg. The Niro EX was driven 3,715.4 miles from Los Angeles City Hall to New York City Hall using just 48.5 gallons or 4.1 tanks of gas. The company says the vehicle was not altered in any way for the attempt.
"We're extremely pleased with the Niro's record-breaking performance," said Orth Hedrick, vice president of product planning for KMA. "We set out to build a vehicle that offers real-world utility, great looks and fantastic mileage, and setting the Guinness World Record title confirms our achievement."
The all-new Niro will arrive in Kia retailers soon and will be available in five trim levels: FE, LX, EX, Touring and in a limited-quantity Launch Edition. The base FE trim is EPA rated to achieve 52 mpg highway, 49 mpg city and 50 mpg combined. The Touring, meanwhile, gets 46 mpg highway, 40 mpg city and 43 mpg combined.
Exterior
The Niro's wide and low proportions with a long 106.3-inch wheelbase and short overhangs give it an athletic stance. Kia describes the vehicle's headlights as aggressively shaped. Its front also features Kia's tiger nose grille. The SUV's profile, meanwhile, "is distinguished by its strong shoulders, defined wheel arches, rocker-panel cladding and roof rails."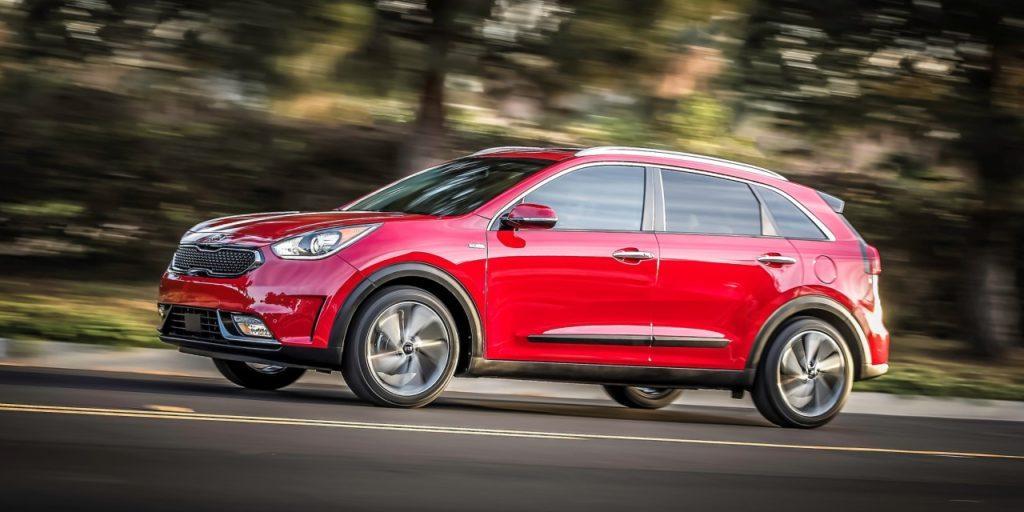 Interior
The company says thanks to the Niro's long wheelbase, body height and wide stance, there's ample legroom, headroom and shoulder room in the vehicle. Kia also says there's plenty of cargo space for passengers' belongings because of the high-voltage battery's location underneath the rear seats. It's said to increase cabin and cargo space and allows a flat load floor. In addition to being spacious, Kia says the interior is quiet thanks to noise and vibration countermeasures that engineers developed. Even the steering wheel was specially designed to reduce the amount of vibration the driver feels. As for technology, Kia's infotainment system keeps drivers connected. It's complete with Android Auto, Apple CarPlay, offers access to onscreen apps and has Wi-Fi tethering capability. It's all controlled through the Niro's 7-inch touch screen.
Performance
At the heart of the Niro's powertrain is a 1.6-liter GDI four-cylinder engine coupled to an electric motor for a combined output of 139 horsepower and 195 lb.-ft. of torque. It features a compact and lightweight 1.56-kWh lithium-ion polymer battery.
"Because the high-voltage battery is both power and energy dense, it is smaller and lighter than other hybrid batteries, and also allowed engineers to downsize the gasoline engine to further maximize fuel economy and reduce emissions," writes the company.
Power is transmitted through a second-generation six-speed dual-clutch transmission with Sport Mode that Kia says boosts efficiency and contributes to the overall driving experience.
"The transmission delivers smooth, quick shifts for a natural and spirited feel, which is in stark contrast to that of other hybrids equipped with continuously variable transmissions," writes the company.
Possibly the best part about it all is what we mentioned at the top of this story. It has impressive fuel efficiency with up to 50 mpg combined and, as a result, reduced emissions.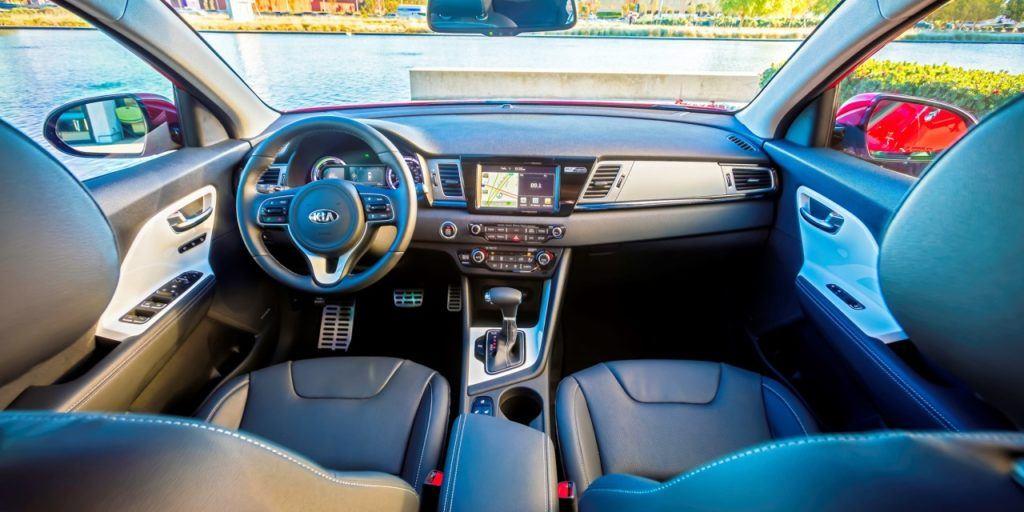 Safety
When it comes to safety, the all-new Niro features high-strength steel structure and seven airbags. It also comes available with Autonomous Emergency Braking, Blind Spot Detection with Rear Cross Traffic Alert, Lane Change Assist and Lane Departure Warning. Kia is targeting the Niro to earn top honors from the National Highway Traffic Safety Administration and Insurance Institute of Highway Safety.
Our Take
The Niro's exceptional fuel economy is truly what sets it apart and what's really going to sell this vehicle. Kia just needs to hammer that point home and it seems to already be doing so through its commercials. Having Melissa McCarthy voice those 15-second commercials is a smart move. Having her appear next to the Niro in an even longer commercial to air during the Super Bowl is even smarter. Of course, the recent Guinness World Record title helps Kia's cause, too. 
Useful SUV Links
---
Recommended SUV News & Reviews