Automakers know the SUV segment is becoming increasingly crowded and so they continue to try everything in their power to impress customers and to set their sport utility vehicles apart, including offering unique infotainment systems with large touchscreens.
Having a large touchscreen can be helpful for a number of reasons. A large touchscreen is easier to see, which can help reduce driver distraction. When a driver has to look more closely at a smaller screen to find the icon they need, that touchscreen can be much more distracting than a larger one. A large touchscreen is also nice to have because it can help make your sport utility vehicle's interior look that much more modern and sophisticated.
We've included a list of more than 10 SUVs with impressively large touchscreens below. Some of the SUVs are already on the market, while others will be making their way to dealerships or the production line soon. Which one is your favorite?
NOTE: If the SUVs aren't available just yet, their model year is listed.
Tesla Model X and Model Y: 17" and 15" touchscreens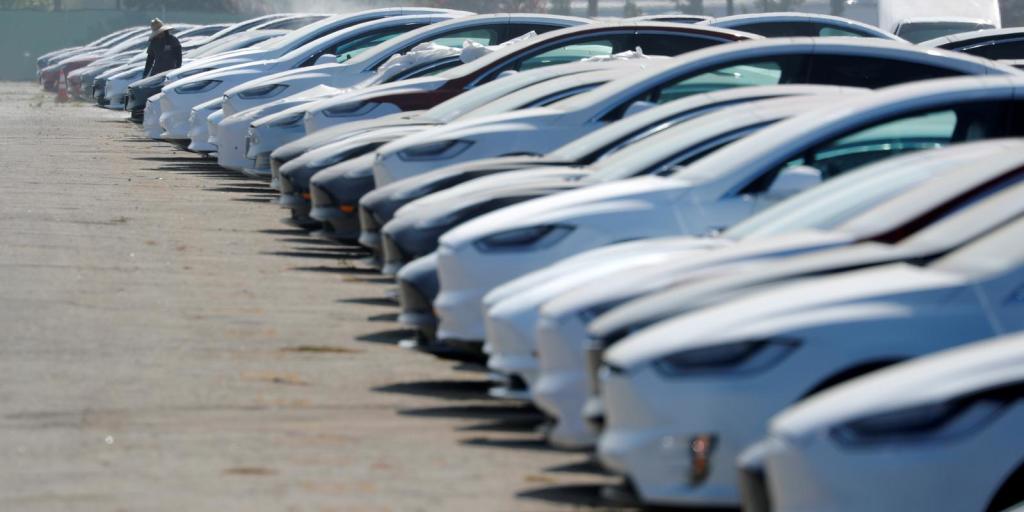 Tesla's all-electric vehicles are known for having large touchscreens and that includes its Model X and Model Y SUVs.
While Tesla's Model X SUV already makes quite the impression with its Falcon Wing doors, its expansive 17" portrait touchscreen is yet another fancy feature and a great reason to love the all-electric SUV. The touchscreen is easy to see and use and looks great next to the all glass panoramic windshield.
Tesla's Model Y SUV is its newest SUV and it's also more affordable than the Model X. It's still able to carry up to seven passengers, though, so it continues to offer great versatility. It features a slightly smaller touchscreen than the Model X.
Unlike the Model X, the Model Y SUV has a horizontally oriented 15" touchscreen. It helps the Model Y's interior feel simple and elegant.
2021 Ford Mustang Mach-E: 15.5" touchscreen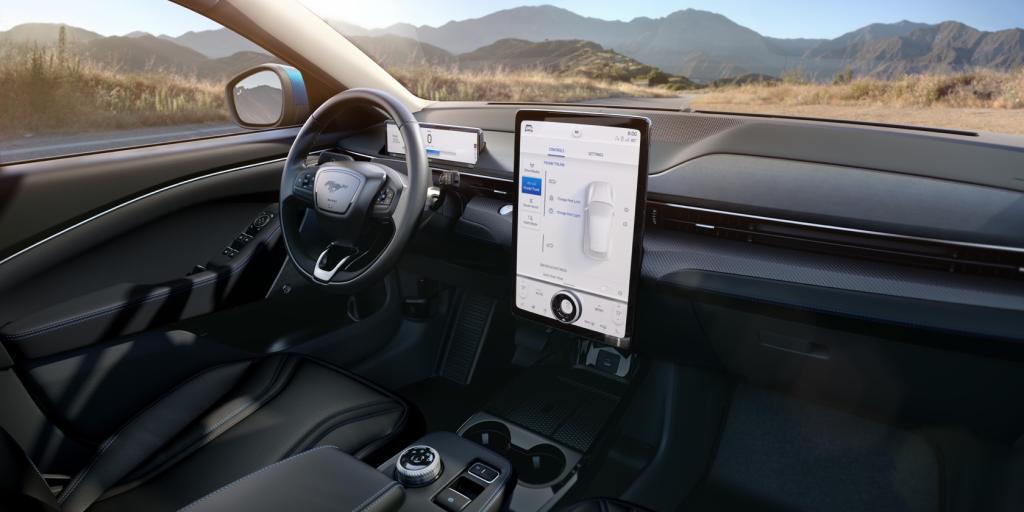 The Ford Mustang Mach-E is another all-electric vehicle with a massive touchscreen. It will arrive at dealerships late this year and features a 15.5" portrait touchscreen. It's the largest touchscreen that Ford's new SYNC 4 system supports.
The Ford Mustang Mach-E's large portrait display is unique, too, with a physical volume dial puncturing it at the bottom. There's also a 10.2" digital instrument cluster for the driver's viewing.
2023 Cadillac Lyriq: 34" touchscreen
Cadillac is hoping to get its first electric vehicle noticed with a 34" seamless curved LED screen. The massive 34" curved LED screen will cover the Lyriq's entire dashboard and serve as both the instrument cluster and infotainment screen.
Unfortunately, we'll have to wait until at least 2022 for the Lyriq as it's expected to be available as a 2023 model.
2021 Cadillac Escalade: 16.9" center touchscreen (and a total of 38" of screens)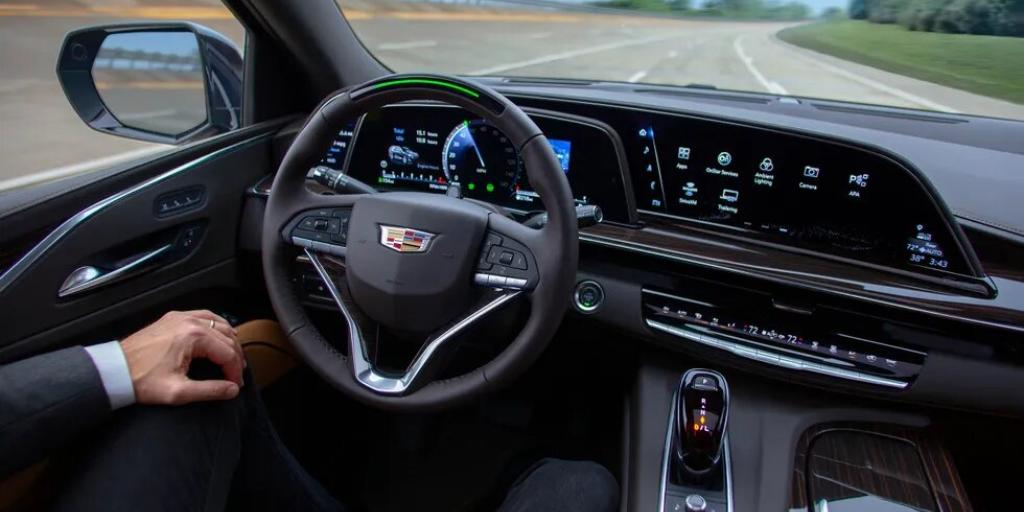 The 2021 Cadillac Escalade has a total of 38" of screens that make up its infotainment system and gauge cluster. It's not one seamless screen as it will be with the upcoming all-electric Cadillac Lyriq. Instead, the 38" of total OLED real estate is spread across three separate displays measuring 7.2 inches, 14.2 inches, and 16.9 inches. The 7.2" screen is off to the driver's left, the 14.2" display is located behind the steering wheel, and there's a 16.9" display off to the driver's right in the center of the dashboard.
Mercedes-Benz GLE: dual 12.3" screens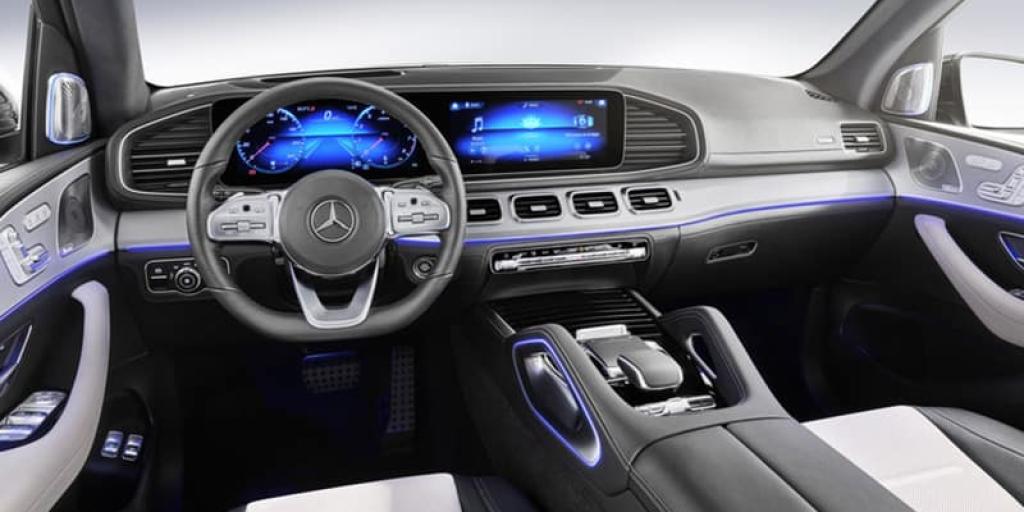 The Mercedes-Benz GLE is already an impressive vehicle, but it doesn't hurt that it has standard dual 12.3" screens. There's a 12.3" screen for the digital instrument cluster and it seamlessly blends with the 12.3" center touchscreen display. It gives the impression of a widescreen display, which helps the interior look that much more sleek and modern.
The voice assistant system that Mercedes offers with its infotainment also makes the infotainment experience inside the GLE that much more memorable.
Porsche Cayenne: 12.3" touchscreen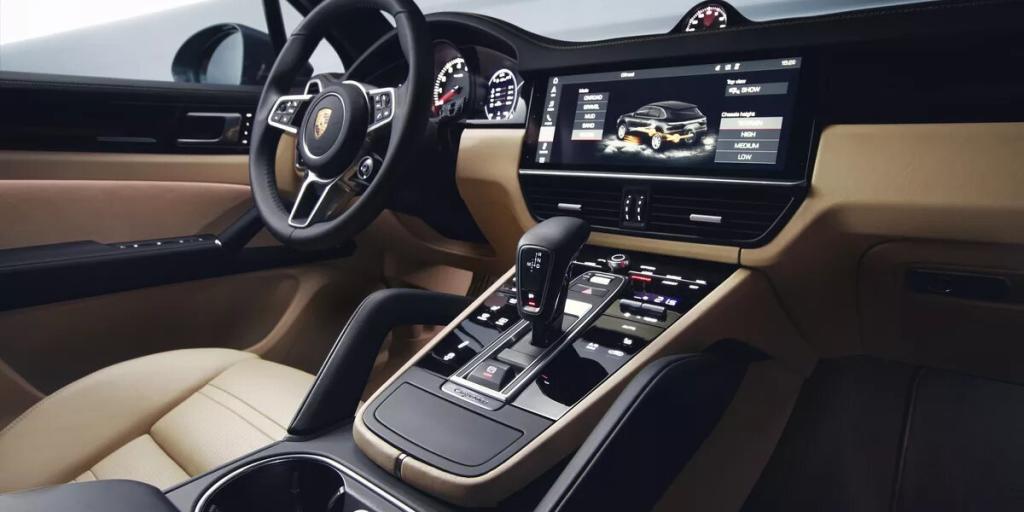 The Porsche Cayenne might not have dual screens like the Mercedes-Benz GLE, but it does have a 12.3" touchscreen in the center of the dash that's easy to reach and see. It helps add a modern touch to the sporty vibe of the Porsche Cayenne's interior.
BMW X5: 12.3" touchscreen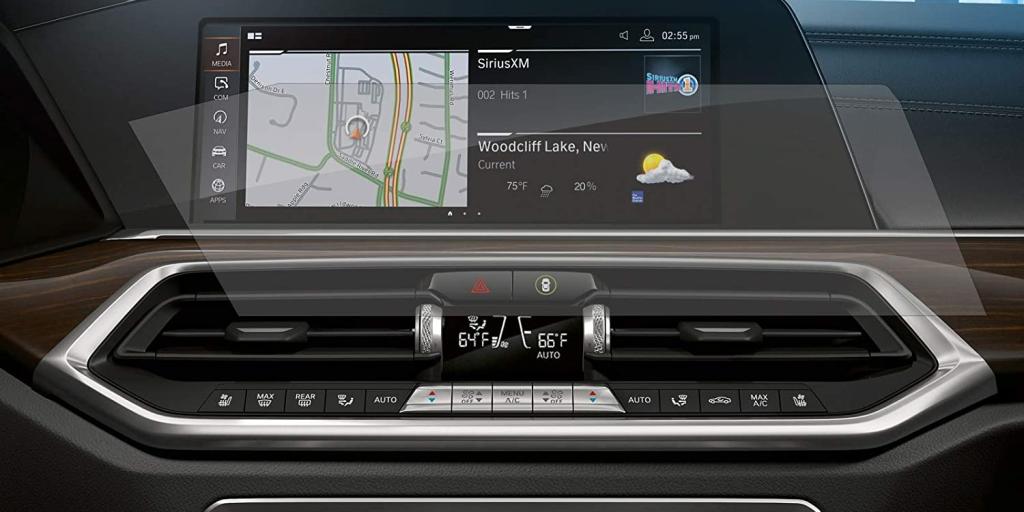 Like the Porsche Cayenne, the BMW X5 is another luxury vehicle to feature a 12.3" touchscreen in the center of the dash. It features vibrant graphics that help make it pop. The digital instrument display also adds a nice touch, and is helpful to the driver.
Range Rover: dual 10" touchscreens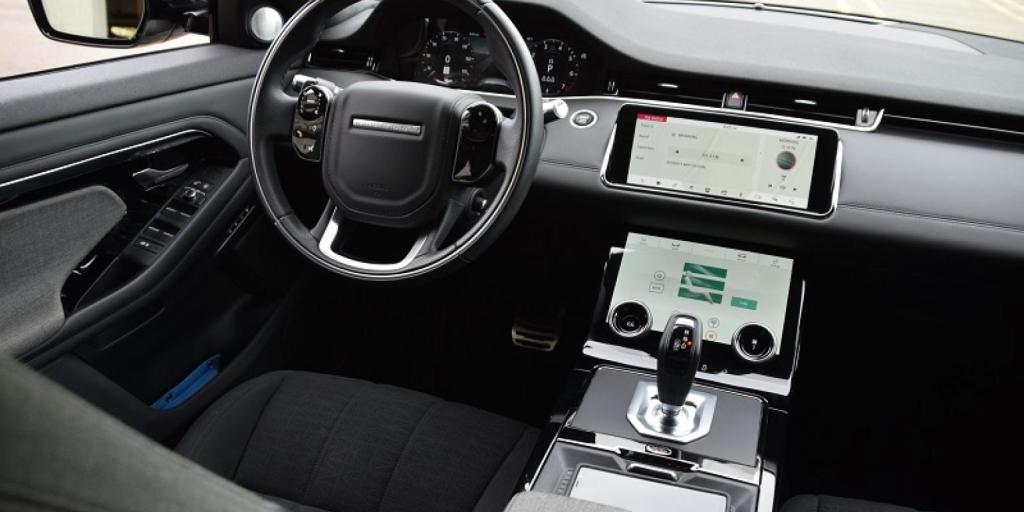 The Range Rover, Range Rover Sport, and Range Rover Velar all feature Land Rover's InControl Touch Pro Duo system that beautifully integrates two 10" touchscreens. The setup first debuted with the Velar. The Evoque is the only Range Rover that doesn't feature the dual screens as standard, though it is optional.
The stunning digital instrument cluster also makes the interior of the vehicles in the Range Range lineup look all the more impressive.
Audi Q7: 10.1" and 8.6" screens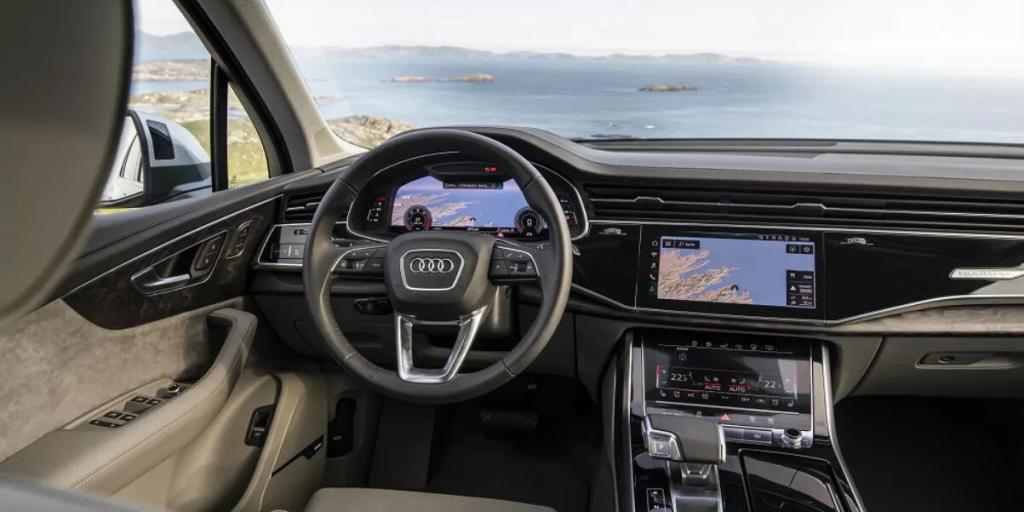 The Audi Q7 has two displays for accessing all the different functions you need. There's a 10.1" infotainment touchscreen and a smaller 8.6" screen located just below it for the climate control and vehicle settings. The advanced infotainment setup can also be found in the Q8 SUV. You can't forget about the impressive 12.3" digital instrument cluster, either!
2021 Chevrolet Suburban and Tahoe: 10" touchscreen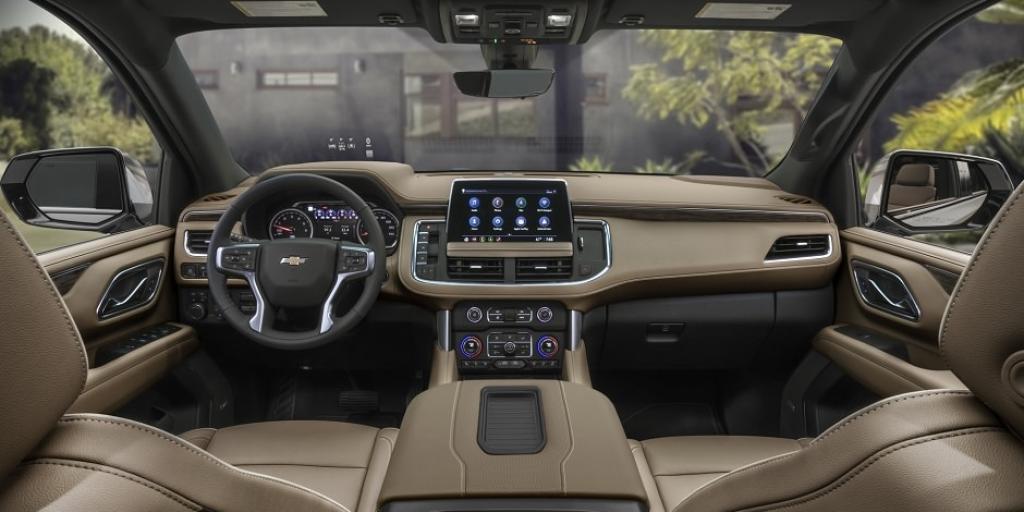 For the 2021 model year, the Chevrolet Suburban and Tahoe will have larger touchscreens as standard. They will both now feature a standard 10" touchscreen, which is 2" larger than the size they currently have.
Chevrolet also boasts that when fully loaded, its full-size SUVs can feature up to five screens in total including the driver instrument display, head-up display, center touchscreen, and two additional rear seat entertainment screens for passengers to enjoy in the back. Those rear-facing touchscreens are 12.6" in size and fit into the headrests on the back of the front row. Independent connections allow the screens to display different content on each side, which is helpful if your kids can't agree on a movie to watch.
Which touchscreen setup is your favorite?
So which SUV touchscreen setup is your favorite? Be sure to let us know by leaving a comment on our Facebook page or on our YouTube channel!
Useful SUV Links
---
Recommended SUV News & Reviews