Society is progressing at a lightning pace and this has led to a lot of innovation and complexity in life. At Thunder Power, the only thing that matters is the driving experience. This is pretty evident from the exceptional designs of the cars they've been working on.
Thunder Power
If you are a handyman, construction worker, or a DIY enthusiast, you certainly know what Thunder Power is all about. This vehicle manufacturer started off as a maker of electric power tools before they decided to start manufacturing electric vehicles.
Just a couple of years ago at the same expo, Thunder Power unveiled its first ever concept, a sedan which ran on a 125 kWh battery and had one of the most hideous grilles ever seen on a car – almost as ugly as the disappointment that most people felt when watching Zoolander, The Force Awakens, and Meet the Parents II. Wow! Those movies were pointless and terrible! Let's get back on topic, it's kind of ironic since EVs don't really need grilles anyway.
This isn't the only weird thing from that unveiling. The whole idea here is showing off the design of a vehicle and car makers tend to waste too much time trying to figure out what color will help emphasize the surfaces and lines of the vehicle best. Thunder Power did not choose that route. They, instead, chose matte blue and yellow lines which looked like camouflage more than anything else.
Frankfurt Debut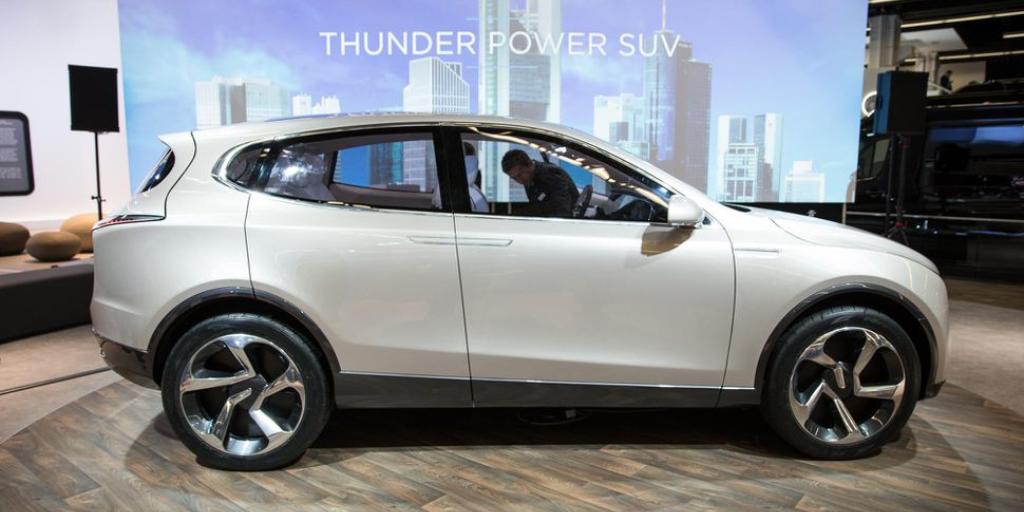 Luckily, Thunder Power didn't make the same mistake this time around. They went with a conventional white but chose to retain to the hideous grille.
The Taiwanese car manufacturer Thunder Power made a splash in the SUV market at the IAA 2017 in Frankfurt. This is an electric SUV, which they chose to display along with their development prototype of the four-door sedan. These cars, along with a coupe version, are going into production in 2019 and the SUV is going to start production in 2020.
Design and Features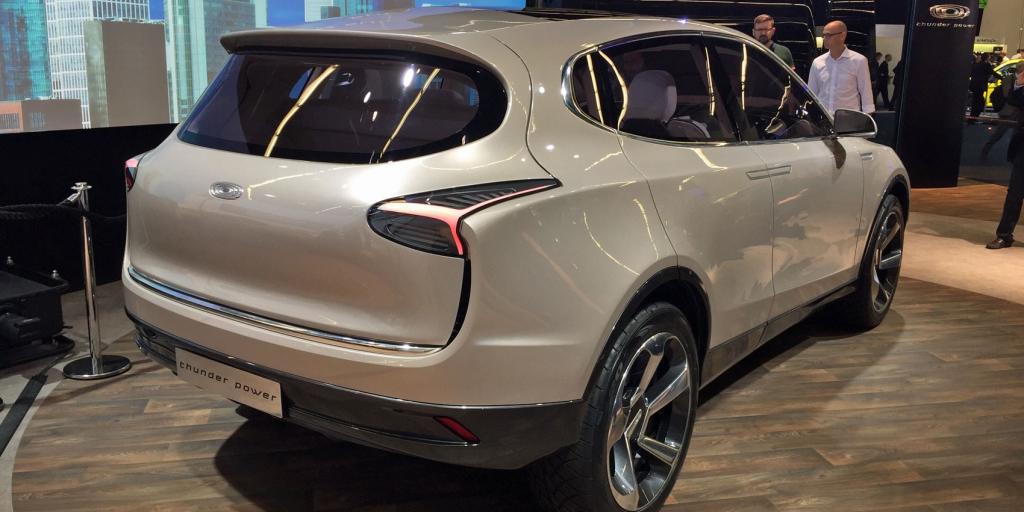 This futuristic looking electric vehicle sits on Thunder Power's own modular skateboard chassis, which has been developed in Germany and a suspension made in Italy. The cars were designed by an in-house team based out of Milan using pebbles to create a Zen-inspired design philosophy. Their grille's design is a repeating oval, also the logo of the company.
The main power source is a 125 kWh battery that facilitates a range as far as 404 miles, according to Thunder Power. This battery powers three 430 kW e-motors, one in the front and a couple in the back. The launch edition of the sedan version will come with a 488 kW powertrain which will be limited to 488 units.
The only drawback to the Thunder Power design is the battery takes a whole lot of time to charge. The vehicle preserves all the advantages of modern SUVs while retaining the dynamic capabilities of sedans and the driving pleasure associated with them. The unique way in which the electrical components are structured allows for a reduction of the aerodynamic coefficient by optimizing the intakes, surface-generated drag, and underbody.
The dynamic, sweeping lines of the SUV form a silhouette which is unmistakably powerful. All the design elements are derived from deeper meanings. They have managed to shape a simple vehicle into a piece of art by paying attention to minute details. They offer uncontrolled excitement, contemporary presence, and classic elegance.
Interior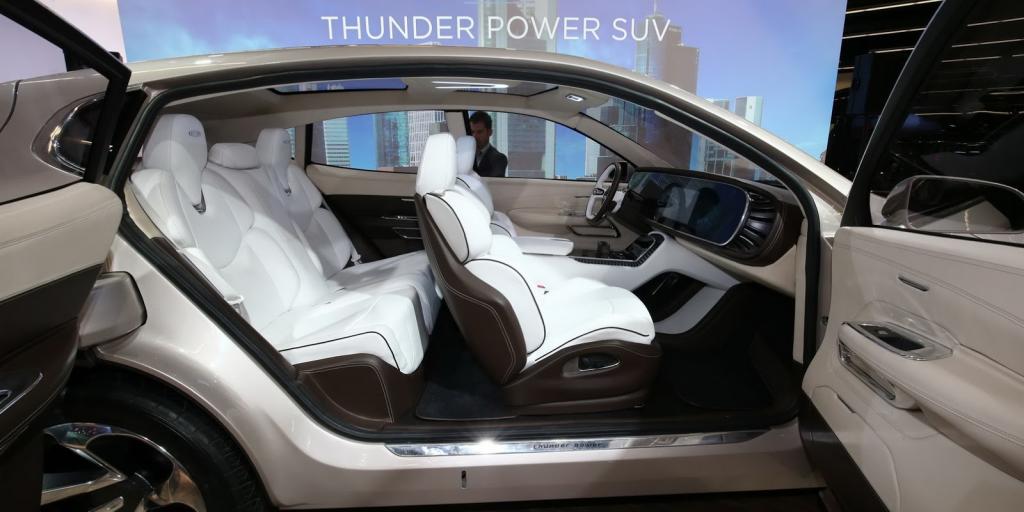 Thunder Power used intelligent packaging to maximize the space inside the SUV. It has a center of gravity which is about as low as any sedan. There are no traditional restraints inside. The SUV is going to have a luxurious interior with huge sculpted seats and a gargantuan touchscreen that spreads across the entire dashboard. This SUV looks like it is ready for production, though there is still a lot of time left before it debuts in the market. The SUV will include a proprietary autonomous driving system, complete with five different levels of operation. The system will continuously update automatically, to align with the constantly evolving praxis of technology and government regulation.
Performance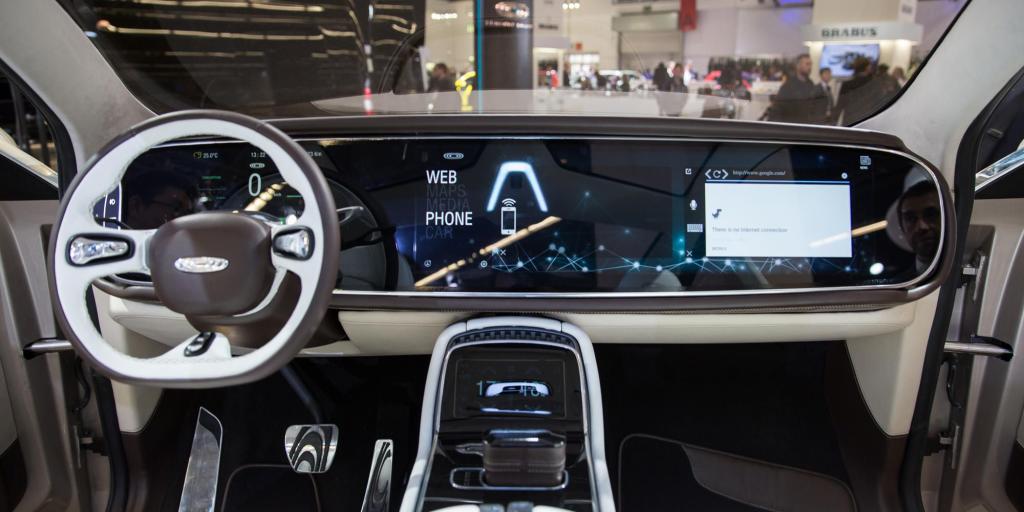 Thunder Power claims their SUV can hit a top speed of 155 mph and go from 0-60 mph in just 3.2 seconds. Now that's pretty fast for an electric SUV, wouldn't you say? This is innovation at its finest! It may not be as big as some other SUVs, which helps it achieve draw dropping numbers. Nonetheless, it's still impressive!
This SUV doesn't have a name yet but that's just a small hurdle which will no longer be an issue by 2020.
Thunder Power uses proprietary technology in battery management, chassis construction, and a thermal management system with more than 350 patents already submitted and more than 100 already granted.
Thunder Power is hell-bent on developing both models and selling them in Europe and China. It's currently working on plans to build a factory in Spain and already has a deal closed for the Chinese market out of Shaoxing.
The Future
If Thunder Power was thinking of entering the electric vehicle industry a few years back, then this is probably the best time for them to do so. The world is moving toward electric cars, while Tesla may be ruling the roost in the American market, the rest of the world is still looking for a leader. If the Thunder Power SUV is actually able to travel around 404 miles on a single charge, then they could change the game in the SUV market.
Given we won't see any Thunder Power production vehicles before 2019, 404 miles may not be as impressive then. Guess only time will tell. This is not just a concept for an auto show, it's a practical, real-world SUV. In locations where things are closer together, this SUV would work well.
Some Americans may buy this but with coal, natural gas, and oil making energy plentiful and cheap, electric vehicles are still at a serious disadvantage. There are profound limitations to this vehicle, or any electric vehicle, like charging locations and long charging times. Gas stations are boring but it only takes about four minutes fully fuel up. You cannot beat that! Until infrastructure catches up, EVs will remain a difficult sell to the American consumer.
Useful SUV Links
---
Recommended SUV News & Reviews