It turns out Volkswagen is ready to challenge small SUV manufacturers like Nissan. Though late to the game, Volkswagen announced it will make its smallest SUV to date, the T-Roc. The new SUV will go on sale in Europe in November and will be available worldwide soon after that, according to Bloomberg. Editor's Note: Rumors swirling about the industry suggest the T-Roc won't be brought to the US market. However, Volkswagen Group would be silly to not reconsider.
Distinctive Styling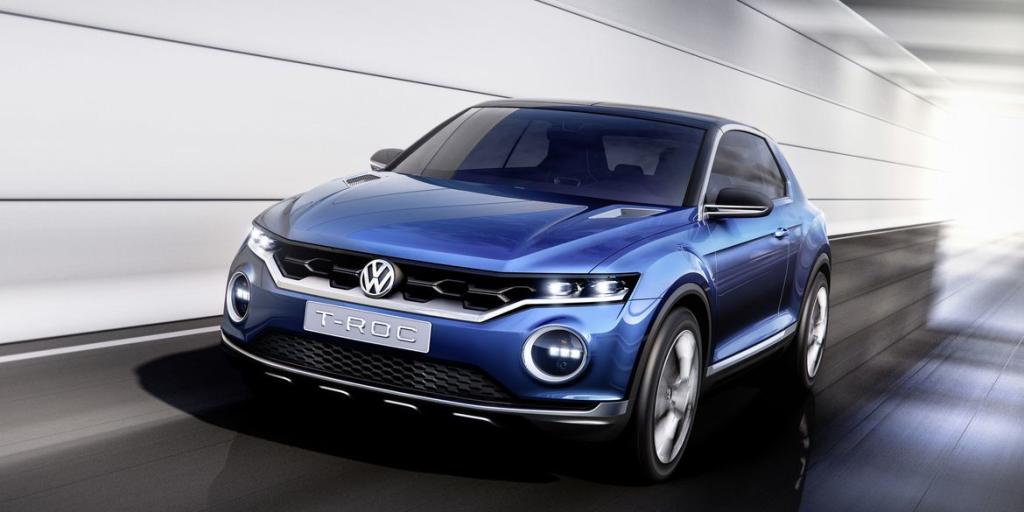 To distinguish itself in a segment loaded with remarkable models, Volkswagen offers its VW T-Roc with unique optional two-tone paint. You'll be able to choose a color for the body and another one for the roof. The appearance of the two-tone design alone will make the VW T-Roc stand apart from the many models in the sub compact crossover class.
Speaking of style, the T-Roc's sophisticated poise is both sporty and aggressive. Muscular lines accent a front end that exudes power. The T-Roc's grille is its centerpiece, as it's arrangement is like nothing you've ever seen. Angular and bold, it complements the body's lines and athletic stance. It's an impressive design sure to capture the attention of those seeking an SUV with swagger.
Modern Technology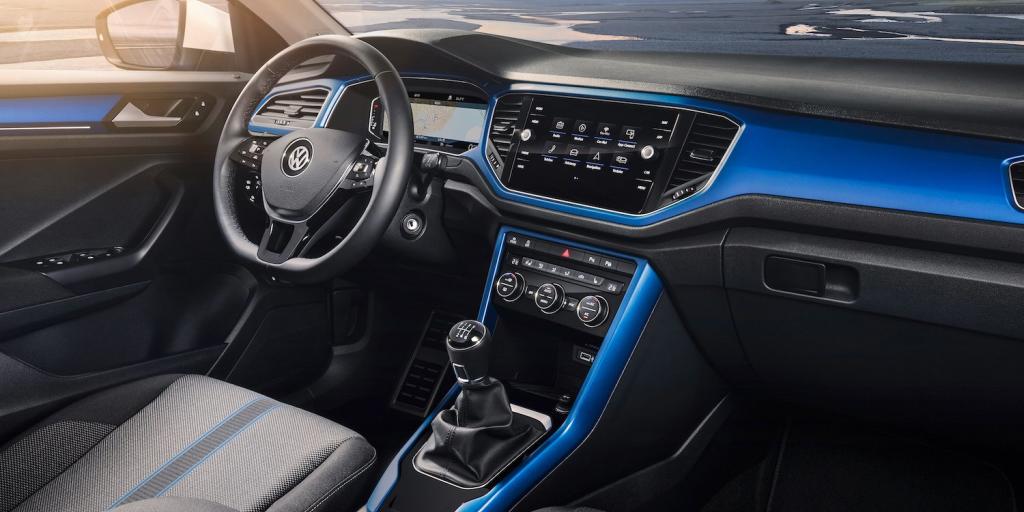 Volkswagen is sure to include many modern technology options to appeal to Generation Y buyers. A great example of this is an all-digital cockpit equipped with both an 8-inch infotainment screen and fully adjustable digital driver information display replacing a traditional instrument cluster. Intuitive and ergonomic, it allows drivers to master the road with the latest technological tools without being overly distracting. Speaking of distractions, let traffic stress melt away with crisp sound from Apple's Beats premium audio experience. The system consists of a 300-watt, eight channel sound system that elevates drives from routine to exhilarating.
Versatile Capability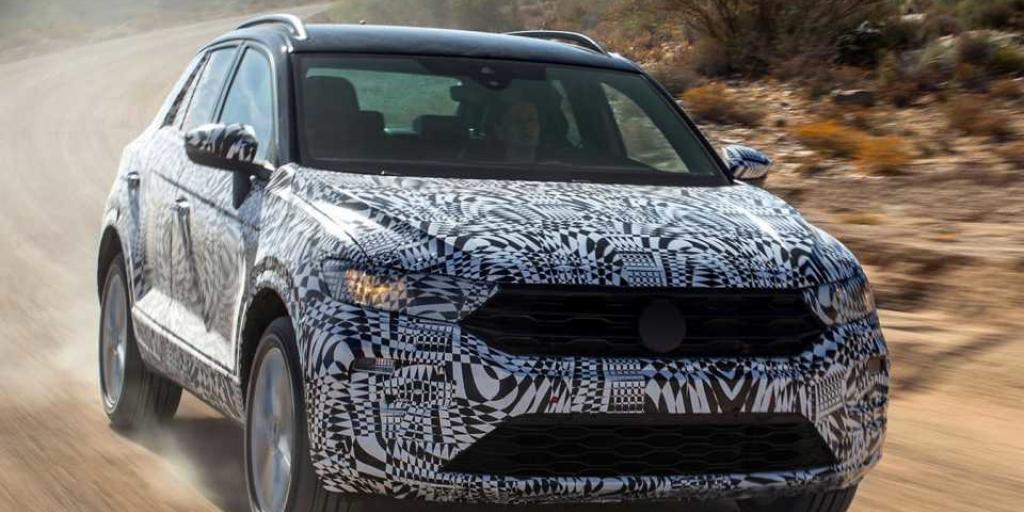 Volkswagen announced the T-Roc will arrive with diesel or gasoline engine options. Bloomberg reports another future offering will be a hybrid, consisting of a small electronic engine working alongside the main engine. The availability of three different types of engines will allow the manufacturer to appeal to a more diverse demographic.
The SUV's capability doesn't end with its engine options. The T-Roc comes with plenty of interior space for passengers and cargo. To provide context, the T-Roc has 23 percent more trunk space than the legendary Golf Hatchback, according to Volkswagen.
"The T-Roc embodies Volkswagen quality and will give our SUV offensive added momentum," Herbert Diess said to Bloomberg. Diess is head of VW. His words reinforce Volkswagen's strategy to infiltrate the SUV market and increase sales. Currently, the manufacturer plans to release seven SUVs between now and the end of 2018. Diess told Bloomberg 15 percent of the brand's sales come from its SUV line and he's hoping the delivery of new models like the T-Roc will boost that number to 40 percent.
Fashionably Late or Missing the Party?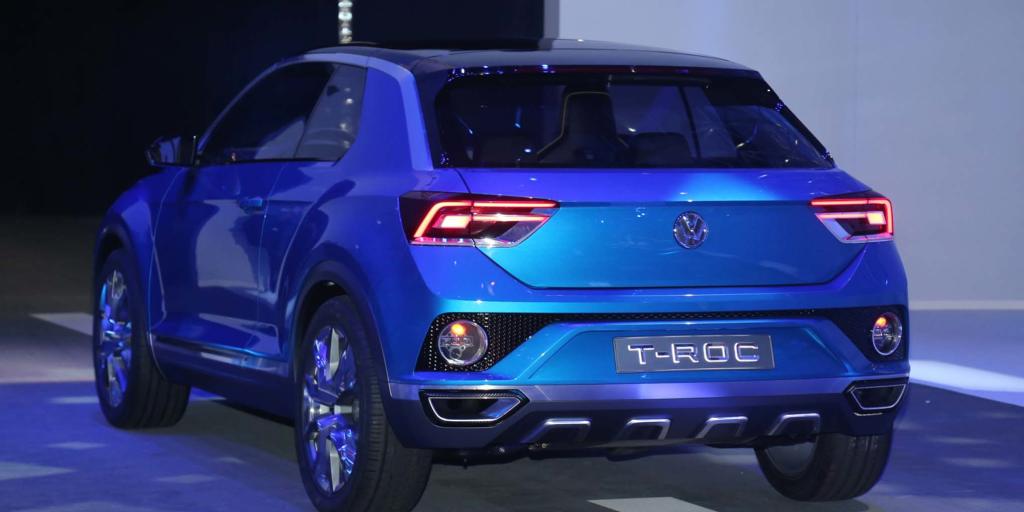 It's true that the appeal of SUVs, especially compact ones, has reached a fever pitch. Manufacturers are flooding the markets with new models to try to take advantage of the feeding frenzy while it's still going. The frenzy has no end in sight. SUV owners have the highest satisfaction rates among automobile owners. In addition, more millennials are taking a page from their parents' playbook by moving to the suburbs and buying SUVs. All of this illustrates the SUV market will continue to remain the strongest for the foreseeable future.
There's no doubt the T-Roc will join a crowded segment, where manufacturers are doing everything they can to jostle their way to the top position. Volkswagen hopes its late gamble will pay off. Given the versatility, style, and technology presented by the T-Roc, it could end up being Volkswagen's best bet to date.
Useful SUV Links
---
Recommended SUV News & Reviews