Nissan has made history with its alternative fuel vehicles and have more planned, including an all-electric CUV, a hybrid CUV and a FCEV SUV. Nissan was the first to offer an all-electric, zero emissions mass production car back in December 2010 with its innovative Leaf hatchback, and with the increasing demand for CUVs and SUVs it only made sense they apply their green technology their selection of CUVs and SUVs as well. While currently only in the concept phase, the Nissan Leaf CUV, Hi-Cross CUV and Terra SUV are three alternative fuel vehicles that offer a glimpse of the future.
Nissan Leaf CUV EV
While the most Nissan will divulge about adding another all-electric vehicle to their line is that, "there could be one more Leaf," there is a good chance that it will be in the form of a compact crossover SUV. Basing a crossover SUV on the current Leaf would require, at the minimum, adding some length to accommodate more cargo, but it has been done by other automakers making it very plausible. Nissan has already announced that the 2017 Leaf will receive an all-new battery that will give it a range of possibly 300 miles or more on a single charge. While the possibility of a Nissan Leaf CUV EV makes sense, Nissan has yet to confirm or deny the rumor. Nissan has already designed a Nissan Leaf pickup, affectionately known as Sparky, which with a few body changes, could easily be a future CUV.
Hi-Cross CUV Hybrid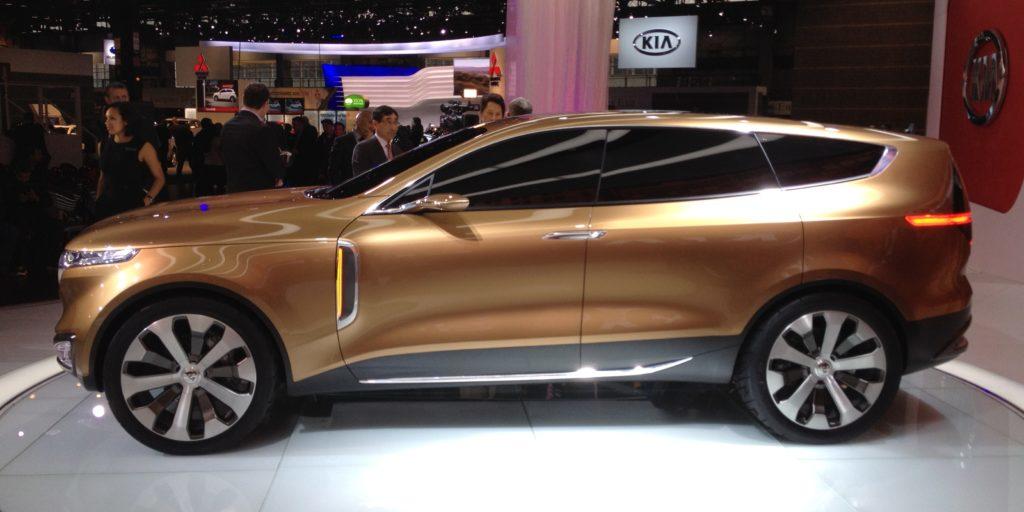 While the Leaf CUV EV is currently a mystery, the Hi-Cross CUV Hybrid concept made its first appearance at the Geneva Auto Show over three years ago. It blends styling cues of the Murano, Rogue and even a little style from the Juke into an attractive, athletic-looking crossover SUV. The Hi-Cross concept is loaded with features and options as well as the latest in high-tech electronics. It also features an advanced hybrid drivetrain consisting of a 2.0-liter gas-powered four-cylinder engine paired with an electric motor all controlled by Nissan's innovative CVT. The Hi-Cross will share a battery with the Nissan Leaf, which is anticipated to give it an all-electric range around 300 miles. It will seat up to seven and still offer plenty of cargo room making it perfect for a growing family or anyone who wants the savings of a hybrid and the room of a crossover SUV.
Terra SUV FCEV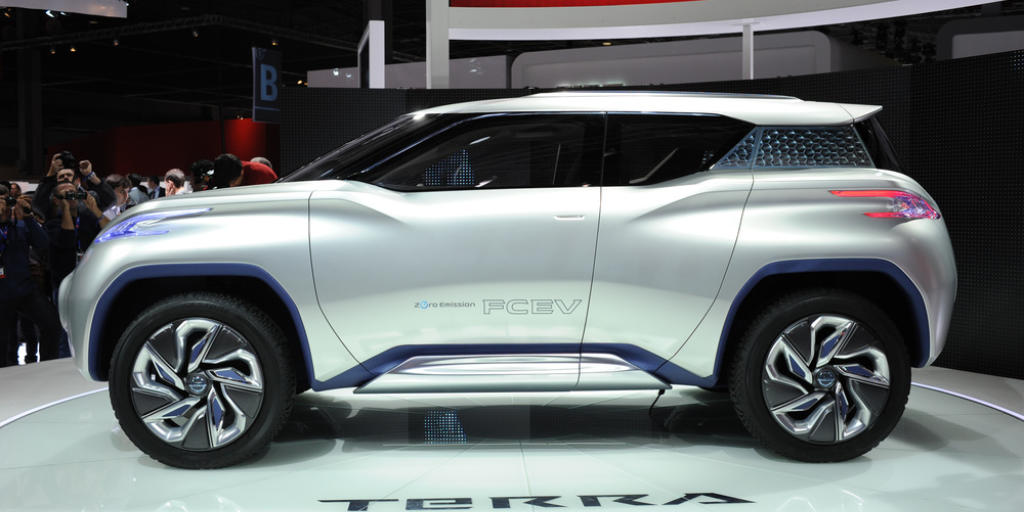 The most futuristic-looking future alternative fuel vehicle from Nissan is the TeRRA SUV concept. It also features Nissan's proprietary hydrogen fuel cell technology that currently leads the competition with a power density of 2.5kW/L that allows 85 kilowatts of power to be produced from a small, 34-liter unit. The complete system that powers the TeRRA includes three electric motors, the same motor that powers the Nissan Leaf EV. One motor powers the front wheels while the other two power the rear wheels giving the TeRRA its four-wheel-drive capabilities. As with the Hi-Cross, the TeRRA is also equipped with a long list of features in addition to the latest in high-tech electronics that provide entertainment as well as control nearly every aspect of this touch looking SUV. It is also designed with passengers in mind with unique hexagonal seating and a rear-hinged back door to allow easier entry and exit. While dubbed an "urban SUV," the TeRRA has the capability and technology to take on the road less traveled with relative ease. With automotive technology getting "greener" every year, the future of the crossover and SUV are destined to be highly electrified. With new fuel economy and emissions standards starting in less than two years, it is certain that automakers will increase their lineup of alternative fuel vehicles, including crossovers and SUVs. As the popularity of SUVs continues to grow, expect to see more fuel-efficient gas models and more choices in alternative fuel crossovers and SUVs. Even if you are on the fence about converting from a vehicle that runs on gasoline to one that uses electric motors or hydrogen fuel cells, one of these three great future SUVs may just be the nudge you need to choose a side.
Useful SUV Links
---
Recommended SUV News & Reviews