Full-size SUVs are excellent for those seeking ample interior space and more than capable power under the hood. Touching on the former point more, space is a premium many factor in as one of the main influencers in their buying decisions.
Practically, this makes sense. Midsize SUVs are perfect for growing families. Because of this, the more spacious the interior is --particularly in cargo storage, the more flexibility it provides families with for storing items and keeping passengers comfortable on commutes. To this end, we examined all the offerings in this segment to come up with the five most spacious as it pertains to cargo room.
Chevrolet Suburban LS
The Chevrolet Suburban LS has a best-in-class cargo capacity of 121.70 cubic feet, with the second and third row of seating folded. In addition, the Suburban possesses 39.3 cubic feet of trunk space, which is 20.4 cubic feet more than the average other models in its segment have.
The generous spacing doesn't just extend to the cargo area, though. With the Suburban, passengers have plenty of room to remain comfortable. The stylish SUV holds advantages over its counterparts by offering more space in first-row, and third-row leg and headroom. The only area where it lags behind slightly is in it second-row headroom, where it has 0.3 inches less than other models in its class. Overall, the Chevrolet Suburban offers generous trunk and cargo areas to make it a great choice for families.
GMC Yukon XL Denali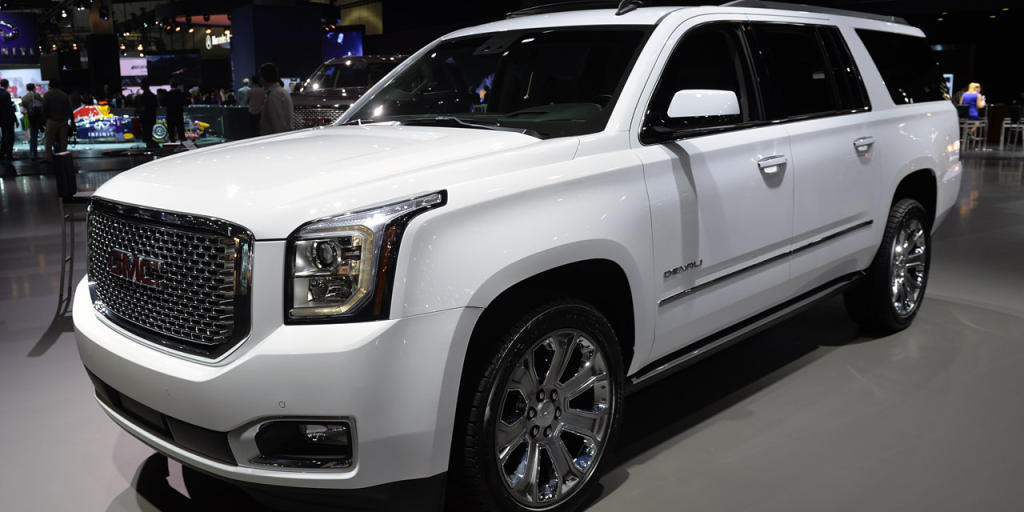 The GMC Yukon XL Denali mirrors the Chevrolet Suburban LS in space offerings. The Yukon possesses 121.70 cubic feet of cargo capacity, tying it with the Chevrolet Suburban as the two full-size SUVs with the most spacious cargo area.
In addition, the Yukon delivers a spacious trunk with 38.9 cubic feet of place, giving it 20.00 cubic feet more room than others in its segment offers. Considering that many families need the trunk space to store a wide variety of sized items, the Yukon's versatility is an attractive option for buyers. Adding to its allure is its spacious seating area. The Yukon has more spacious leg and headroom in every area aside from the second-row headroom, where like the Suburban, it falls 0.3 inches short of its competitors. All told, the GMC Yukon XL Denali offers ample room for passengers and cargo to make it on your short list of full-size SUVs to consider buying.
Toyota Sequoia SR5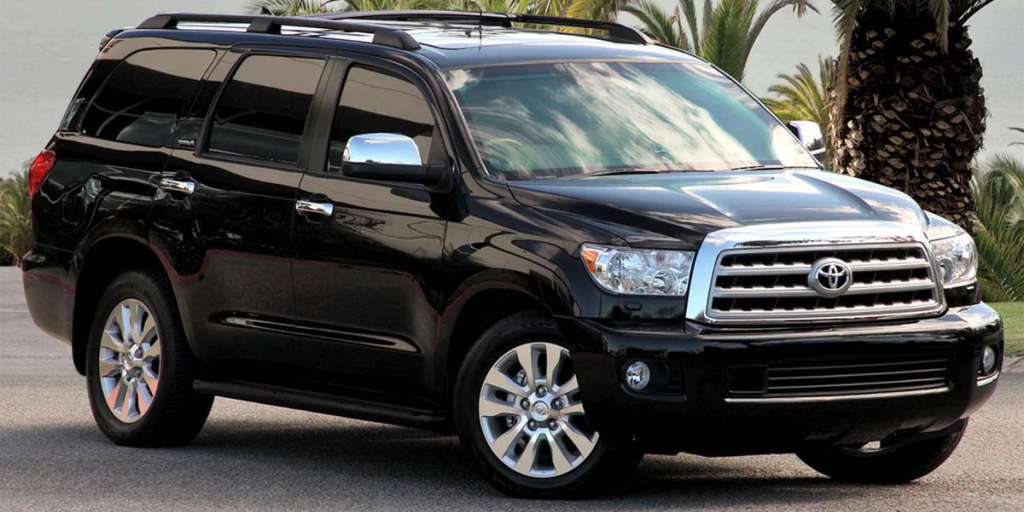 The Toyota Sequoia SR5 earned a spot on this list based on the strength of its cargo capacity. This SUV possesses 120.1 cubic feet of cargo capacity, placing it above the 116.1 cubic feet of cargo room average of its counterparts.
This is really the only area where the Sequoia SR5 excels. To illustrate, its 18.9 cubic feet of trunk space is 3.50 feet less than the average of what other models in its class have. Furthermore, it has less headroom in all three rows of seating relative to its competitors average. With these factors in mind, the Toyota Sequoia SR5 is a great choice if you need maximum cargo room and don't mind tighter fits in the trunk and passenger areas.
GMC Acadia SL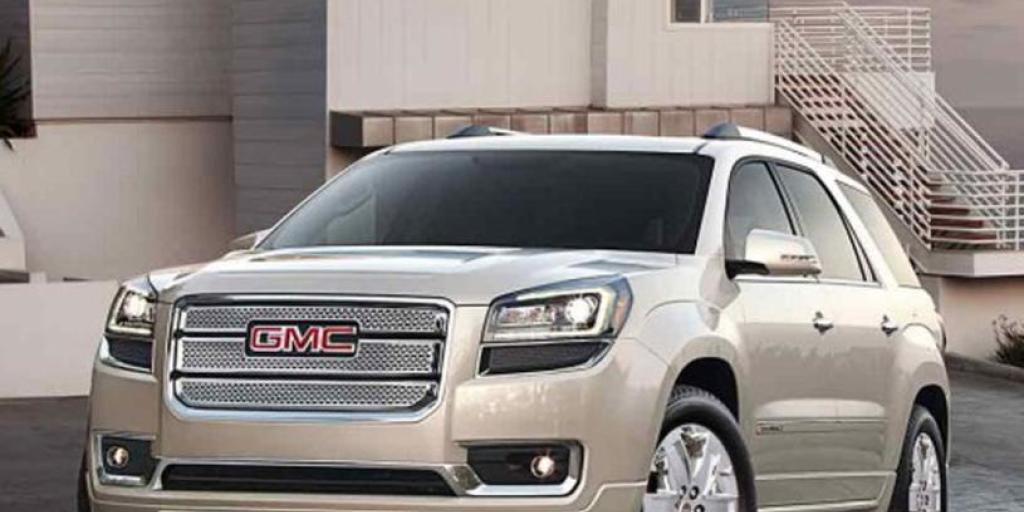 This spacious SUV earns its billing as one of the roomiest based on its cargo capacity and trunk space. It possesses 116.1 cubic feet of cargo room, placing it right in line with the average for the class.
Where the GMC Acadia SL excels is in its trunk space. With 24.1 cubic feet of trunk room available, it has 5.20 cubic feet more than the average for its class. This might not seem like much until you have to transport more gear. Then, you'll see that extra room pay off in spades. The Acadia does deliver an uneven performance concerning passenger space. It has more headroom in all three rows of seating than the average of its competitors. This generous spacing does not extend to its legroom, though, as it is deficient in all three areas relative to what its competitors average. Totaling all these factors, the GMC Acadia SL won't be the most spacious option available concerning passenger legroom, but it does make up for it with its generous trunk space.
Chevrolet Tahoe LS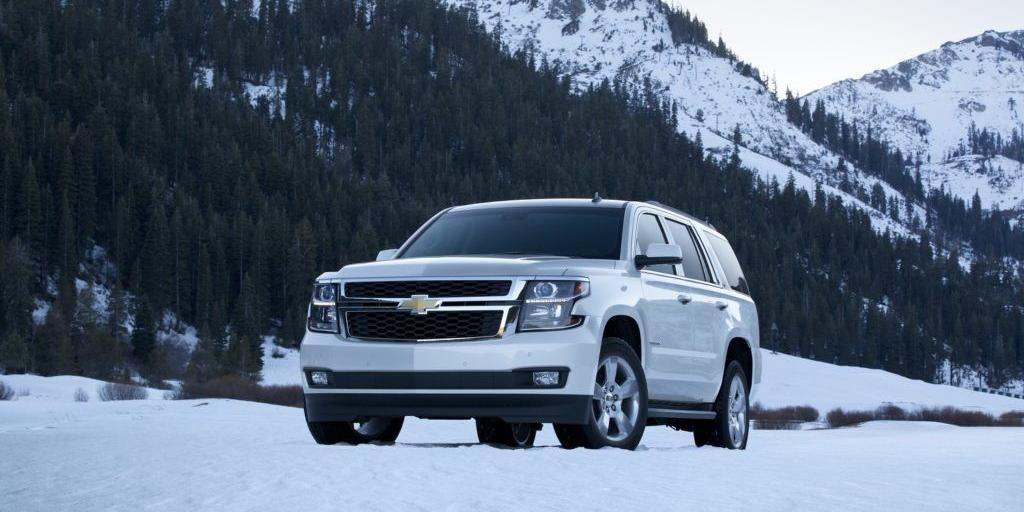 The Chevrolet Tahoe LS combines power performance with a roomy interior to make it an impressive choice for buyers. Now, the Tahoe won't wow anyone with its interior space when compared to others in its class. To illustrate, its 94.7 cubic feet of cargo room, while practical, is 21.40 cubic feet less than the average its counterparts have. This equates to a trunk-sized area of cargo room the Tahoe lacks.
Speaking of the trunk, the Tahoe's 15.3 cubic feet of trunk space falls short of the 18.9 cubic feet average set by its immediate peers. The only area where the Tahoe holds an advantage is in the front row, where it has more legroom--by 2.3 inches--and headroom--by 2.9 inches-- than its competitors possess. Overall, the Chevrolet Tahoe LS isn't the most spacious offering in its class. At the same time, if you don't require a ton of storage space this model isn't a bad choice to examine further either. The full-size SUV segment offers a good variety of spacious options to choose from. When conducting research on your next SUV, keep these factors in mind as it concerns space:
The primary uses for your vehicle such as taking kids to soccer practice, family vacations, and more.

Do you plan to grow your family in the next few years? This could place further consideration into how much room you need.

Do you have any pets you want to take on your commutes?

Do you have any activities where much storage room is required such as camping or skiing?
By taking all your needs into account, it can help you find the SUV that matches your priorities the most.
Useful SUV Links
---
Recommended SUV News & Reviews