Part of the appeal of SUVs rests in their varied options. You can choose between two-row and third-row passenger seating, making SUVs a great choice for growing families, professionals seeking a vehicle with a higher seating profile and more.
If you don't require much in the way of passenger seating, then you are apt to find great deals on affordable second-row models.  To help you receive the best value, U.S. News & World Report announced its "2-Row SUVs That Won't Break The Bank List." To create this list, it examined a wide variety of factors including initial price. To find an accurate average, it partnered with TrueCar. Additionally, quality and lower costs of ownership were critical factors U.S. News & World Report used to create this list.
Most Affordable Second-Row SUVs
Using these characteristics, it assigned a rating for each of the SUVs making this list. Below is a look at its findings:
2017 Jeep Grand Cherokee--3

2017 Ford Edge--2

2017 Nissan Murano--1
Ultimately, when looking for inexpensive second-row SUVs with excellent performance and reliability, these three models are best in class. Let's explore what makes each model so special.
2017 Jeep Grand Cherokee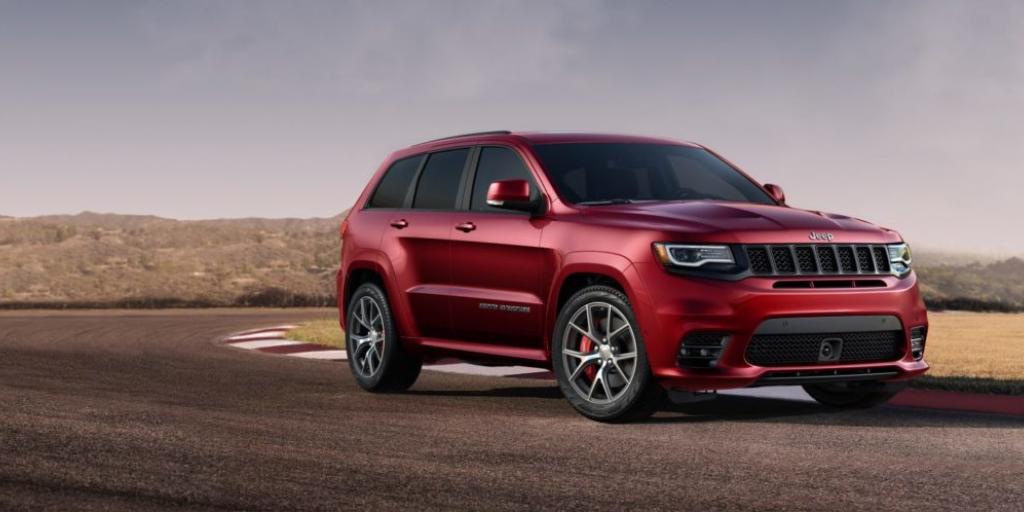 Any vehicle from the Jeep brand is synonymous with quality and performance. On the performance end, the Grand Cherokee delivers on and off-road capabilities few of its counterparts can match. It comes standard with the V6 engine. This engine supplies plenty of getty up with its 295-horsepower output. What's more, if you crave muscle car performance, Jeep gives you the option to upgrade to the 475-horsepower cranking, 6.4-liter V8 engine. This provides power on par with some of the best performance brands available.
What makes the Grand Cherokee such an appealing buy is its off-road prowess. If you want the best handling for the harshest terrains, the Trailhawk option is the one to go with, as it comes with locking rear differential and five driving modes (mud/sand, rock, sport, snow, and auto.) Performance isn't the only area where the Grand Cherokee delivers value. When you step inside its interior, you'll find the perfect blend of refinement and technological additions. The base model includes luxury touches such as the leather-wrapped steering wheel and shift knob. To appease your entertainment needs, Jeep equipped the Grand Cherokee with its Uconnect infotainment system. This system includes a five-inch touchscreen and Bluetooth connectivity, providing easy smartphone integration. The one area where the Grand Cherokee failed to wow critics is in its safety performance, according to U.S. News & World Report. It earned an overall four-star rating from the National Highway Traffic Safety Administration. Considering the highest rating the NHTSA offers is five-stars, this isn't bad. However, the Grand Cherokee scored three stars on the rollover portion of the test, which shows there's room for improvement in this regard. Ultimately, the 2017 Jeep Grand Cherokee offers versatile performance capabilities and a functional interior to make it a great buy.
2017 Ford Edge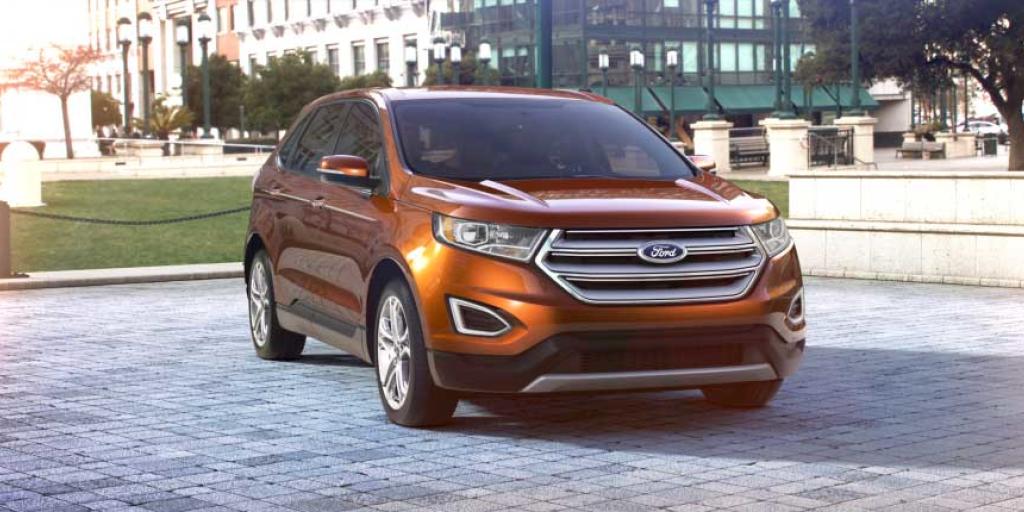 The Ford Edge possesses a sleeker profile that's a preview of its performance if you haven't driven one before. The Edge is a rare bird in that it delivers all the conveniences of an SUV with the performance of a sportier car.
Standard on most trims is the 2.0-liter EcoBoost four-cylinder engine. This engine, when paired with the six-speed automatic transmission, provides the SUV with enough of a kick to make drives exhilarating. With that said, if you want to maximize power, you should select the Sport model, as it comes with the twin-turbo 2.7-liter V6 engine. This engine generates 315-horsepower. While impressive on the surface, it fails to compare to the maximize output of the 2017 Jeep Grand Cherokee SRT. One of the most appealing aspects of the 2017 Ford Edge is its generously spaced interior. To provide a great illustration of this, we used data from automotive experts AxleGeeks to provide comparisons on how the Edge compares to others in its class in each space segment:
Front row legroom: With 42.6 inches of legroom, the Edge holds a 3.1 percent advantage on its counterparts.

Second-row head and legroom: The Edge's headroom of 40.3 inches gives it a 2.3 percent advantage while its legroom of 40.6 inches makes it 5.5 percent more spacious than what its competitors average.

Trunk space: The Edge has 39.2 cubic feet of trunk space. When compared to its class average of 26.9 cubic feet, it gives the Edge a 46 percent advantage.
For its spacious interior and sports car performance, the 2017 Ford Edge provides exceptional value.
2017 Nissan Murano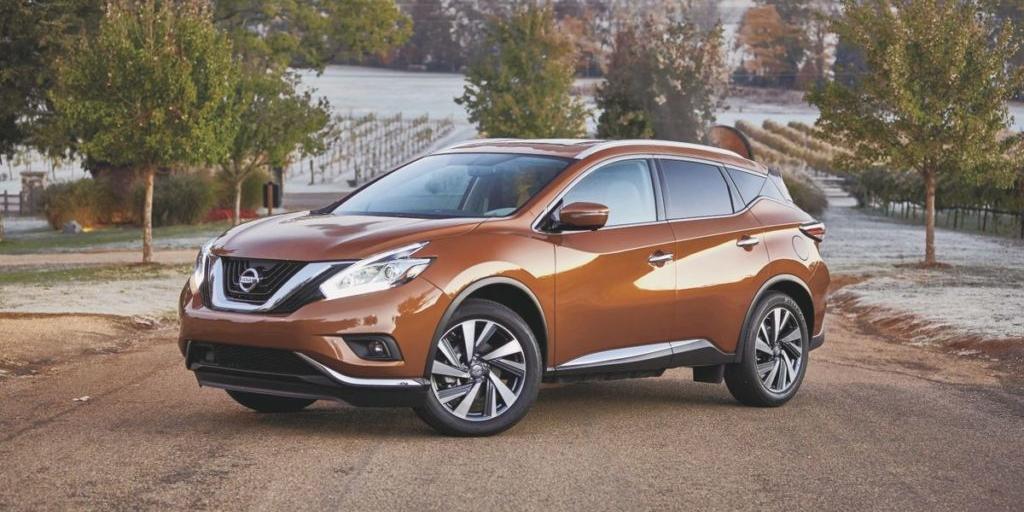 The 2017 Nissan Murano earned "U.S. News & World Report's Best 2-Row SUV for the Money" distinction for a variety of reasons.
First, it delivers good performance that saves you money. The only engine Nissan offers for the Murano is its 3.5-liter V6 engine. This engine delivers good power with its 260 horsepower output. Where the real savings kicks in are in its efficiency, where it earns up to 28 highway mpg.
A big reason for its efficiency concerns its continuously variable transmission (CVT). The CVT transmission lessens the stress placed on the engine to achieve better efficiency. There is a tradeoff, though. If you are unfamiliar with driving vehicles with CVT transmission, you can experience jarring shifts and lags in acceleration until you gain a feel for it. While the performance can be uneven for some, the Murano's interior should delight most. The luxury appearance belies the Murano's low price. Furthermore, the SUV features intuitive entertainment options like the NissanConnect infotainment system. Using a seven-inch touchscreen, you have a mobile command center where you have access to navigation, smartphone integration through tools like Apple CarPlay and more. Families will love the Murano's safety performance. The SUV earned an overall five-star rating from the NHTSA and is an IIHS Top Safety Pick. Along with confidence-inspiring safety performance, the SUV is spacious enough to handle your toughest demands. To illustrate, the SUV's trunk space of 32.1 cubic feet is 19 percent roomier than what its competitors average. The 2017 Nissan Murano is the top choice due to its reliable safety performance, luxurious design, and spacious interior.
Useful SUV Links
---
Recommended SUV News & Reviews