Affordability is the main consideration for most buyers. And even with the SUV segment being an embarrassment of riches as it concerns selections, finding a model that aligns with your finances should outweigh all other factors. 
To aid you in this endeavor, Car and Driver came out with its list of the cheapest new SUVs and crossovers of 2017. To compile the list, it examined the basic models of many SUVs. It's important to note many basic models don't come with the full complement of features such as accident avoidance safety equipment, all-wheel-drive, and in some cases, automatic transmission. So, if you need these additions, you'll pay more than the price listed. In addition, Car and Driver calculated delivery and required destination charges into all models making this list. Since you will pay these fees at the dealership, you should know what they are now.
The 10 Most Affordable SUVs of 2017
Touching on the metrics Car and Driver used, here is a look at the 10 most affordable SUVs of 2017:
2017 Chevrolet Trax--$21,895
2017 Nissan Juke--$21,190
2017 Fiat 500X Pop--$20,990
2017 Jeep Compass Sport $20,935
2017 Mazda CX-3 Sport--$20,860
2017 Mitsubishi Outlander Sport ES--$20,690
2017 Honda HR-V LX--$20,405
2017 Jeep Patriot Sport--$19,035
2017 Jeep Renegade Sport--$18,990
2017 Kia Soul Base--$16,995
As you can see from this list, there are a wealth of great SUVs available for less than $22,000. Of course, if you want to maximize affordability then the Kia Soul is a great way to achieve this.
Kia Soul Touts Outstanding Value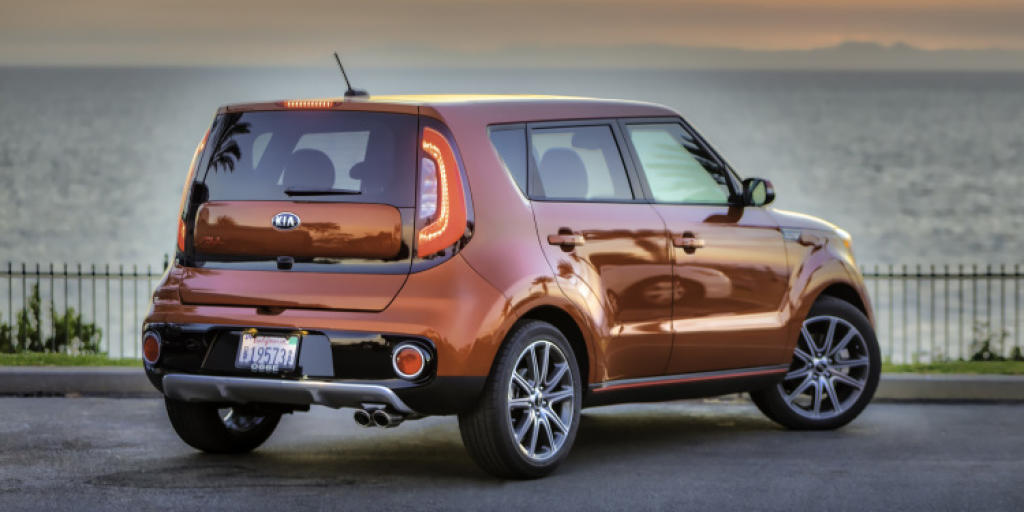 What makes the Kia Soul such a rare find is not only its low price but its exceptional quality as well. Car and Driver added the Soul to its 10 Best Trucks and SUVs list. This honor gives the Soul another distinction many of its counterparts cannot match.
You receive much for the low price. Kia redesigned the Soul to have a sleeker profile, giving it some dimension which it's boxy predecessors lacked. To add some flair, Kia added LED lights to the Soul. Along with creating more captivating touches, the LED lights provide some functionality by increasing range of vision.
The performance isn't bad either. The base model comes with the 1.6L I4 GDI engine. The engine delivers enough power for normal commutes with its 130-horsepower output while also helping you save money in fuel costs with its combined efficiency of 27 mpg.
If you are tech savvy, you'll be impressed with the base model. It comes with Bluetooth connectivity to sync your smartphone. You can also enjoy commercial free music with SiriusXM Satellite Radio--subscription required after the free trial ends. What's amazing is you receive all these features for under $17,000. Best of all, if you want to make adjustments, it won't cost you much either. To demonstrate, say you want the Soul to deliver more of a power punch. You can elect to choose the upgraded trim, which includes the 2.0-liter, Inline 4 engine. This engine achieves up to 161-horsepower to provide the brisk acceleration you crave. The perfect pairing with this engine is the six-speed automatic transmission with Sportmatic to make your drives glide with smoothness. Even Kia Soul's most extensive trim is within reach for many budgets. This trim includes the 1.6L I4 turbocharged GDI engine, cranking out a heart-pounding 201 horsepower. It also has leather-trimmed seating, the UVO eServices with a seven-inch touchscreen display and the seven-speed dual-clutch transmission with Sportmatic. This well-equipped SUV has an affordable MSRP of $22,800. Lastly, it's important to factor warranty offerings into the value equation. After all, the more a manufacturer is willing to stand behind its product, the more confidence it inspires. In this regard, Kia is among the best, as it offers its 10-year, 100,000-mile limited powertrain warranty. You won't receive this longevity in warranty offerings from Chevrolet, Ford, or Honda.
Value Factors to Consider
A vehicle's price is only one aspect of how it delivers value to you. While it's a great starting point for identifying SUVs in your budget, you should also examine other factors as well.
Along with your budgetary needs, you should prioritize what your primary requirements are for the SUV you want. In many ways, this is much more important than performance stats because you want the SUV to accommodate your needs. Here are some things to keep in mind:
Type of driving: Will this be the primary vehicle your household uses for driving? If so, which kinds of drives do you engage more in? How many passengers will you transport? To demonstrate, if you run a cleaning business and will use the SUV as your transportation for work, a fuel-efficient compact SUV is going to be a great fit. Meanwhile, if you plan to transport some of your son's soccer team and equipment regularly then a full-size SUV will be more suitable for your needs.

How reliable is the SUV? Just because it's affordable doesn't mean it's a great buy. You can conduct research to find the most reputable SUVs by segment using initial quality studies by J.D. Power. 

How satisfied are owners of a particular SUV? Once you narrow down the model you want, you should see how other owners' experiences have been. If you have a friend or loved one who's owned the same model, ask them how it performs. Owner feedback is an invaluable way to determine how well the SUV performs.
Our Impressions
It's easy to see why Car and Driver is so high on the 2017 Kia Soul. The Soul achieves superior affordability and delivers excellent quality, illustrating the SUV's tremendous value to owners.
While price is a good starting place when considering an SUV, it's vital to conduct research to ensure it meets all your needs, it's reliable, and other owners receive satisfaction from it. This well-rounded approach to research will help you find the SUVs, like the Kia Soul, which deliver the best value.
Useful SUV Links
---
Recommended SUV News & Reviews