While the Ford Excursion was discontinued in 2005 when the push became stronger for smaller, more fuel-efficient SUVs, its legacy lives on thanks to Hennessey Performance. Hennessey Performance has been taking great vehicles and making them better and faster since 1991. From high-performance exotic and muscle cars to pickup trucks and SUVs, Hennessey has added its special brand of power and performance to a wide range of vehicles in the past nearly 25 years. The 2016 Hennessey VelociRaptor SUV is most unique as it has major body modifications in addition to upgrades in power and performance equipment. Based on the Ford F-250 Lariat, the 2016 Hennessey VelociRaptor SUV is a full-size SUV like no other you have ever seen and definitely not ordinary.
What is a VelociRaptor SUV?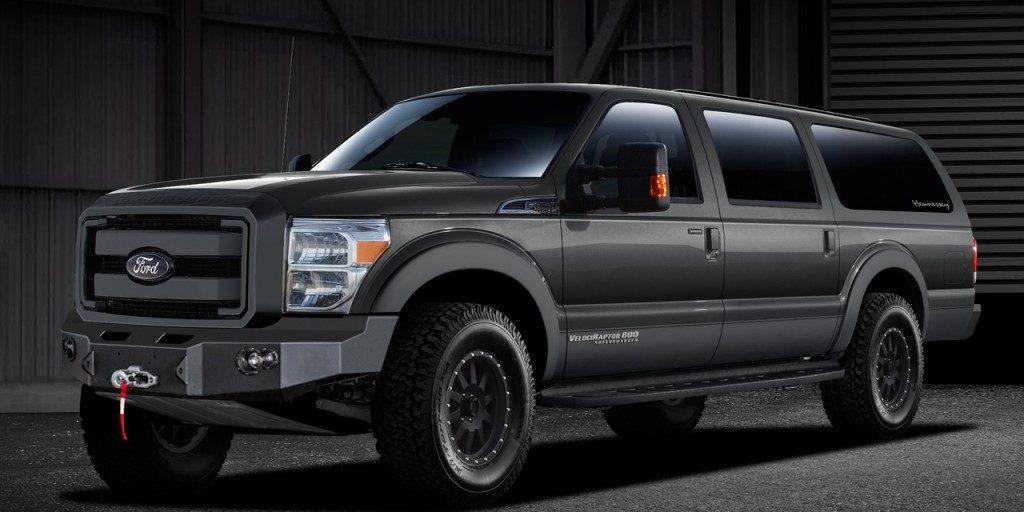 The 2016 Hennessey VelociRaptor is a full-size SUV that seats seven, or eight depending on the configuration you choose, and gives you all the function and convenience of a full-size 4WD SUV plus much more. Since the Excursion has been gone for a decade, Hennessey chose the Ford F-250 Lariat as the platform for their version of the extinct, monstrous SUV. The VelociRaptor does maintain some of the same equipment and features of the F-250 Lariat trim including the 6.2-liter V8 engine or 6.7-liter inline six-cylinder diesel choices, but nearly every system gets Hennessey upgrades. From front to rear, top to bottom there is not much that is not tweaked, tuned, or upgraded. This includes the addition of the custom-built framing and body panels that turn the F-250 pickup into a full size SUV.
What makes the VelociRaptor big and bad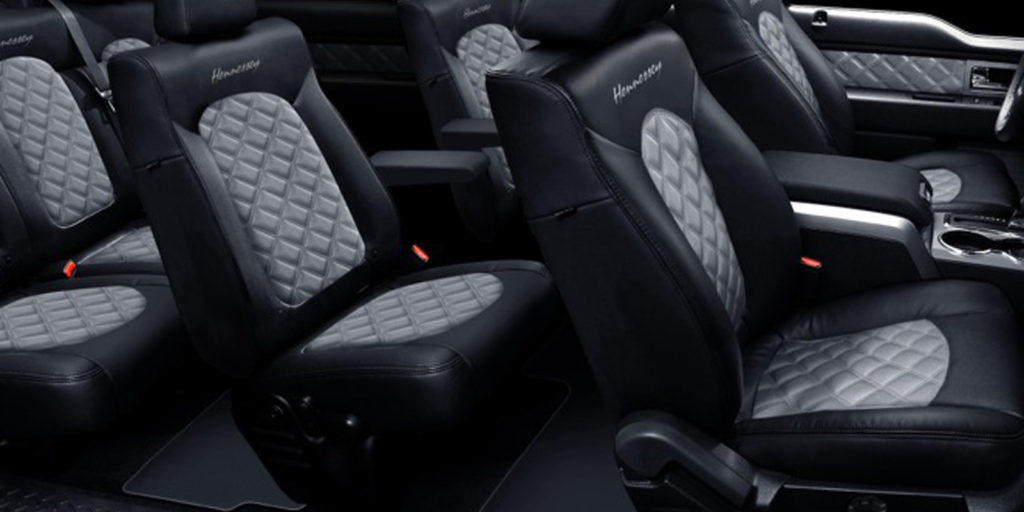 There is a long list of upgrades and conversions the F-250 Lariat receives to transform it into the beast that is the Hennessey VelociRaptor. Starting under the hood, Hennessey adds one of two superchargers to the stock 385 horsepower 6.2-liter V8 engine. Depending on your budget and need for speed, there is a choice of a 600 or 650 horsepower VelociRaptor supercharger upgrade. Both the gasoline engine, with or without supercharger, and the diesel engine are paired with a tuned version of Ford's six-speed electronically controlled transmission. The stock two-speed transfer case gets a Hennessey tune-up as well. While buyers do have the option of going with the stock engine, transmission and transfer case at no charge, why would you want to when you can have up to 650 supercharged horses at your disposal?
The VelociRaptor SUV is unique from bumper to bumper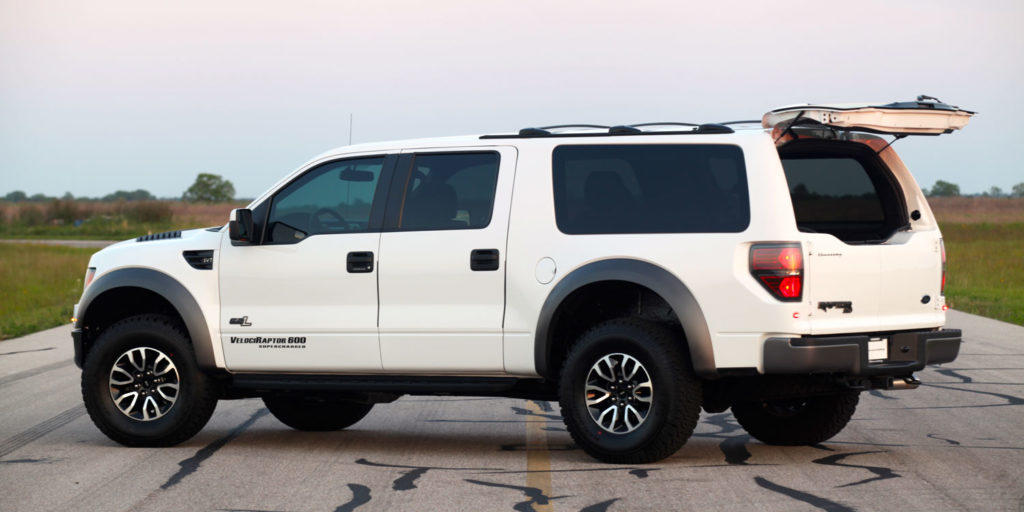 Starting at the front bumper, Hennessey replaces the stock version with a heavy-duty steel off-road one with a built-in Warn power winch, eyelets for D-ring shackles, built-in high intensity fog lamps, and light bar. Hennessey also adds Raptor-inspired side steps, fender flares, skid plates, and a matching rear bumper with convenient side steps. It is also upgraded for more heavy-duty towing with a Class V trailer hitch receiver and wiring harness. Stock wheels and tires are replaced with black alloy beadlock-style wheels with BF Goodrich All-Terrain T/A tires that are as capable off-road as they are on pavement. The suspension system also receives a Hennessey upgrade with larger A-arms, MacPherson struts, remote reservoir shocks, and a modified leaf spring rear suspension. Inside, seating is updated to accommodate an SUV instead of a pickup to include front and second row captain's chairs and a third row bench seat that seats a total of seven, or an optional second row 60/40 split bench seat to seat eight. Cargo room is similar to what the Excursion offered and the third seat does come out for additional cargo room. Of course, the Hennessey also receives unique interior and exterior badging as well as a serial numbered dash and engine plaque.
Where you can get a Hennessey VelociRaptor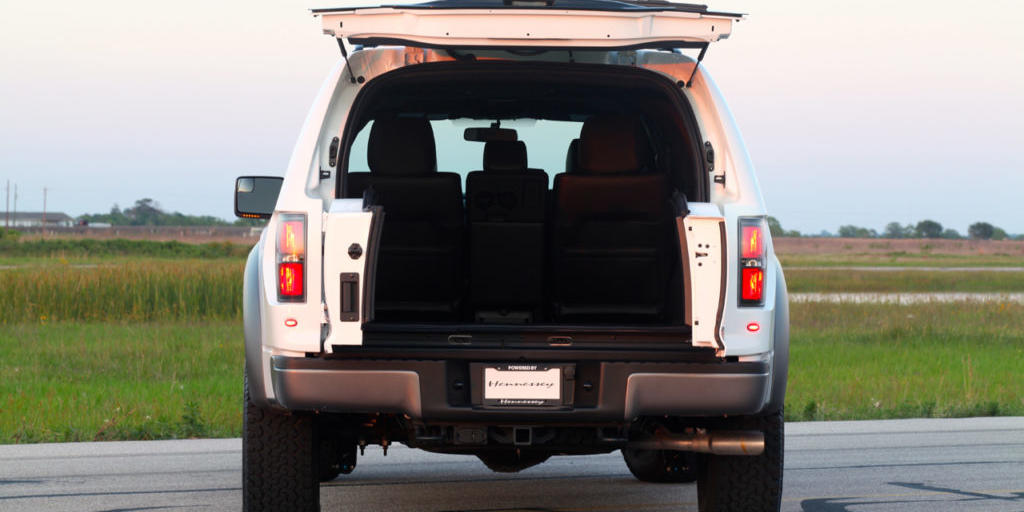 If the Hennessey VelociRaptor is everything you are looking for in a full-size SUV, you can place your order directly with Hennessey by phone or email. The build time for the VelociRaptor is currently six months from the date of order and payment. If you want to add a VelociRaptor to your life, expect to make a significant investment as the base upgrades start at around $160,000. Of course, you can expect to pay more for the larger supercharger and any additional custom options you choose. You also have the choice of going with the VelociRaptor upgrade itself, or create your own, super-customized monster SUV with the help of the designers and engineers at Hennessey. While the size, power and price of the VelociRaptor SUV are a bit much for most consumers, for those that want a monster SUV with all the monster upgrades to go with it, it could not be more perfect. If you want more than just the ordinary SUV, the Hennessey VelociRaptor certainly goes far beyond ordinary, almost to the point of extreme.
Useful SUV Links
---
Recommended SUV News & Reviews