Tesla brings a different approach as to how to display and sell their SUVs. One of the unique ways it is going about this is through its program called Tesla Explores.
Tesla is driving across the country, using its Model X SUVs to tow Airstream trailers, which houses Tesla's design studios. These studios feature everything an SUV buyer would want from having the opportunity to design their own Model X to speaking with Tesla product specialists, who can help them learn all about Tesla's innovative SUV.
This is such a unique concept because it allows Tesla to showcase the Model X's capabilities—by towing the Airstream trailers—as well as give customers around the country a look at the SUV up close. The approach is a further indicator of how Tesla wants to change the experience of how buyers purchase their vehicles through unrivaled accessibility and a stylish marketing campaign.
If you are eager to see the Model X up close and take advantage of Tesla's first-ever design studios, here is an upcoming itinerary of where its design studios will be:
Paseo Nuevo

651 Paseo Nuevo

Santa Barbara, California 93101

Dates: September 9-18
Smyth Hotel

85 West Broadway

New York, NY 10007

Dates: September 16-18

Saratoga Auto Museum

110 Avenue of the Pines

Saratoga Springs, NY 12866

Dates: September 23-20

Abbot Kinney

1515 Abbot Kinney Blvd

Venice, CA 90291

Dates: October 7-16
Tesla is also planning more visits to major metropolitan places such as Seattle, Boston, and Chicago. You can visit its website and sign up to learn more on when Tesla plans to be in a city near you.
For now, let's dive in to take a closer look at this state-of-the-art SUV.
Design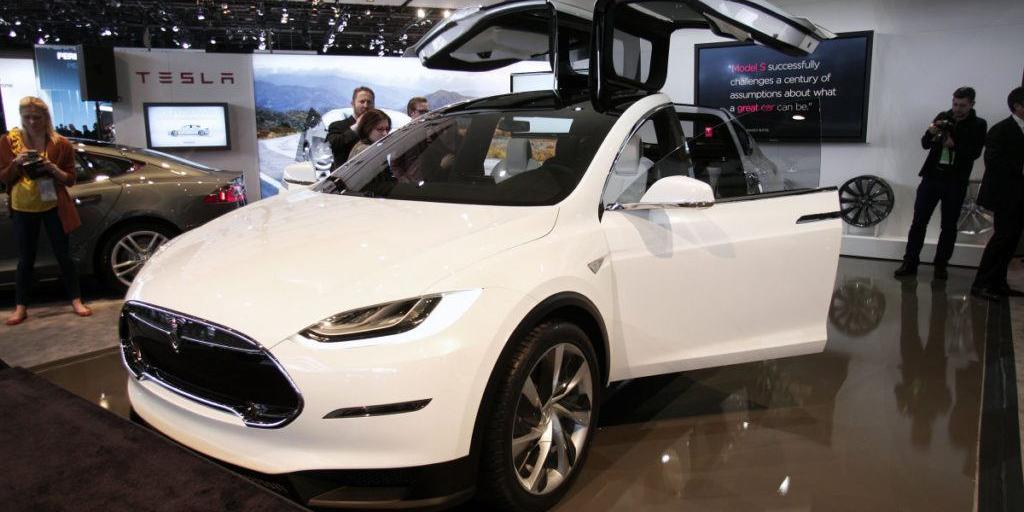 Tesla's aim when designing its Model X was to make it the safest SUV available. One way they went to achieve this is through the SUV's floor-mounted battery placement. Due to the battery's placement, Tesla states it lowers the SUV's center of gravity, lessening the chance of it rolling over by half relative to other models in its class. The structure of the battery also protects the SUV's body from side impact collisions.
Another aspect Tesla focused on was the front trunk. Since there isn't a gasoline engine located in the front of the SUV, the trunk serves as a crumple zone, which can absorb crash energy, thus adding another section of protection for the vehicle's occupants in the event of a collision. Tesla takes the safety of its Model X so seriously it even installed a HEPA filter. These filters remove everything from bacteria to pollen to pollution that might filter in from the cabin air.
Along with safety, Tesla swung for the fences when it designed its Model X. A great illustration of this is the Falcon Wing doors. Not only does these doors achieve a stunning visual when open and extended, it adds excellent functionality to boot. Say you park in a tight space with only a foot of clearance on either side of you, that is more than enough for the doors to open out and up, creating ample room to maneuver in and out of the vehicle.
Another excellent component of the Model X is its aerodynamic body design and active spoiler, resulting in the SUV's 0.24 drag coefficient; this allows Tesla to boast it has 20 percent less drag than other comparable SUVs. In turn, it allows the SUV to achieve greater efficiency helping it earn its 289-mile range.
Interior Design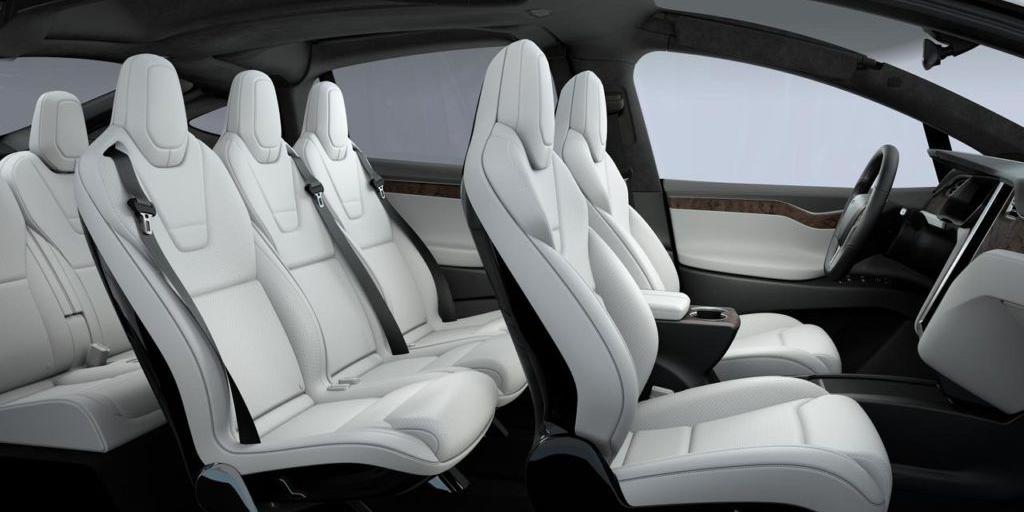 Tesla designed its Model X to seat seven passengers comfortably in three rows. It placed keen emphasis on the second row, where passengers can recline their seats individually. The second-row seating is adaptable too as you can lean the seat forward to create more cargo room for your larger items.
Speaking of space, there are many ways to fit all your gear in the Model X. The front trunk is an excellent place to house items like your golf bag and suitcases, There's also room under passenger seats you can tuck away smaller items.
When you step inside the Model X one thing that becomes apparent is how big the windshield is. This isn't an accident, as Tesla wanted to provide you with the best view of the stars and sky on your journeys and they did so by creating the largest windshield available for an SUV.
Technological Offerings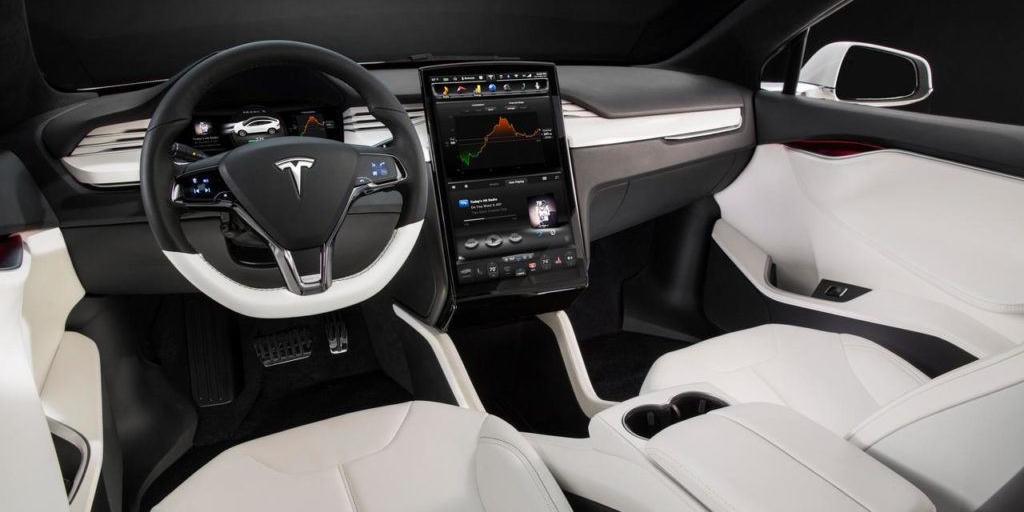 The Model X is the perfect copilot for your trips. Its regular updates ensure all systems from navigation to performance are operating at optimum levels. There's also real-time traffic information with navigation and maps, aiding you on your journeys. Of course, the biggest benefit is you receive free travel on Tesla's Supercharger network.
Performance/Safety
The Model X's safety equipment helps the SUV deliver a responsive driving experience. Its electric all-wheel-drive maximizes traction so whether you're cornering or driving over slick road surfaces you'll have better command of the SUV.
It also features proactive safety features such as automatic emergency braking to assist you in avoiding collisions at all costs. Completing the safety hat trick is the blind spot warning, where the system alerts you if a vehicle enters your blind zone. All these systems work together to help you make the safest decisions on the road.
Warranty Offerings
Tesla offers two different warranties on its Model X. The first is an eight-year warranty on its battery—no mileage restrictions—and drive unit. It also offers a four-year, 50,000-mile limited warranty.
Our Thoughts
Overall, the Tesla Model X is precision engineering. Its intricate design ensures there's no wasted detail, resulting in an SUV that's more efficient and delivers excellent safety performance. Of course, with its price hovering around $100,000 it will be out of reach for many buyers, but if curiosity tickles your interest, be sure to visit Tesla's design studio to see the Model X when it rolls into your town.
Useful SUV Links
---
Recommended SUV News & Reviews