Over the course of owning your SUV, it isn't uncommon for it to incur scratches--sometimes many with an active lifestyle! While they can be unsightly and in some instances, infuriating, it's part of owning a vehicle and they are surprisingly easy to fix. Here's a guide on how to help your SUV regain its pristine showroom look.
1. Assess the Damage
Your first step is to assess the damage. To do this, you'll want to determine how many layers (of four) has the scratch penetrated. Your Mechanic does an excellent job breaking down how to assess the damage. According to them, often the damage done to your SUV penetrates multiple layers, as the clear coat bonds to the surface of the paint. Therefore, when you come across a scratch or paint chip, if it has gone through the clear coat it will be a different color from the rest of your SUV's body. Meanwhile, for deeper cuts that penetrate to the metal, not only will it be a different color, Your Mechanic states there's often dents affiliated with this damage. Once you know the severity of the damage you can move on to paint choices.
2. Paint Matters
Next, you'll want to factor in the type of paint used on your SUV's body. In many instances, the paint applied is a clear-coated catalyzed enamel, according to Popular Mechanics. In some instances, if your SUV has a custom paint job or is older--think more than 20 years--it might have a different type of paint.
Since you'll be trying to fix the surface of your SUV, knowing the type of paint used is imperative. You can find its paint code on the inside sticker on the driver's side door of your SUV--sometimes this might be under the hood instead. Once you find the paint code, you can take it to your local auto parts store to find the right color. However, if they don't have the color in stock, you have a few different options available.
Take it to an Auto Painter
Auto detailers are adept at mixing paint colors, so this would be a great option to turn if you cannot find your SUV's body color at any of your local auto parts stores. Now it's important to note you'll need to bring a sample for them to match up the right color, so you can take an accessory that's easy to remove such as the gas cap top. Once there, they can mix you a sample that perfectly mirrors your SUV's body color.
Visit the Dealership
Another option is to visit the dealership where you bought the SUV. When there, you can supply the manufacturer's paint code. They'll be able to match it up and give you as much as you need. This is an expensive option, however, so you'll want to keep this in mind before visiting.
Shop Online
A less expensive alternative is to shop online. Popular Mechanics recommends websites like expresspaint.com. When you visit its website, there are prompts on the home page where you enter your SUV's information such as its year, model and make. From there, the website gives you the different paint choices available for that model, and unless you did a custom paint job, you should be able to find your match. Upon finding your color, there's an array of paint sizes available from touch-up pens to quarts. How much paint you need corresponds with the size and depth of the scratch. If it's a minor scratch, often you'll be able to use a touch-up pen whereas sizable damage requires more paint.
Now that you have the paint, let's move on to fixing the damage on your SUV.
3. Filling in the Scratch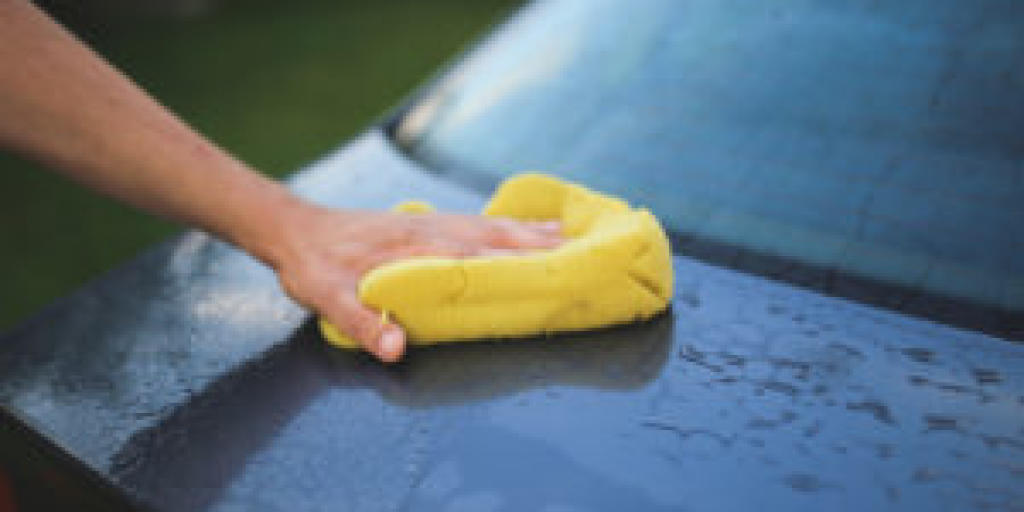 The first step is to clean the damaged area to remove any dirt or debris such as paint chips. You can use warm, soapy water to vigorously get in there. Once dried you should sand the area down. This creates a smooth surface so when you apply the compound it will appear consistent with the rest of the vehicle's body paint. Your Mechanic recommends using a toothbrush for small scratches and sandpaper for deeper ones. If the scratch is small, you can apply toothpaste on a clean cloth and use a waxing motion on the scratch. This prepares for it the compound.
Next, you want to use a compound kit--you can find these at your local automotive or department stores. Apply the compound to a clean pad or in the event your kit didn't include one you can use a cloth. Similar to cleaning the spot, you'll want to use a waxing motion over the damaged area to remove the scratch. Continue applying until the scratch disappears. 
Once it's gone, you can apply the wax by using a thin layer. Once you have waxed over where the scratch was, you'll want to clean the area again. If you applied the wax consistently, there won't be a difference between it and the rest of your SUV's body.
While small scratches can be troublesome, they are easy to remove. Meanwhile, if your SUV has deeper scratches, you'll need to find a touch-up kit, then clean and sand the area affected like you would with smaller scratches. Next, use painters tape to section off the damaged areas. This prevents you from painting other areas of your vehicle. From there, use the touch-pen found in your kit to apply new primer. Upon completion, make sure the paint you're applying is well-shaken--containing no metal flakes--then touch up the damaged areas. Similar to applying compound, you'll want to use thin layers to build up to symmetry with the rest of the SUV's body. After waiting for the paint to dry, apply the clear coat to your vehicle using an aerosol can. Once the paint dries, have your whole SUV waxed. Afterward, inspect the area where the damage occurred to ensure it mirrors the rest of your vehicle.
Useful SUV Links
---
Recommended SUV News & Reviews