Who would have thought that a single SUV that has made nearly every "worst" list since its demise in 2005 would make a comeback? While it does not happen often, it seems that the Pontiac Aztek has gained some positive attention to counter all the negativity thanks to a popular television series. The Pontiac Aztek debuted at the North American International Auto Show in Detroit on January 10, 2000 and was hyped as the "first sport recreational vehicle." While GM had grand plans for the Pontiac Aztek, the rest of the country did not quite embrace it as well as they had hoped.
Aztec Launch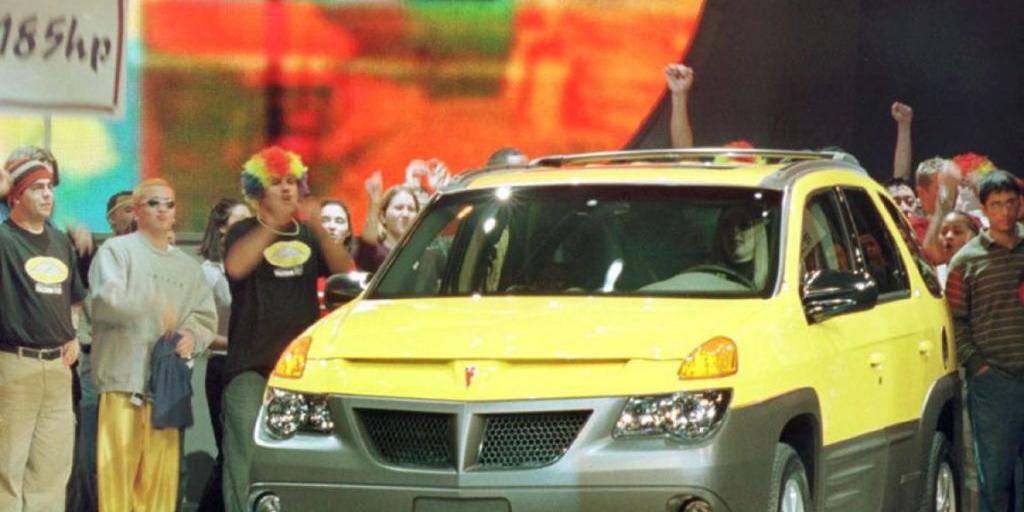 The Pontiac Aztec made its debut in 1999, for the 2000 model year, as "quite possibly the most versatile vehicle on the planet." Designed by Tom Peters, who later was responsible for the design of the C7 Corvette, it was the first vehicle designed entirely with computerized prototyping and visualization tools. It was also the first SUV to wear the Pontiac nameplate in the United States. The interior capability of the Aztec was large enough to accommodate a full 8-foot by 4-foot sheet of plywood and featured a pullout cargo tray with a maximum capacity of 400 pounds. It also had a cargo net that could hold up to 200 pounds that could be configured up to supposedly 22 different ways. The Aztec also had some unusual features including a center console/cooler, a built-in tent and inflatable mattress (with built-in air compressor), a two-piece tailgate with contoured seating and cup holders as well as a number of specialty racks for a variety of outdoor sports equipment from canoes to snowboards.
What went wrong with the Aztec
The first problem was that GM put the proverbial cart before the horse when forecasting the sales figures for the Pontiac Aztec. GM expected to sell up to 75,000 Aztecs per model year, meaning they needed to produce around 30,000 to initially keep up with demand. Unfortunately, only around 27,000 were sold for the 2001 model year, nearly the same amount for 2002 and 2003 but then fell sharply in 2005 to just over 5,000 sold. Another problem was the price. Intended for those that were part of "Generation X," it was priced much higher than comparable vehicles from other brands putting it out of reach for much of its target audience. Even after dropping the price in 2001, adding low interest financing options, and large rebates in the wake of September 11, sales of the Aztek were still far below expectations. One of the most common criticisms of the Aztek, however, is that it was just plain ugly. Its boxy look was compared to "angry kitchen appliances" and "a station wagon stretched out by a car bomb," which certainly did nothing to boost its popularity.
How Breaking Bad brought the Aztec back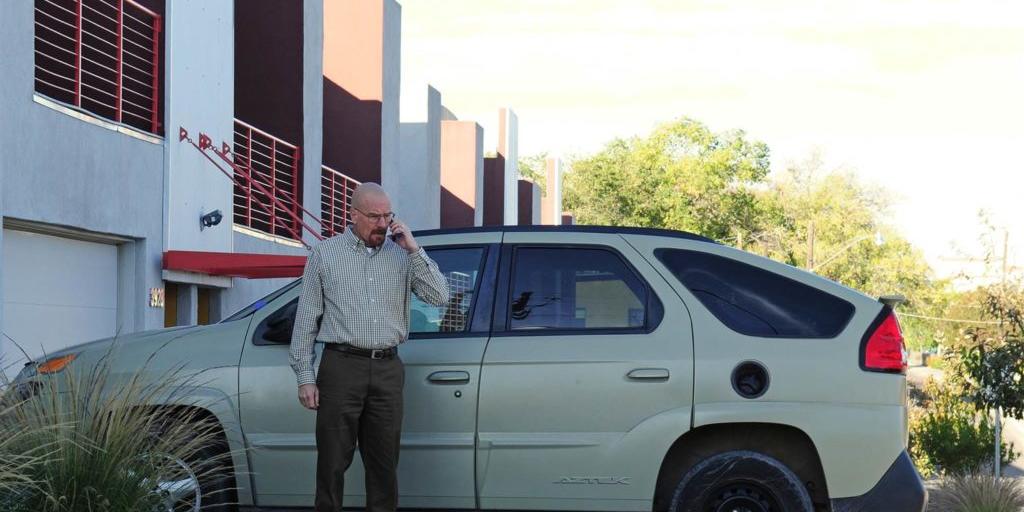 In 2008, the AMC network debuted a new crime drama series called Breaking Bad. For those who have never seen the show and are not familiar with the phrase used for its title, to southerners it means simply "to raise hell," which is exactly what the characters of the show did. While the series ended in 2013, it still gained recognition from the Guinness Book of World Records as the highest rated show of all time. The now infamous Fern Green 2004 Pontiac Aztec made its first appearance in the pilot episode, driven by main character Walter White. Walter, a high school chemistry teacher, learns he has terminal lung cancer and enlists a former student to join him in turning to a life of crime selling drugs to provide financial security for his family after he dies. Throughout the series, the Aztec was subjected to a variety of damage caused by bricks, airplanes and various other sources. The Aztek was a fixture in the series until episode 50 on August 5, 2012 when Walter sells the abused SUV to his mechanic for $50. After being replaced, the main vehicle used was put on display at Sony Studios, a second Aztek was used for parts and the third, a crash double, was sold at auction due to severe rear end damage for $7,800, not bad considering it originally sold for around $13,000 new in 2001.
Who is buying the Aztek?
A report from Edmunds recently showed that 25.5 percent of Aztecs sold were actually purchased by those ages 18 to 34, not in 2001, but in the first half of 2015. This group represents 16.8 percent of the used car consumer market making that figure even more unbelievable. While it ranks sixth among used car purchases among Millennials, it is almost more popular now, based on comparing sales numbers, than it was new. While it is hard to pinpoint what is drawing used car buyers to the Aztek, other than seeing it in a television series, it is apparent that this generation of buyers is not worried about the not-so-flattering comments made about this albeit unique SUV.
Useful SUV Links
---
Recommended SUV News & Reviews