Land Rover knows how to make a statement with its vehicle reveals. During this past week, it unveiled its fifth-generation full-size Discovery SUV, but it did so in dramatic fashion by showing the SUV on a giant tower bridge. Made from 5,805,846 LEGO bricks, this imposing structure beat the previous Guinness World Record for largest structure LEGO structure built by 470,646, according to Land Rover's press release. The 42.6-foot high bridge was a replica of London's Tower Bridge. As for the SUV, it certainly delivers in more ways than one.
Practical Design
Its exterior design is well-proportioned from its high angled side body lines, sleek windshield, rising belt line and its aerodynamic rear end. It's this fluidity in its design that provides it with its distinctive stance. Overall, its body is powerful, modern and will appeal to those looking for sophistication.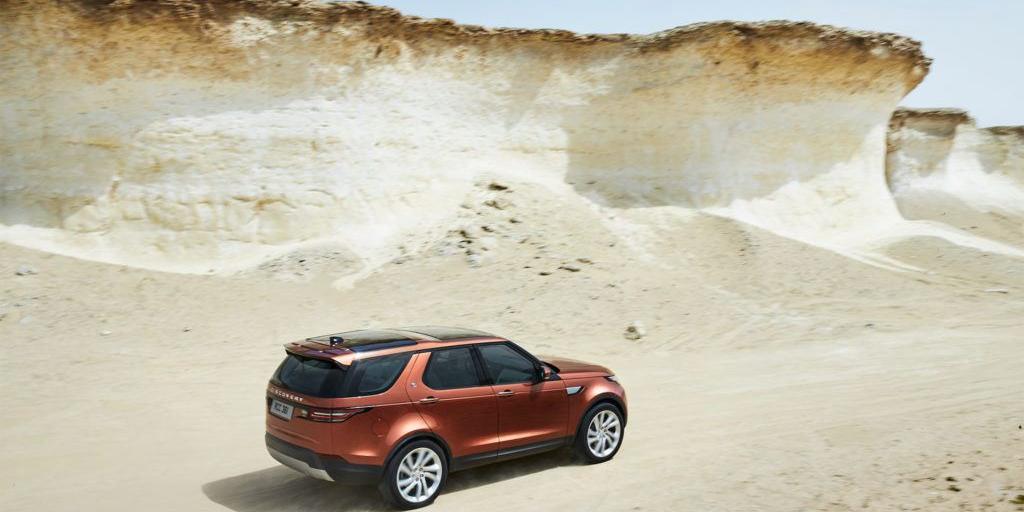 Interior Design
The interior of the new Discovery possesses a bevy of controls within your reach. The rotary dial for the transmission, the controls in the center console and the steering wheel mounted buttons give you almost limitless ways to customize your drives to your liking with ease. In typical Land Rover fashion, the devil is in the details. When peering at the Discovery's interior, you'll identify traces of elegance throughout it. The authentic wood trim, tailored twin-needle stitching on the seating surfaces and your choice of Gloss Black or Brush Aluminum for the center console rails ensure the finest touches of craftsmanship. Another genius of its design is its flexibility as it pertains to your storage and passenger needs. Land Rover poured careful thought over every detail of the Discovery's design to maximize your storage space, it is why this SUV features two glove boxes, a storage component in the central armrest to tuck away items like your electronics and you can opt for a cooler compartment. Smart and practical, Land Rover created versatile seating solutions. With seating space for up to seven, the Discovery is a suitable fit for growing families. If you need more space to store gear, no problem, as the Discovery's second and third-row seating folds down. When folding all five rear seats down it houses up to 77 cubic feet of cargo room. Best of all, you can use your smartphone to fold down the rear seats with Land Rover's optional Seat Fold feature.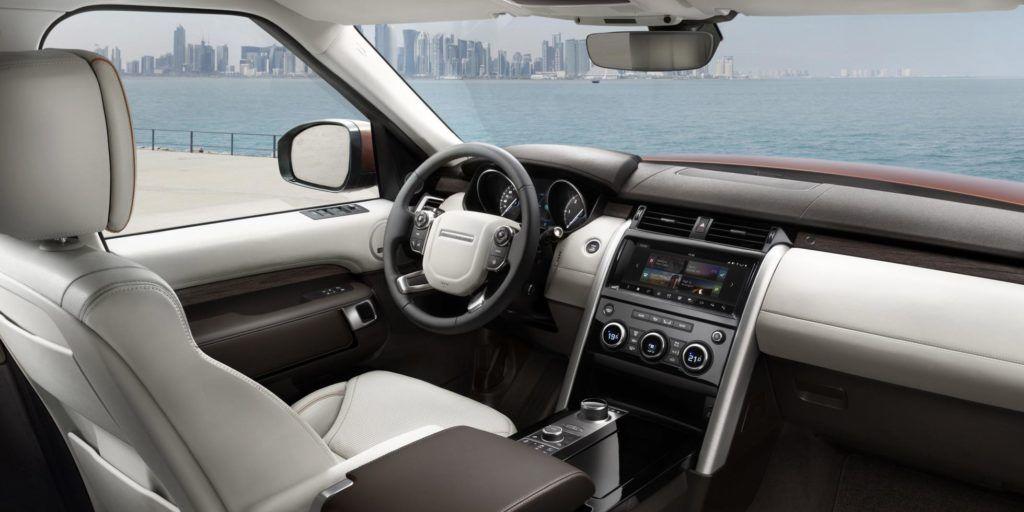 Ease of Access
Land Rover understands many of its buyers have an adventurous bend to them. To assist in this regard it supplies the available activity key. This wristband is waterproof and provides access to your vehicle as you approach. Therefore, if you want to go surfing, skydiving or more, you don't need to take your keys with you. Just strap on the Activity Key and enjoy life. It's one innovation showing how Land Rover understands their customers' distinctive lifestyles.
Performance
New for this Discovery model is its state-of-the-art aluminum unibody. Not only does this aluminum structure provide better durability and strength, it makes the SUV 1,000 pounds lighter than its predecessor. The lighter weight translates to a more responsive driving experience. To compliment its smooth handling, Land Rover pairs each of the Discovery's engine offerings with its ZF 8-speed automatic transmission. This transmission delivers shifting as smooth as ice with each one occurring in just 200 milliseconds. Concerning engines, the standard offering on the new Discovery is the 3.0 liter Si6 petrol automatic. This engine generates stellar acceleration with its torque output of 332 lb-ft and 340 horsepower. To provide scale, the Discovery can go from 0 to 60 miles per hour in just 6.9 seconds. While the fuel economy estimates are unknown so far, Land Rover did equip its Discovery with fuel efficient features such as the Intelligent Start/Stop technology. Features like this paired with its lightweight materials and aerodynamic design should help this SUV achieve respectable fuel economy.
Capability
What makes Land Rover vehicles unique is the rigid tests they must undergo. One of the tests Land Rover conducted was to take the Discovery to its climate chambers, where they replicate challenging wind conditions to ensure the SUV excels in all weather situations. It's an indication of how serious Land Rover is in testing its models' durability. The best way to see for yourself is to know what this vehicle can achieve. It has a wading depth of 33.4 inches, giving you ample room to maneuver through areas with standing water. It also has an approach angle of 23.6 degrees and a ramp angle of 20.1 degrees. This means you can traverse the Discovery up and over rocks and other off-road obstacles. Lastly, it possesses a towing capacity of 8,201 pounds. All of this illustrates the capabilities this amazing machine of engineering can deliver you.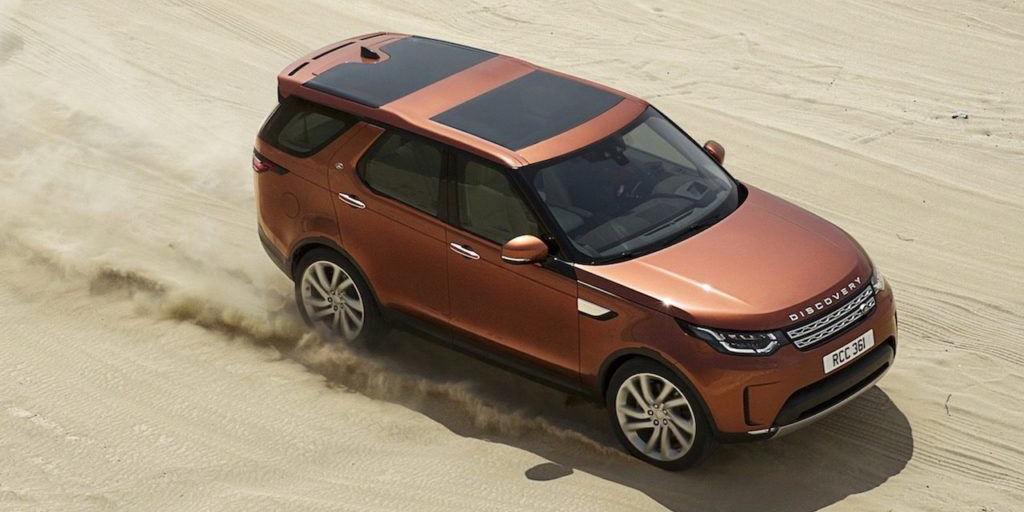 Technology
Land Rover provides a wealth of commands for the Discovery at your fingertips with its infotainment systems. Its basic offering is the Land Rover Incontrol Touch. This innovative feature gives you access to navigation controls, music, calling and it possesses the capability to track your SUV in the unfortunate event it's stolen. As part of its innovative tech features, Land Rover provides the InControl Remote & Protect. This feature, used on your smartphone, allows you to track your SUV's information such as fuel range and exact parking location. If you are in an accident with the airbags deployed, it alerts emergency services.
Our Take
The all-new Discovery starts from $49,990. Its interior features flexible seating and storage solutions; it houses excellent craftsmanship from the seating textures to high-quality finishes used on the central console and its powerful exterior stance captures attention. Of course, performance is where Land Rover exceeds the pack. An insane towing capacity of 8,201 pounds, unrivaled off-road capabilities, and swift acceleration are what you expect when driving the new Discovery. Overall, the many changes employed by Land Rover ensure the Discovery will continue to be a landmark of SUV engineering for years to come.
Useful SUV Links
---
Recommended SUV News & Reviews