When Jaguar set out to make its first luxury SUV it wanted to create a bold statement by merging sports car styling and performance with SUV practicality. The result is the Jaguar F-Pace (base price $42,390), which does an excellent job at achieving all of its objectives.
Attention-Grabbing Design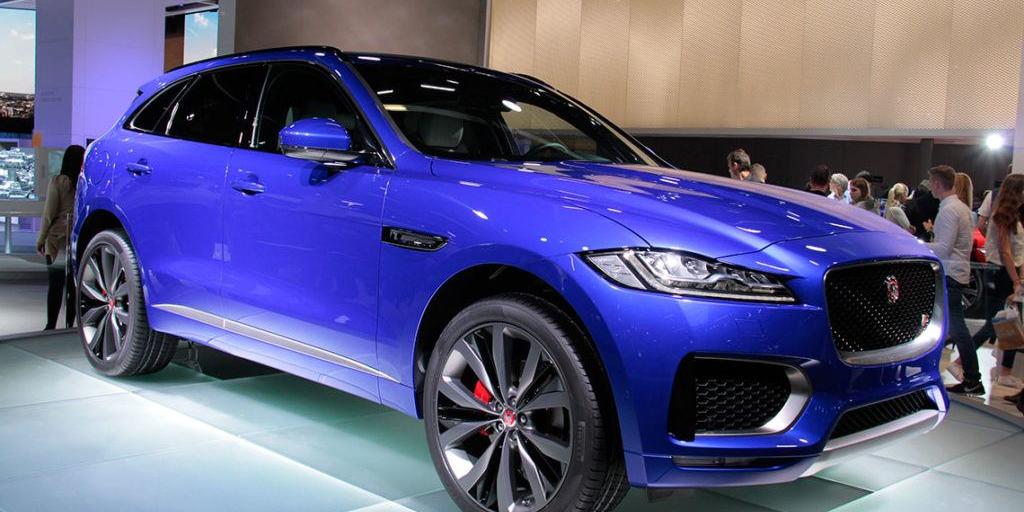 Designed with Jaguar F-Type in mind, the new F-Pace achieves a striking profile. Its aerodynamic stance, coupled with features such as its athletic lines, a tapered roofline, muscular lines in the rear and sporty wheels, adds to its bold design.
Naturally, Jaguar wanted the F-Pace's design to be as functional as it was sharp. Its advanced aerodynamics results in less drag, creating better efficiency and responsive handling. What's more, its optional LED headlamps generate bright lights that mirror daylight to assist your eyes in catching objects more easily.
This marriage of functionality and sporty performance is an exceptional achievement. But it's only the tip of what the Jaguar F-Pace offers you.
A Welcoming Cockpit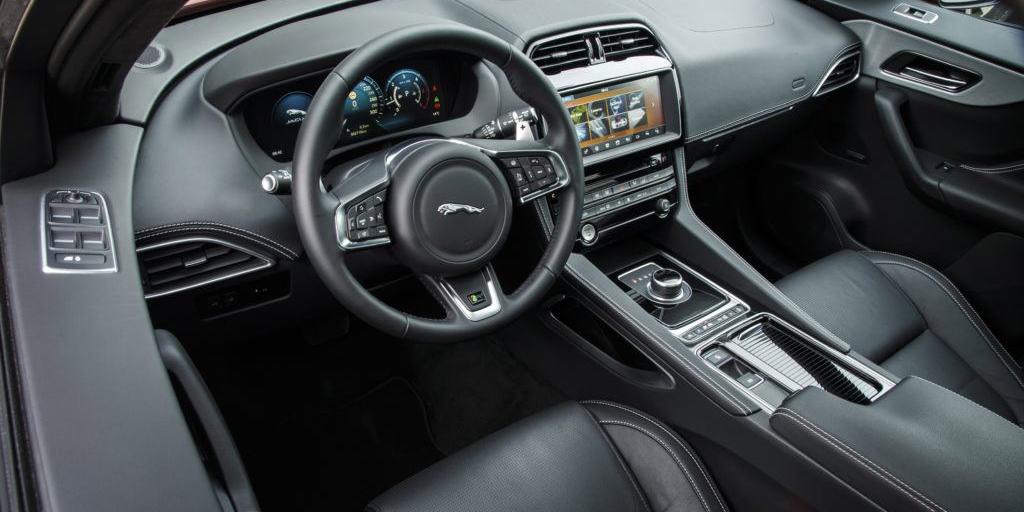 Step inside the F-Pace to discover an elegantly appointed interior with fine craftsmanship. The Brogue perforated Taurus leather seats illustrates the attention to detail given to the Jaguar F-Pace.
Speaking of details, Jaguar designed its F-Pace to provide you with ample personalization options. The ambient lighting feature allows you to choose between 10 colors to capture your mood perfectly.
Another mood enhancer is the panoramic roof. This glass roof provides spectacular sky views for your passengers to enjoy on your journeys. The added natural light also creates a roomier feel.
Jaw-dropping Performance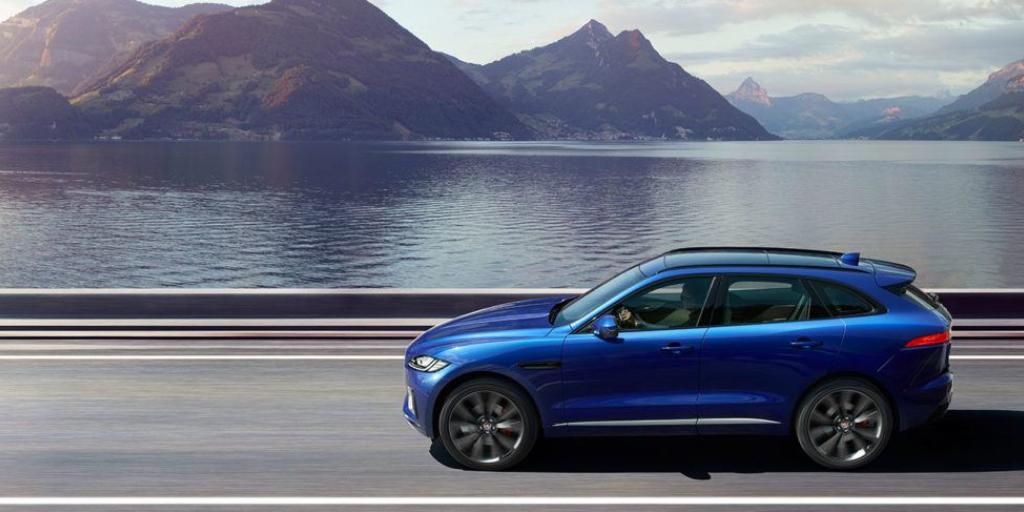 Jaguar set out to create an SUV that delivers exhilarating performance, and its F-Pace does just that. There are three engine selections available, including the 2.0-liter i4 turbocharged diesel engine. This engine achieves exhilarating acceleration and responsive through the use of its variable geometry turbocharger.
If you desire more power, then the F-Type inspired V6 engine is right for you. This supercharged engine delivers anywhere from 340 to 380-horsepower, depending on the model you select. If you opt for the more powerful offering, you'll get to experience luxury sports car speed as it was meant to be, as the engine propels the F-Pace from 0 to 60 mph in just 5.1 seconds.
Acceleration and power are only two of the many performance features available for the Jaguar F-Pace. This innovative SUV also features the all surface progress control and adaptive surface response feature. These features provide superior handing on snowy and icy surfaces.
As part of adapting drives to meet your needs, Jaguar equipped its F-Pace with the Jaguardrive control feature. You'll find these controls in the interior where you can switch between four different modes with a push of a button.
To illustrate, if you want maximum fuel efficiency, you'll select the ECO mode. If you want more power for an adrenaline-fueled drive, then Dynamic mode gives you this by sharpening the throttle. If you encounter poor weather on your drives, select the Rain/Ice/Snow mode, which upon activation will apply increased traction to give you the handling you need.
Jaguar also equipped its F-Pace with its all-wheel-drive system, including Intelligent Driveline Dynamics. How this works is it reads driving activity such as acceleration, how you handle turns and braking. From there, this system uses its dampers to adjust to your driving style, giving you the agile handling you would usually find on a sports car.
Last, but certainly not least, is the Jaguar F-Pace's aluminum architecture body. This lightweight body allows the vehicle to achieve the responsive handling and dynamics you'll enjoy.
Interior Functionality
A trademark of any good SUV is how adaptable it is to your needs. This is another area where Jaguar spent much time when it designed the F-Pace. A great illustration of this is the reversible loadspace floor, where you can interchange between a rubberized or carpeted surface depending on your storage needs.
Another unique feature is the optional activity key. This band, which you wear like a watch, allows you to open the tailgate or door locks without having to use a key through a hidden sensor on the wristband. This results in a convenient and safe way to access your vehicle quickly.
Practical Technology Features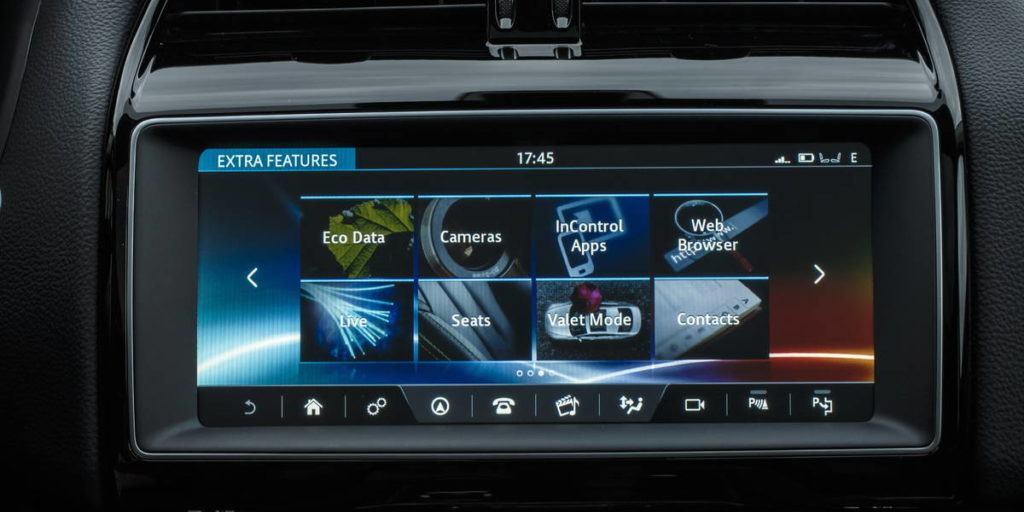 The basic tech offerings in the Jaguar F-Pace includes the Jaguar Incontrol Touch. This feature uses an eight-inch touchscreen and Bluetooth connectivity to sync your phone easily. From there, you can listen to music, have the system read your texts, access climate control functions or use Jaguar InControl Apps. You can also upgrade to the Jaguar Incontrol Touch Pro, where you receive all the benefits of the basic system along with a 10.2-inch touchscreen and enhanced navigation capabilities.
As part of Jaguar's Incontrol features, you can opt for its protect services. These encompass everything from SOS emergency calling, where first responders learn of your exact location to roadside assistance. You can also use the Jaguar F-Pace as a mobile hotspot with its built-in Wi-Fi, allowing you to connect up to eight devices.
A great tool for the Jaguar F-Pace is its head-up display. Jaguar achieves this by using lasers to project information such as speed, navigation, Traffic Sign Recognition data and more on the windshield so you have access to the information you need without having to look away from the road.
The Jaguar F-Pace is breaking company sales goals and rightly so. For one, its styling achieves the perfect balance between functionality and sports-car inspiration. Further, its awesome performance capabilities result in you having an SUV that can deliver off-road performance while generating sports car acceleration. Altogether, Jaguar delivered its objectives by creating an SUV with functionality, style, and stunning performance.
Useful SUV Links
---
Recommended SUV News & Reviews