We're only halfway through AutoMobility LA, the industry conference that kicks off the LA Auto Show, which opens to the public December 1st, and already, quite a few SUVs have made their world debut. Here are some of the latest and what they mean for the current SUV landscape:
Subaru Ascent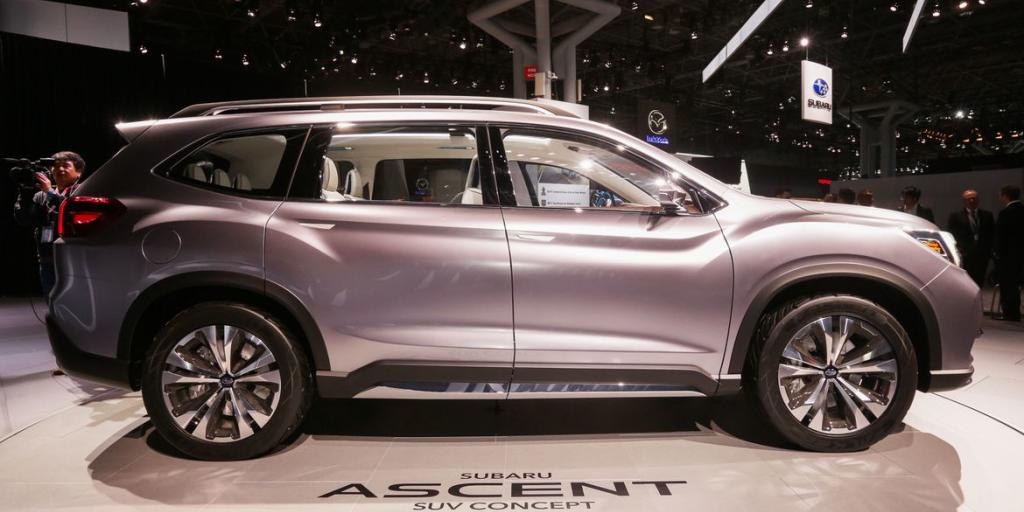 The brand's first three row crossover is sure to succeed in the ever expanding segment. The smaller Forester SUV makes up nearly a third of all US Subaru sales and is well-regarded as a safe and efficient SUV doesn't bore behind the wheel. The press release proved they aren't boring either, rolling out the SUV with humans' favorite furred friend behind the wheel.
What's Under the Hood?
A 260 horsepower version of the storied SUBARU BOXER engine makes its way into the SUV. The flat, turbocharged four cylinder provides plenty of power efficiently with minimal vibration and low center of gravity that allows responsive and safe handling. It isn't slow either, a 7.3 zero to sixty time was reported by Subaru's Research and Development team. That's impressive for a three row SUV when you consider most competitors are powered by V8s. The 277 lb-ft of torque help the Ascent achieve a 5,000 pound towing capacity, Subaru's highest. Official EPA ratings haven't been released but we're sure the Ascent will be among the most efficient SUVs in the segment.
What Else?
The SUV will be manufactured at a Subaru plant in Indiana and is expected to start in the low $30,000s. Subaru's EyeSight Driver Assistance technology optimizes safety with forward collision warning technology, adaptive cruise control, and autonomous emergency braking among the standard features. Of course you can expect the usual modern features: power outlets, integrated Wi-Fi, 8 USB ports, and Apple CarPlay. Dual rear benches allow for seating up to eight, while no cost captain's chairs reduce capacity to seven. However you configure it, this SUV will provide plenty of space without becoming cumbersome to drive. These traits combined with Subaru's legendary reliability make a compelling case for the latest three row crossover's competency.
Lincoln Nautilus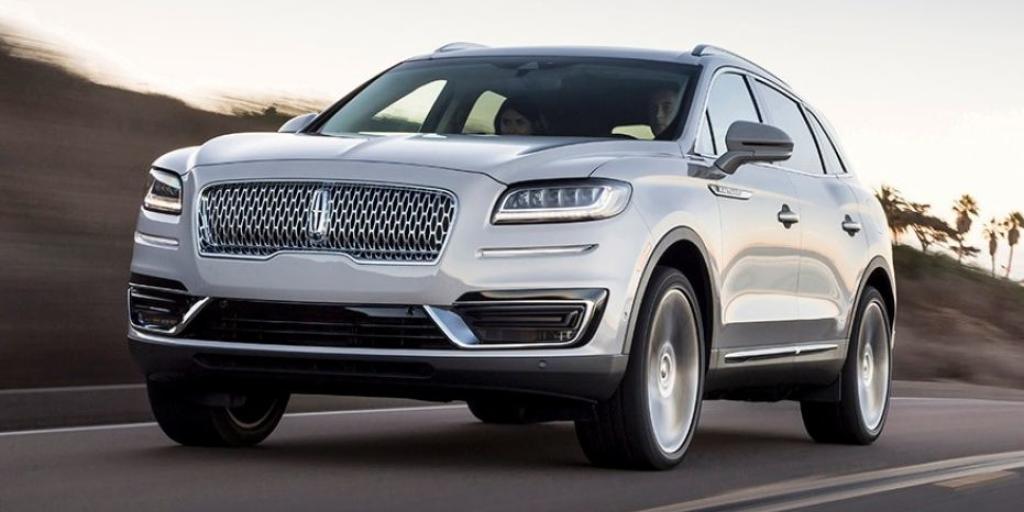 Lincoln renamed the MKX the Nautilus for its 2018 refresh. A company representative, Robert Parker, claims the SUV is "all-new from the A-pillar forward." The front fascia shares a design similar to that found on the Lincoln Continental sedan. It's bold and eye-catching, befitting of the brand's luxury aspirations. The subtle changes made elsewhere on the body don't disappoint either.
What's Under the Hood?
The Nautilus will use the same engines found in the MKX before, a 245 horsepower EcoBoost four cylinder and a 2.7 Liter EcoBoost V6 that makes 335 horses. The Nautilus receives an all-new eight speed automatic gearbox, co-engineered with Ford, in lieu of the six speed found in the MKX. Performance figures haven't been released yet but we're sure the new transmission will improve the SUV's performance and efficiency.
What Else?
Luxury has been stepped up inside the cabin with a 12.3 inch digital display replacing a traditional instrument cluster. Options like 22-way massaging seats, a Revel 19-speaker sound system, the panoramic sunroof from the Continental, and a litany of leather surfaces abound. There's a full suite of safety technology including pre-collision warning, blind spot monitoring, park assist, automatic braking, and lane departure prevention. The cabin continues to be quite, comfortable, and well-finished, which makes this SUV a viable alternative to the top German brands for thousands less.
Volvo XC40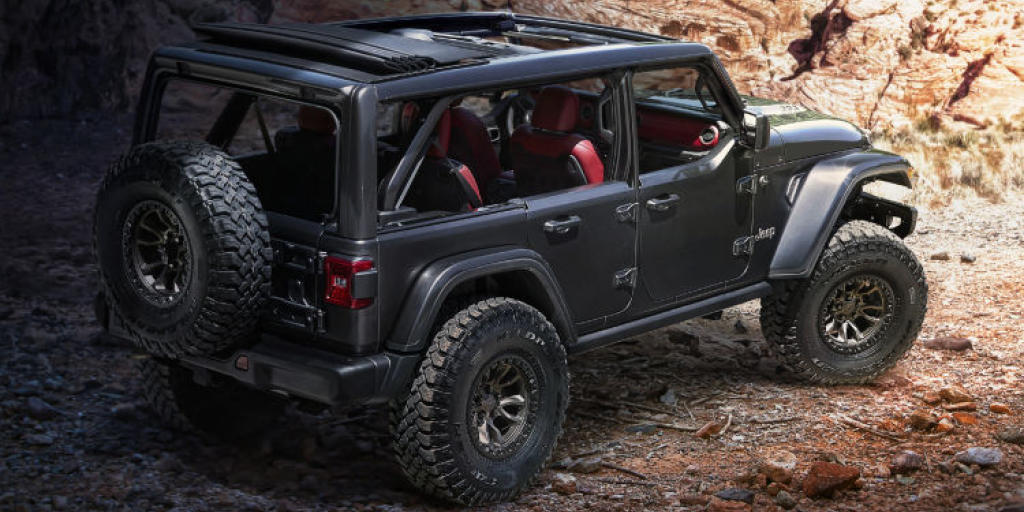 Volvo Cars made quite a stir last week with their Uber partnership expansion and now they're in the headlines yet again, with an all new subcompact SUV. The XC40 bears resemblance to the larger SUVs in the lineup with the "Thor's Hammer" distinguishing LED running lamps and burly front fascia. Expect this SUV to compete with the BMW X1, Mercedes GLA, and Audi Q3. It may not be as fun to drive but it's a practical and safe alternative with impressive interior and exterio design.
What's Under the Hood?
The turbocharged engine produces a healthy 248 horsepower and 258 lb-ft of torque. It's paired with an eight speed automatic transmission. Performance data hasn't been released but we think it will lag behind its direct competitors in acceleration and compare favorably in terms of handling and efficiency. Initially, the T5 all wheel drive version will be released, with a front wheel drive T4 version to follow. Volvo Cars says they plan to add diesel and hybrid powertrain options in the near future as well.
What Else?
The XC40 comes with City Safety driver assistance technology standard, which is regarded as one of the most advanced in the industry. It includes pedestrian detection, autonomous emergency braking, radar-based cruise control, and other progressive features. We expect the XC40 to outperform most subcompact SUVs in future crash testing, in line with the brand's hard-earned reputation for safety. Perhaps most interesting of all, though, is a new ownership model offered for the XC40, Volvo Care. Soon, you'll be able to drive one of these SUVs by simply paying a monthly subscription to Volvo Cars. They plan to make SUV ownership as "hassle-free as having a cell phone," as my colleague, Emma Moreau, wrote.
Jeep Wrangler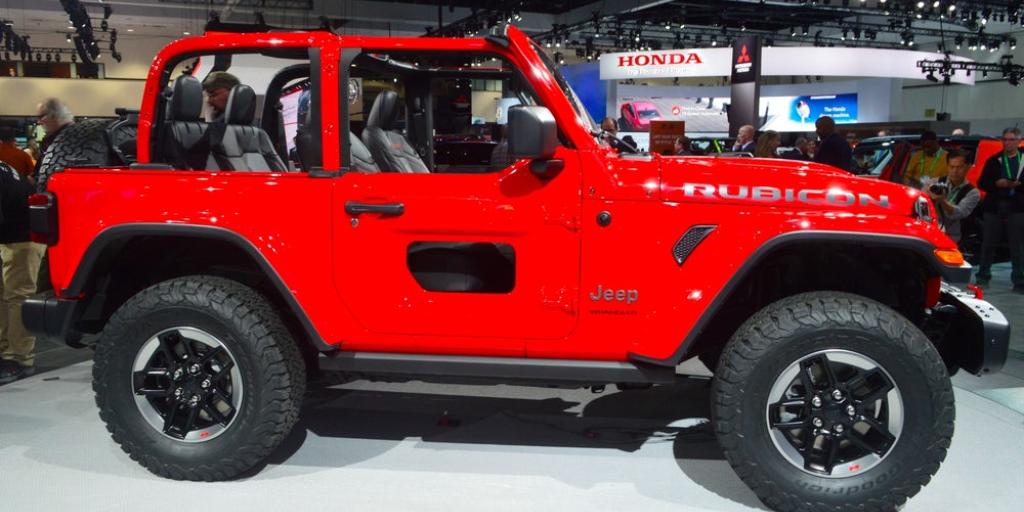 Among other debuts, the Jeep Wrangler receives its first update in over a decade. The SUV, ostensibly, obtains the same iconic design. It just receives a few modern touches, like LED lighting and a standard backup camera. You can still take the doors and roof off, just be sure not to get all the new tech wet! A touchscreen Uconnect system is finally included, along with a host of options never before available in a Wrangler.
What's Under the Hood?
The biggest news about the new Wrangler are all-new powertrain options: a 2 Liter 4 cylinder hybrid option and a diesel V6 option. The 3.6 Liter Pentastar V6 is still available and all engines receive engine stop/start fuel saving technology. The hybrid system uses a 48 Volt battery upon start and charges using regenerative braking. It's a rather mild system that only applies additional power when needed but is good for a combined 270 horsepower and 295 pound feet of torque, more torque than the V6. The four cylinder hybrid and gas V6 models will go on sale January and the diesel will follow sometime in 2019. The diesel engine makes 260 horsepower and 442 lb-ft of torque but will only be available on four door unlimited models.
What Else?
All three engines will be paired with an eight speed automatic, no more manual. Shed a tear for the lost left pedal. However, you can expect the new Wrangler to be more efficient and easier to drive than ever. A standard two-speed transfer case enhances the Wrangler's off-road ability and the Rubicon model receives improved locking differentials. Another nifty feature is a drain plug that allows you to spray down the inside and not have to worry about soaking up leftover water. We're sure these changes will only increase future sales of the SUV that started it all!
Thanks for reading, let us know which SUV you're most excited about in the comments below.
Useful SUV Links
---
Recommended SUV News & Reviews