Not everyone who buys a new car, truck, SUV, or minivan trades in his or her old one. If you have multiple vehicles and need to downsize or an older SUV that is worth more than you would get trading it in, it is easier than ever to sell your SUV as a private seller. Gone are the days of parking your vehicle on the front lawn with a for sale sign and hoping that someone who drives by will be interested. Today, the internet has made it possible to make the World Wide Web your front lawn and attract more than just the locals that may drive by. With a small amount of effort and a little bit of time, you can sell your SUV quickly and easily and put the most money back in your pocket. The following are five great tips to help you sell your SUV.
#1 Sell your SUV when it is at its best
The first things you need to do before you sell your SUV are to make sure that it is clean and up to date on repairs and maintenance. You can wash and clean the interior of your SUV yourself, or you can look for a local company and find one that has the best price, you may even find coupons online to save extra money. While a full detail can cost upwards of a hundred dollars, you are much more likely to get the price you are asking for your SUV if it looks and smells good inside and out. You also want to be sure that all your SUV's maintenance is up to date and any minor repair issues are addressed. Again, you might have to spend a little money for an oil change or a repair you have been putting off, but being able to tell potential buyers that all they have to do is get in it and drive home is a huge selling point. If your vehicle requires a major repair that you do not want to put the money into, always be sure to disclose it to those that are interested, simply being honest can help you get closer to the price you are looking.
#2 Receipts can help sell your SUV
If you have owned your SUV for a few years, you may have quite a large stack of receipts for maintenance and repairs. While it may be tedious to keep every receipt, they can easily turn into dollar bills when it comes time to sell you SUV. For those that did not keep all or any of your repair and maintenance receipts, do not worry, if your repair shop has a computer, chances are you can get a copy of them. Dealerships and many chain auto repair shops keep a database of their customers and their vehicles as well as a record of all the repairs or maintenance performed at their facility. Simply call the shop or dealer's service department, request a printout of your visits, and keep them handy. People in the market for a used SUV are more apt to give you close to your actually selling price for a vehicle that is properly maintained.
#3 Set a realistic price to sell your SUV
While you always want to get the most money you can when you sell your SUV, chances are that the person who may be interested in the vehicle has done their homework before giving you a call. There are hundreds of websites available that can provide an accurate valuation of your SUV. Before you set a price, do your own homework and research the value of your SUV. Most sites provide a range of values based on the vehicle being traded in, offered by a private seller, or sold at a dealership. When determining a sale price, consider the condition of the vehicle and set your price somewhere between the private seller price and dealer price. You also want to consider any repairs or reconditioning that you have done as they can add additional value to the vehicle. If your vehicle is customized in any way, you also want to take the value of those updates or upgrades into consideration as well.
#4 Create an online ad that will sell your SUV
While simply writing a price and phone number on a for sale sign is easy, placing an ad that will sell your SUV online is a little more involved. When writing the ad, be sure that you mention all the specifics you would look for if you were shopping online for a used SUV. You also want to be sure to include key terms that will help your ad show up when someone uses Google search. Always be sure to keep it positive and point out any extra options or features, the mileage, engine size and transmission type and mention if it has been detailed and when the last maintenance was done. A good salesperson puts himself or herself in the place of the customer and if you always remember to do that, you can create an ad that will easily sell your SUV. When you place your ad online, be sure to use as many different online and social media platforms as you can. There is a long list of places to post ads for free online from Craigslist to Facebook, Twitter, and Instagram. On Facebook, many user groups are specifically made for selling cars, trucks, SUVs and parts, simply join one and post your ad. There are also a number of apps available on your smartphone that provide a platform to sell items and provide you with notifications when someone is interested. Last but certainly not least, take great pictures. Take pictures of the inside and outside and be sure to take pictures of any accessories you have added as well as the tires and at least one picture under the hood.
#5 Negotiate the sale of your SUV
So, your SUV is ready to sell, you posted a great ad with tons of pictures online and you are waiting for the first interested person to contact you. While everything you have done up until now helps sell your SUV, you are not finished just yet. Learning how to negotiate with a potential buyer can make the difference between getting the price you want and settling for what someone is willing to pay. Again, this does not require the skills of a seasoned sales person, it just requires organization and honesty. This is also where your stack of receipts can be used as a great negotiating tool. If you keep in mind that the person interested in your SUV has probably done as much, if not more, research about it as you have, it can be easier to negotiate a fair sales price. You just need to be able to provide the interested person with all the reasons they need to purchase your SUV over the one a couple miles away. Answer their questions honestly and provide them with all the paperwork you have for any maintenance or repairs that have been done. Those looking for a good used SUV are certainly not wanting to buy someone else's problem, so being able to prove the vehicle has been well cared for can provide extra value to the buyer and give you extra money in your pocket. While these tips will not guarantee that you sell your SUV the same day or get every penny you are asking for, they can give you a boost over any competition. Private buyers shop around for used cars just like a majority of people will shop around for a new car. Everyone is looking to get the most for their money and if you can provide them with the value they are looking for, the more likely you are to successfully sell your SUV quickly, and at a price that makes you happy.
Snap a photo, sell your car!
Take a picture of your car or enter your plate number, and Blinker will instantly pull up every detail about it – including estimated value.
With award-winning technology, Blinker makes it easy to sell your car yourself.
With no fees and no middlemen
, you could earn thousands more versus trade-in.
Sell with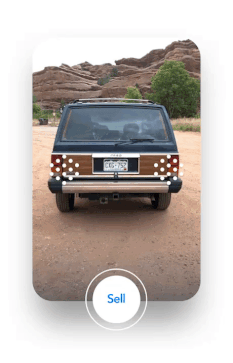 Useful SUV Links
---
Recommended SUV News & Reviews