If you are shopping for a compact SUV, the 2016 Mazda CX-5 is a good choice to consider relative to other models in its class. Below is a closer inspection of this stylish SUV's main selling points and how it outperforms comparable models.
1. The 2016 Mazda CX-5 is Affordable
This SUV comes in three different trims, with the lowest price model, the 2016 Mazda CX-5 Sport, beginning at $21,975. This is a bargain when you consider the average cost for a 2016 compact SUV is $26,270, resulting in a savings of $4,475 if you opt for the CX-5. Now to be fair, there are other compact SUVs with a lower price. The 2016 Chevrolet Trax begins from $20,300 while the 2016 Jeep Compass Sport has a starting cost of $19,695. However, it's important to be mindful of what you receive for the money.
2. The CX-5 Delivers Excellent Fuel Efficiency
As gas prices continue to creep back up, it's important to find a compact SUV that keeps your fuel costs low. This is another area where the 2016 Mazda CX-5 holds an advantage over other models in its class. It generates 33 highway miles per gallon and 25 city mpg, resulting in a combined 30 mpg fuel economy. For scale, it receives better fuel efficiency than the Nissan Rogue S (combined 29 mpg) and the Subaru Crosstrek 2.0i PZEV (27 combined mpg). Another benefit to increased efficiency is better fuel range, as the CX-5 goes up to 57 miles further on the highway than its counterparts average. This results in fewer trips to the pump and lowers the cost of ownership.
3. The CX-5 Possesses a Spacious Interior
Compact SUVs must have unique storage options to account for the less cargo space they possess relative to larger SUVs. This is an area where the 2016 Mazda CX-5 does well in. On the Sport edition, you have the option fold down the seats to maximize storing space. Its 64.8 cubic feet of cargo room gives it a 31 percent advantage over the average cargo space of similarly sized models. Trunk space is another focal point for SUV buyers. With this in mind, Mazda was generous by designing the CX-5 with ample trunk space—34.1 cubic feet. This results in the CX-5 possessing more trunk room than the Hyundai Tucson SE (31.00 cubic feet) and the Kia Sportage LX, which has 26.10 cubic feet. An often overlooked component when examining interior space is passenger volume. This accounts for the head and legroom your SUV's occupants have during transports. In this regard, the 2016 Mazda CX-5 houses more passenger volume than the Hyundai Tucson or the Kia Sportage offers.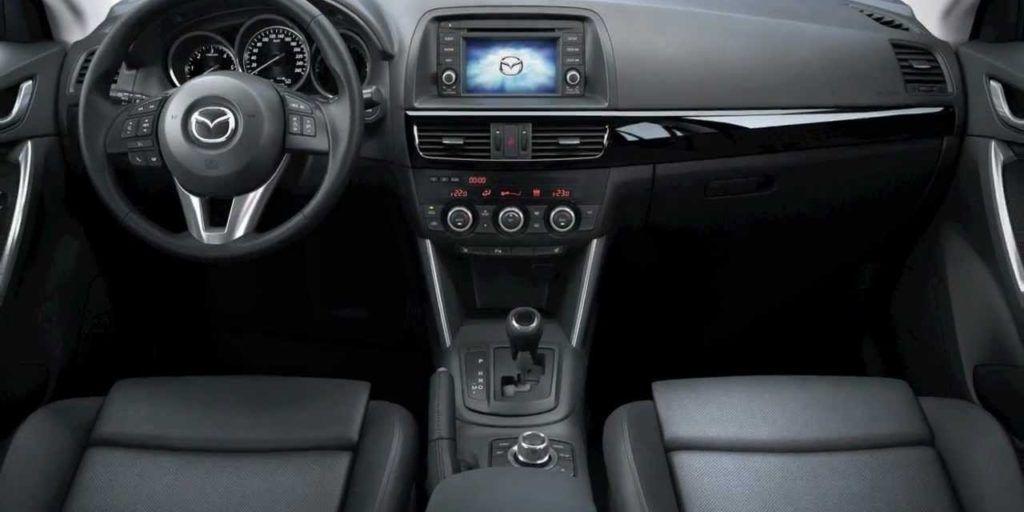 4. The 2016 Mazda CX-5 Achieved IIHS Safety Honors
Though it is unpleasant to think about, accidents can happen. Luckily, Mazda equipped its CX-5 with many avoidance systems that proactively supply information to you to make the best decisions possible when driving. The available i-ACTIVESENSE safety equipment uses radar and camera to read conditions around you. If you're backing up and it detects a vehicle moving into your path, it emits an audible warning. Additionally, if you want to make a lane change and a vehicle sneaks into your blind spot, the system notifies you with a chime and a warning light on your driver's side mirror. It's innovations like these that provide a fuller scan of the road, leading you to have more information quicker to make safer choices. All told, the safety innovations equipped by Mazda earned the CX-5 the Top Safety Pick+ distinction from IIHS. This is the highest honor bestowed by the IIHS on an SUV. This gives you confidence the 2016 Mazda CX-5 possesses the equipment to help keep you safe.
5. The 2016 Mazda CX-5 Comes Loaded
There isn't a traditional base model with the CX-5, meaning you won't have to worry about selecting an option where you don't have access to the best technological and safety equipment. The Sport edition comes loaded with the MAZDA Connect Infotainment System, a rear roofline spoiler, advanced front airbags, push button start, dual body-colored side mirrors with integrated turn signals, side-impact air curtains, air conditioning with pollen filter and steering wheel mounted phone, audio, and cruise controls. This is just a sampling of all the equipment included in its
least
expensive model.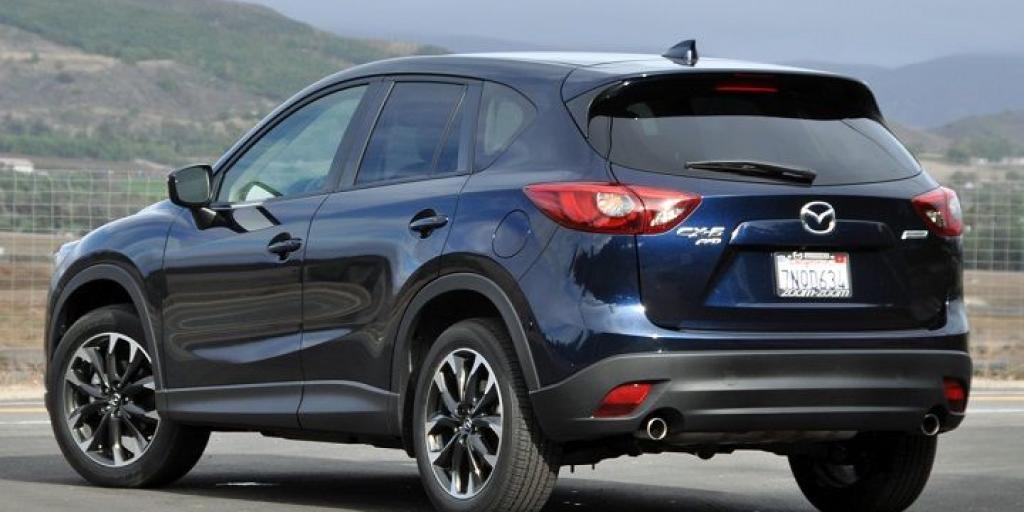 Other Trims and Pricing
If you elect to go for the more expensive options, you have two trims to choose from. The 2016 Mazda CX-5 Touring starts at $25,215. This SUV includes many of the features you would find in the Sport edition, with excellent safety additions such as the Blind Spot Monitoring System and Rear Cross Traffic Alert. It also includes a leather-wrapped steering wheel, six-way power driver's seat with lumbar support and halogen fog lights among many other additions. The crown jewel is the 2016 Mazda CX-5 Grand Touring. This model features 19-inch alloy wheels, a power sliding glass moonroof, heated side mirrors, the Bose Counterpoint Surround Sound System, leather-trimmed sport seats and dual 12-volt power outlets, located in the cargo area and the front. This well-equipped SUV starts from $28,570. What you'll find is no matter which model you select, the 2016 Mazda CX-5 has something for you. If you are sticking to a tight budget, you'll appreciate the Sport edition's affordability and exceptional efficiency, as its longer fuel range helps you maximize your trips with less expense. Furthermore, the 2016 Mazda CX-5 features instinctual safety equipment which reads the road conditions and alerts you to obstacles along the way. Tying it all together is a roomy interior, providing ample space to store your items. All these factors show when it comes to compact SUVs, the 2016 Mazda CX-5 is an appealing choice.
Useful SUV Links
---
Recommended SUV News & Reviews