Just because you want or need an SUV, it does not mean you have to sacrifice fuel economy for the extra passenger and cargo room. With the skyrocketing popularity of SUVs, nearly every automaker has at least one SUV in their lineup; even Lamborghini has thrown their hat in the ring with their own 600 horsepower SUV that is set to debut in 2018. While the Lamborghini SUV is intriguing, it is probably not a great choice if your SUV must-have list includes great gas mileage. If you want an SUV that gives you plenty of room for passenger and cargo, the following five SUVs with great gas mileage are definitely due a test drive.
Our top picks for SUVs with great gas mileage
Our five top picks for SUVs with great gas mileage include something for almost everyone. Whether you want luxury and endless creature comforts, the latest in high-tech alternative fuel or as an-American-as-apple-pie Chevrolet, our list has an SUV for you. Here they are in no particular order:
#1 2015 Mercedes-Benz GLA-Class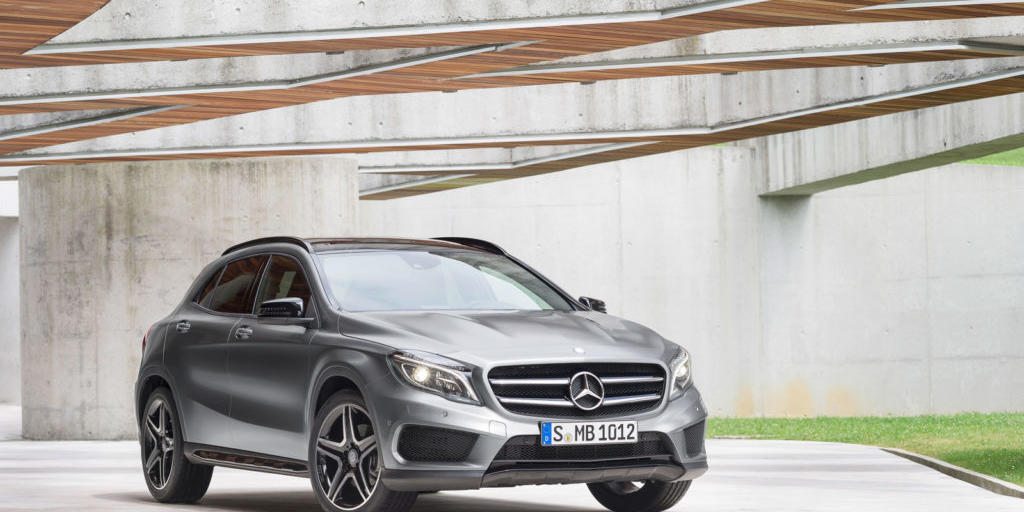 If you have never heard of the GLA-Class, it is because it is Mercedes-Benz all-new line of compact crossover SUVs. This sleek, stylish SUV is available in three trims, the GLA-250 front-wheel-drive, GLA-250 4Matic all-wheel-drive and the performance-minded GLA45 AMG. No matter which one you choose, the one thing that is static between them is impressive fuel economy. The 208 horsepower 2.0-liter turbocharged four-cylinder in the GLA-250 and GLA-250 4Matic offer 24 mpg city/32 highway with a 0 to 60 mph time of about 7 seconds. It also features fuel-saving start/stop technology, which gives it an extra boost in the fuel economy department. Of course it is a Mercedes-Benz, so you will be surrounded by luxurious appointments and be able to choose from a long list of additional options. The GLA45 AMG trim gains its high-performance distinction from a tuned version of the same fuel-friendly 2.0-liter four-cylinder engine that puts 355 horsepower to all four wheels, but barely affects fuel economy with 23 mpg city/29 highway. If you want luxury or luxury and performance in a crossover SUV, the Mercedes-Benz GLA-Class gives you a sleek, stylish SUV with great gas mileage.
#2 2015 Honda CR-V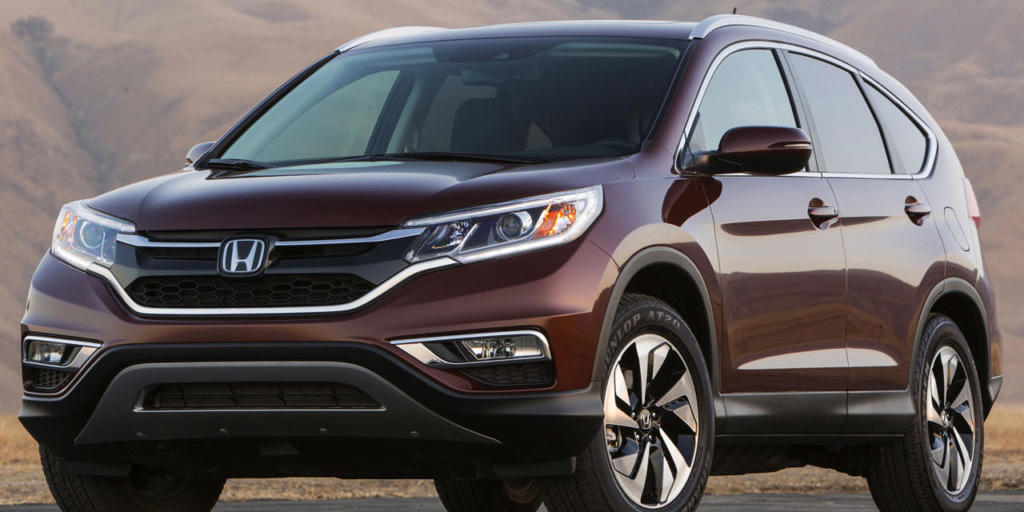 If you are looking for a budget-friendly SUV with great gas mileage, the 2015 Honda CR-V gives you many benefits for not a lot of money. For 2015, the CR-V received various updates to boost fuel economy, add to its long list of standard features, and slightly update its styling. The 2015 CR-V is available in four trim levels, the LX, EX, EX-L and an all new high-end Touring version as well as front- or all-wheel-drive. All versions of the CR-V are well appointed with each step up in trim level adding additional technology and luxury features such as a navigation system, leather seating, and more driver assist features. The one constant among all the trim levels is the CR-V's impressive fuel economy. Under the hood is a 185 horsepower 2.4-liter four-cylinder engine that is paired with a fuel-saving CVT transmission. This gas-friendly combination does not however sacrifice performance and gives the CR-V a 0 to 60 time of around 8.8 seconds. If you choose the front-wheel-drive 2015 CR-V, you can expect 27 mpg city/34 highway and 26/33 for the all-wheel-drive version. Even with its exceptional fuel economy, the CR-V has a surprising amount of passenger and cargo room for its size and its shape and stature make loading and unloading kids, friends, dogs, and even large boxes and other cargo easy.
#3 2015 Chevrolet Trax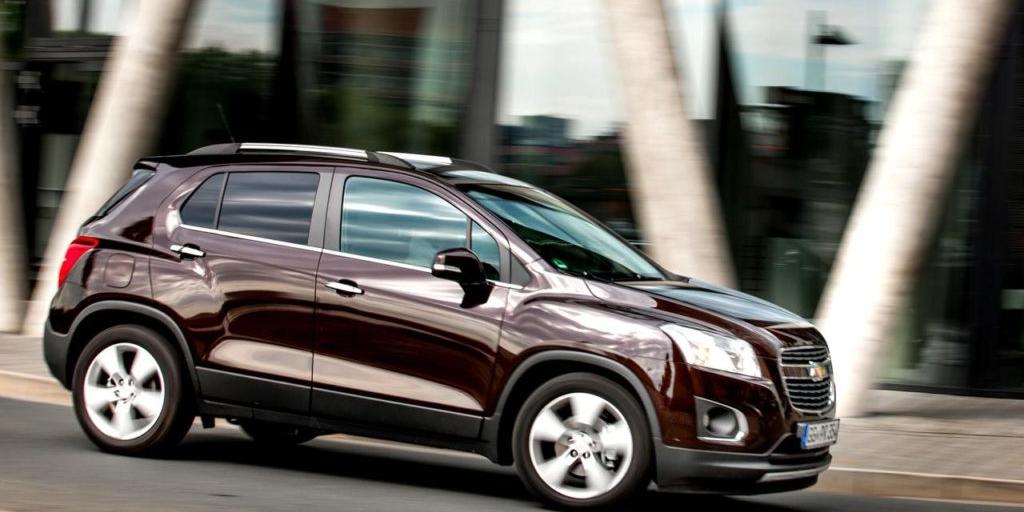 For those who want to "see the USA in a Chevrolet," the all-new 2015 Chevrolet Trax gives you a family-friendly SUV that will not break your fuel budget. While the Trax may not be quick, it is easy to drive, easy to park and has plenty of the latest features, most of which are standard on al models. The 5-passenger subcompact crossover Trax SUV is available in three trims, the LS, LT, and LTZ and all are available with front- or all-wheel-drive. While the 2015 Trax may not be the flashiest or fastest SUV in its class, it is practical and certainly gives you a lot for your money. It is also a great choice for those who want an SUV with great gas mileage. Powering the 2015 Chevrolet Trax is a 1.4-liter four-cylinder engine paired with a 6 speed automatic transmission that give you 138 horsepower and a 0 to 60 time of about 10 seconds. While it is a bit slower than other models in the subcompact crossover SUV class, its fuel economy at 26 mpg city/34 highway for the front-wheel-drive and 24/31 for the all-wheel-drive. While you may not pass the gas stations as fast as other SUVs on the road, you can still be happy you do not have to stop. The long list of standard features of the 2015 Trax are also a bonus and include Chevrolet MyLink with a 7-inch touchscreen, rearview camera, OnStar, built-in WiFi Hotspot and even Siri Eyes Free voice control giving you a lot of value at a reasonable cost.
#4 2015 Lexus RX 450h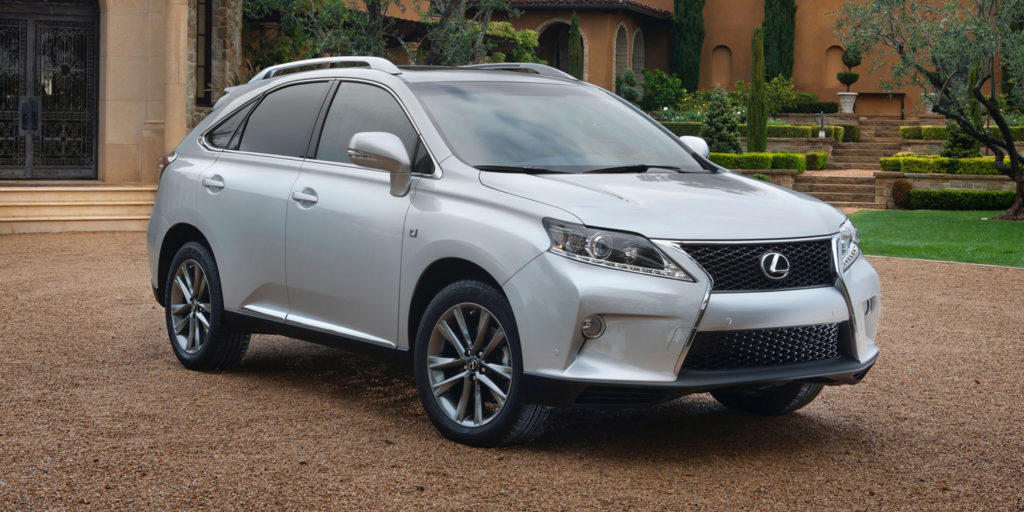 The first Lexus RX hybrid SUV debuted over 10 years ago and dispelled the myth that all SUVs were gas-guzzlers. While hybrid technology was still evolving a decade ago, today, nearly every automaker has a hybrid model in their lineup. The 2015 Lexus RX 450h was a top pick in the premium hybrid SUV segment when it debuted and remains a top pick today. Along with its amazing fuel economy, it retains all the refined features and performance you expect from a luxury brand such as Lexus. Loaded with features and luxury appointments, the 2015 Lexus RX 450h is a spacious, stylish SUV with great gas mileage. The 2015 RX 450h is available in one very well equipped version. The 2015 Lexus RX 450h's amazing fuel economy comes from a 3.5-liter V6 engine paired with multiple electric motors. The front-wheel-drive has dual electric motors while the all-wheel-drive has an additional electric motor to power the rear wheels. Both the front-wheel-drive and all-wheel-drive feature a fuel-saving CVT transmission to add even more miles per gallon. The 450h's hybrid combination gives you 295 horsepower and a 0 to 60 time of about 7.6 seconds, just slightly below average for its segment. The best feature of the RX 450h is certainly its fuel economy at 32 mpg city/28 highway for the front-wheel-drive and 30/28 for the all-wheel-drive. Lexus has also loaded it with the latest in technology and comfort features standard such as a rearview camera, Siri Eyes Free technology and plenty of power features.
#5 2015 Hyundai Tucson Fuel Cell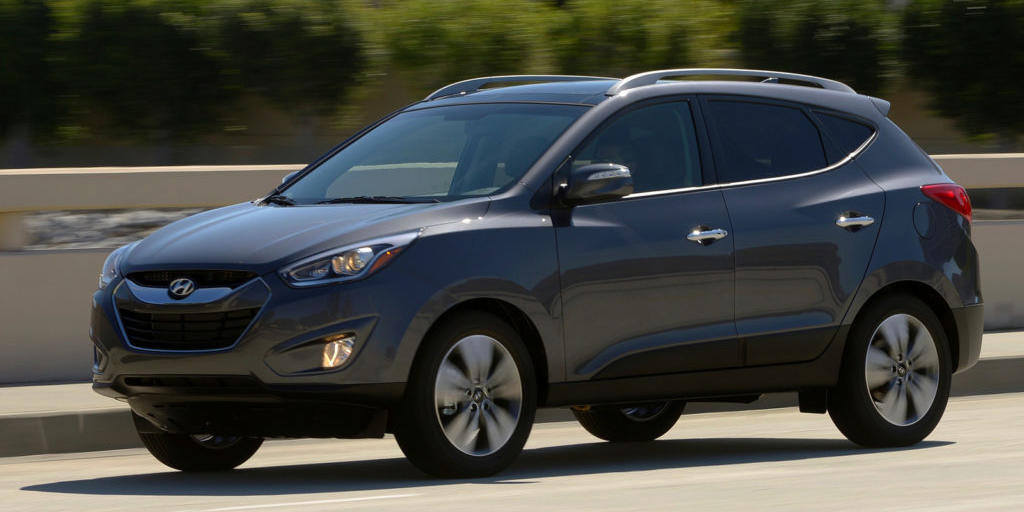 Our last choice for the top five SUVs with great gas mileage is certainly not the least. The 2015 Hyundai Tucson Fuel Cell is part of an emerging segment of fuel-efficient vehicles that while currently only available in California, is not far from arriving in showrooms all over the country. The benefits of hydrogen-powered vehicles are many, but as with any new alternate fuel technology, it takes time for consumers to embrace it. California has been the testing ground for many alternative fuel vehicles and the 2105 Hyundai Tucson is an emerging SUV with great gas mileage, especially since it uses no gasoline at all. While the 2015 Hyundai Tucson is nearly identical to its gasoline-powered family members aside from its FCV badging, it is the technology that drives the 2015 Tucson Fuel Cell that makes it unique. Under the hood is a 134 horsepower AC motor that offers 221 lb.-ft. of torque. A .95 kWh battery is mounted under the floor and it briefly provides power until the fuel cell generates the needed amount of electricity. It is almost silent and gives you a 265-mile range before you need to find a hydrogen refilling station. Filling the dual hydrogen tanks takes only about 10 minutes, but with the limited amount of refueling stations available, careful planning is needed when setting out on any long trip. If you are lucky enough to live in California, the Hyundai Tucson gives you a jump on future technology and is the ultimate SUV with great gas mileage. The days of large, bulky SUVs that gave you one trip per tank is far behind us. Today, automakers are filling the need for SUVs with more fuel-efficient choices than ever before. While you may not be ready for the futuristic hydrogen fuel cell technology, there are still a wide range of choices in SUVs that give you as many or as few features as you want and can accommodate nearly any budget. Whether you are a family looking for an alternative to a minivan or someone that just enjoys having a versatile, roomy vehicle with a higher stance, an SUV is a great choice. While these are just five SUVs with great gas mileage, we think that they are all worth a test drive if you are planning to add an SUV to your family.
Useful SUV Links
---
Recommended SUV News & Reviews