As the number of SUVs available continues to grow, so does the number of SUV accessories. SUV accessories can range from simple cosmetic upgrades to functional and performance upgrades. With so many accessories available, choosing what works for you all depends on your style and needs. Many accessories are great for larger SUVs but are simply not practical for a smaller SUV or crossover. We have chosen the five most popular categories of SUV accessories to give you an idea of what is available to increase the functionality and performance of your SUV as well as add your own personal touch.
Lights and Lighting Accessories
Some of the most popular SUV accessories for all sizes and types of SUVs are additional lights and lighting accessories. Whether you are an urban traveler or off road warrior, additional lighting can increase visibility and make driving safer for you and other drivers. For those that stick to city and highway driving, adding a set of fog lamps or driving lights adds a custom look while helping you see better in a variety of weather conditions and especially at night. For those that spend time off the beaten path, fog lamps and strategically mounted off road lights can help you see better and avoid hazards in the woods or along dark country or desert roadways. You can also add a custom look and protect expensive lighting components with light covers. Light covers are available in a variety of styles and tints ranging from clear to colored tints and even cutout paintable versions. When choosing any light covers, you want to be sure that they provide you with the protection and look you want but still comply with local laws. Most light covers come with Velcro to allow for easy installation and removal if necessary.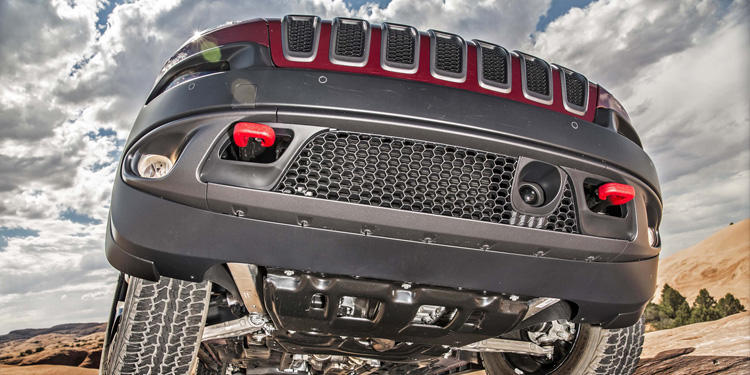 Brush and Grille Guards
While brush and grille guards are seen more often on off road vehicles, they are an SUV accessory that can add a personal touch to any SUV. They are available in a variety of materials, styles, and finishes as well as in unfinished versions that can painted to match or complement your SUV's finish. When choosing a brush guard for your SUV it is important to choose one that can stand up to the conditions you may encounter. If you are a serious off-roader, frame mounted heavy-duty brush guards will protect the entire front end of your SUV from large rocks, trees or any other large obstacles during your off road adventures. If you are an occasional off-roader or city dweller that just wants to add an off road look to your SUV, a standard brush guard with a more decorative chrome or painted finish can offer protection as well as a great look.
Suspension Upgrades
While suspension upgrades are more of a mechanical change that an accessory, they can greatly improve the handling and ride of any size SUV. For compact and mid-size SUVs, upgrading the stock suspension can improve handling and performance as well as improve traction in adverse weather conditions. Since smaller SUVs are typically built on car frames, upgrading the suspension can improve ride quality and help towing ability. For larger SUVs, a suspension upgrade can improve handling and ride quality, improve towing ability and allow for larger tire and wheel upgrades. Depending on the make of your SUV, there is a variety of lift and leveling kits available designed to replace your stock suspension and give you more flexibility on and off road. A leveling kit helps make towing safer and easier by lifting the front end of the vehicle to match the height of the rear. A complete lift kit adds extra ground clearance to accommodate rough off road terrain as well as allow more space for larger off road capable wheels and tires.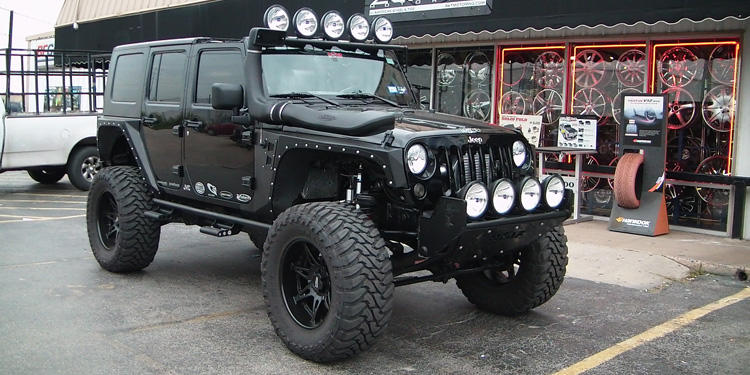 Wheel and Tire Upgrades
Upgrading your wheels and tires can improve the look and handling of smaller SUVs and increase the off road prowess of large SUVs. For smaller SUVs, upgrading to larger tires and higher performance wheels can provide better handling and fuel economy just as it does for any car. With the huge selection of wheels available on the market in a variety of materials, styles and colors, a simple wheel change and tire upgrade can add a custom look and improve your vehicle's drivability. For more off road oriented SUVs, upgrading your wheels and tires not only allows you to take on tougher terrain but also increases safety. If you are a serious off roader, you know that stock rims and tires are typically not designed for rocks, mud, and other obstacles you may encounter. Off road wheels and tires are specifically designed to stand up to the roughest roads without failing to ensure that you are not stuck in the wilderness with a severely damaged wheel or tire. Off road wheels and tires also add a tougher look to your SUV that reflects your love of the great outdoors.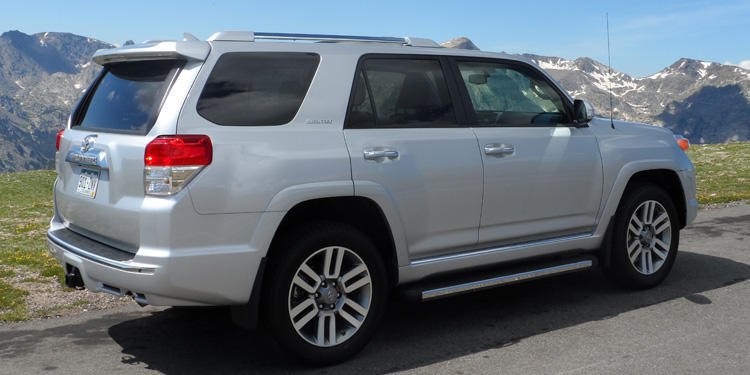 Running Boards and Steps
If you want easier access to your SUV, adding running boards or steps can be an invaluable SUV accessory. While compact SUVs and crossovers are lower to the ground, mid-size and larger SUVs can pose a challenge getting into and out of for those who might not be as able or tall as the average person might be. Running boards are available in a number of styles and materials from basic black square versions to chrome-plated round and oval tubular versions. When choosing running boards you want to be sure that they provide the functionality you want as well as the look you want. You also want to be sure that no matter what type of running boards you choose, they are securely mounted and provide you with ample foot traction in all weather conditions. There is also a variety of side and rear steps available to make access to your SUV easier. For those that travel and make use of their SUVs roof rack, a simple trailer hitch step can give you a safe way to reach the top of your SUV that can be easily removed when not in use. There are also steps available that can be mounted to the frame of your SUV to allow easier access in and out of doors as well as access to anywhere on the roof. Many of these are available in foldaway versions that can be hidden safely away when not in use. While there are probably tens of thousands of SUV accessories on the market, not all of them are meant for every style and type of SUV. By taking into consideration what you want to achieve, choosing the right SUV accessories can be much easier. Whether you simply want to customize the look of your SUV or turn it into a serious off road machine, there are SUV accessories available to fit your needs and style, no matter what your style may be.
Useful SUV Links
---
Recommended SUV News & Reviews