One of the best parts of summer is being able to take time out to spend with family and friends. One great way to do this is pack up your SUV and hit the road to a great destination. Whether you choose to travel with your family, your friends just your significant other, an SUV gives you the extra passenger and cargo room to make the trip more comfortable and more enjoyable for everyone. Following are four great SUV road trip destinations by region that will make your summer more memorable.
East
Galax to Rockfish Gap, Virginia via the Blue Ridge Parkway
[caption id="attachment_3111" align="alignnone" width="1024"]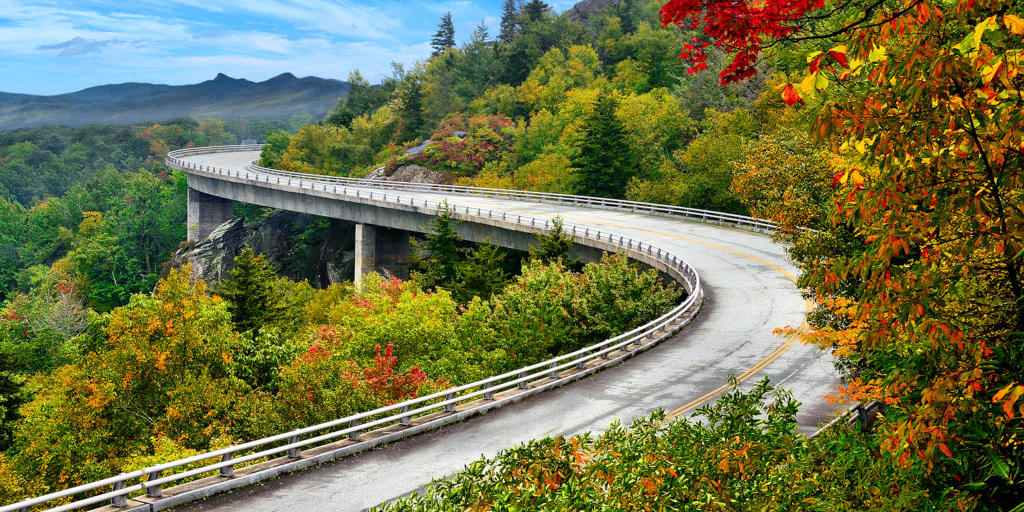 The Blue Ridge Parkway[/caption] This 217-mile journey starts in the small town of Galax, Virginia located in the heart of the Blue Ridge Parkway Mountains. It has plenty of amenities for tourists making it a great place to rest up and take a break before heading slightly south to hit the Blue Ridge Parkway. The route from Galax to Rockfish Gap is marked by official mileposts that make sure you do not miss any of the great stops along the way. The route has nearly something for everyone but all embrace the charm and hospitality of Virginia. Some of the stops along the way include the Blue Ridge Music Center, the Mabry Mill, the Roanoke River Gorge, and Humpback Rocks. The Blue Ridge Music Center offers daily music in an outdoor amphitheater as well as a visitor center and store. The Mabry Mill features a number of old buildings, a gorgeous woodland walking trail, exhibits and a popular café to stop for lunch. The Roanoke Gorge features a short trail that leads to an area that offers some of the best scenic views in the area. Humpback Rocks features a reconstructed 19th century farm with relics from the region as well as a stunning view of the rocky outcrops used as a landmark for wagon trains. Rockfish Gap marks the end of your journey only if you choose as you can continue on to scenic 105-mile Skyline Drive that will take you right into stunning Shenandoah National Park.
Midwest
Kansas City, Missouri to Colby, Kansas via Interstate 70
[caption id="attachment_3112" align="alignnone" width="1024"]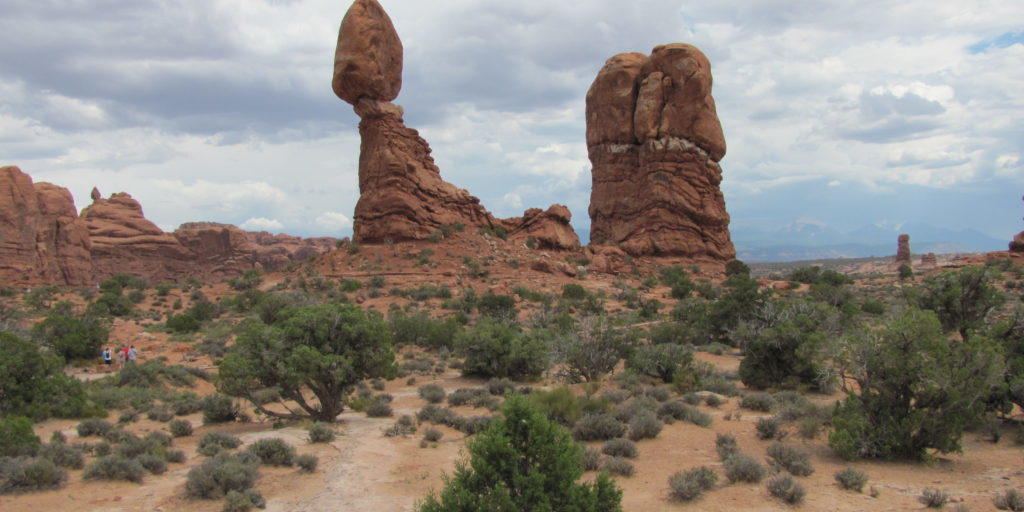 Rock City Park[/caption] This 486-mile trip takes about 10 hours and takes you on a journey from the big city through some of the unique small towns and attractions you will ever see. From the natural beauty of the landscape to the interesting people and creations along the trip, there is something for everyone. To add to the small town, county feel, the route is lined with acres and acres of magnificent sunflower fields. There are also plenty of places to stay along Interstate 70 so you can take your time and enjoy the journey over two or more days. Some of the stops along the way include Rock City Park, the Open Range Zoo, the Garden of Eden, and Monument Rocks. Rock City Park is a naturally made attraction that features over 200 mysterious circular rocks, some over 27 feet in diameter. The Open Range Zoo is a collection of 30 sculptures created from old farm machinery. The Garden of Eden is the home of former Lucas, Kansas resident Samuel Dinsmoor. While Mr. Dinsmoor died more than 100 years ago, his sculptures of surreal people and things remain on display, as well as Mr. Dinsmoor himself in a see-through glass coffin. Monument Rocks has the distinction of being named the first National Natural Landmark in the country. Your journey ends in Colby, Kansas, home of some of the best bluegrass and folk music festivals in the Great Plains.
South
Natchez to Tupelo, Mississippi via the Natchez Trace Parkway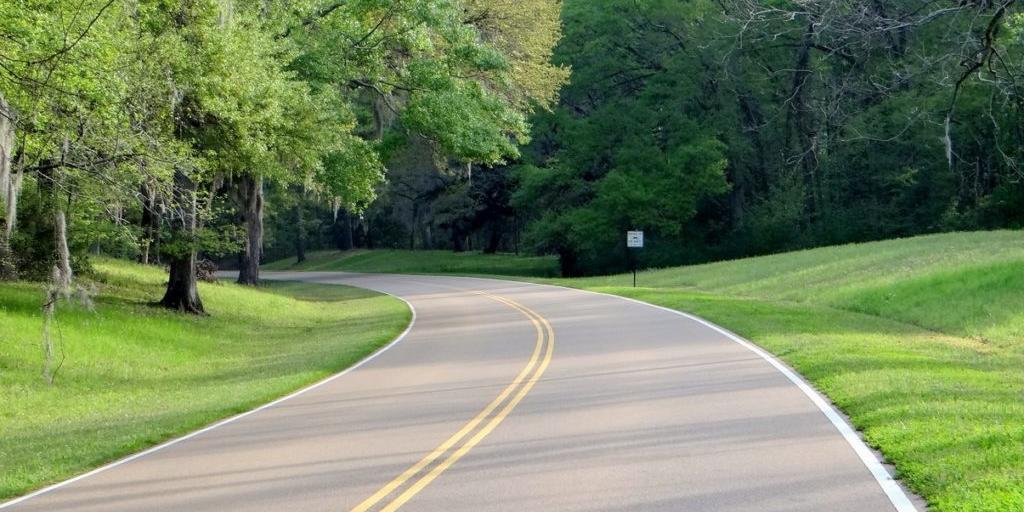 This 328-mile journey takes approximately 10 to 12 hours following an old path once used by the native Natchez, Chickasaw, and Choctaw Indians. French and Spanish settlers who transported goods down the Mississippi by flatboat to return to Tennessee by land also used it later. It also offers access to the Civil War loop in Vicksburg. There is a variety of stops along the Natchez Trace Parkway from historic places to celebrity birthplaces as well as places to stop overnight to give you plenty of time to enjoy your trip and not miss anything. Some of the stops along the Natchez Trace Parkway include Emerald Mound, the Historic Mount Locust Inn, and Plantation, French Camp and the birthplaces of both Oprah Winfrey and Elvis Presley. Emerald Mound is a ceremonial mound built by the Natchez Indians around 1400 and stretches over eight acres and measures 30 feet high in some areas. The Historic Mount Locust Inn and Plantation was built starting in 1780 and served as a stop for boatman traveling north up the Natchez Trail from New Orleans before becoming a working plantation. French Camp is a collection of historic buildings used by General Andrew Jackson as a recruitment camp and features a visitor center, 1846 log cabin and a sorghum mill. It is also the home of the Council House Café, a historic antebellum home and a bed and breakfast. The route also features the town of Kosciusko, birthplace of Oprah Winfrey and Tupelo, the birthplace of Elvis Presley.
West
Pasadena, California to Las Vegas, Nevada
[caption id="attachment_3114" align="alignnone" width="1024"]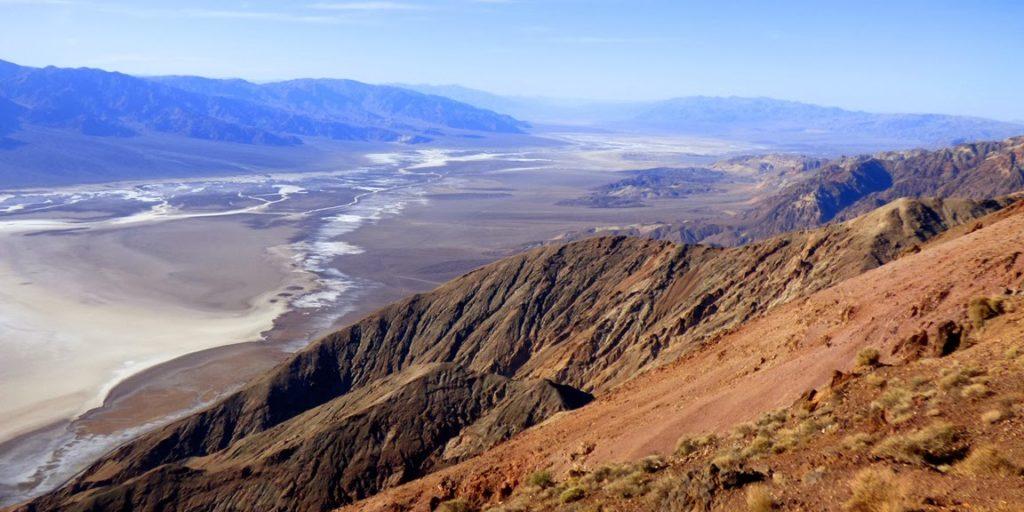 Death Valley[/caption] This 435-mile journey gives you and alternate route from the traditional I-15 and is often referred to as the "other road to Vegas" and will take anywhere from six to eight hours, but can easily be turned into a multiple day adventure. The route takes you along the eastern edge of the Sierra Nevada mountains and takes you through areas used to film old Hollywood westerns, a dry lake bed and though Death Valley National Park before you reach the neon lights of Las Vegas. Along the route is a variety of places to stop from natural wonders to a number of interesting tourist attractions. Some of the stops along the "other road to Vegas" include the Darwin ghost town, Panamint Springs Resort, Death Valley National Park, and the gateway to Las Vegas, the city of Paradise, Nevada. The Darwin ghost town is the remnants of an 1800's mining town that was booming with gold, silver, and lead mines. The Panamint Springs Resort features a motel, RV park, restaurant, and bar that features a bar top created from an enormous redwood burl. It is also a frequent flyby for the local US Navy jet fighters that patrol the nearby canyons. Death Valley National Park features a golf course, airstrip, motel, saloon and mining museum as well as the beautiful five-star Furnace Creek Inn resort. As you continue your journey towards Vegas, you will pass through the city of Paradise, which offers some of the best views of the Las Vegas strip and will drop you right into the Vegas valley. Each one of these trips offers plenty to see and plenty to do for nearly every member of the family as well as making great weekend destinations for a getaway with friends or your significant other. While we have only highlighted some of the major attractions along each route, we are sure you will find many more stops along the way that will make for one of the most enjoyable SUV road trips you have ever set out on.
Useful SUV Links
---
Recommended SUV News & Reviews