Even just a decade and a half ago, shopping for a vehicle on a tight budget usually meant settling for a subcompact or compact car with just enough room for you and a few bags of groceries. The number of budget friendly SUVs available at the time was limited and most consumers on a tight budget never even considered an SUV as something they could purchase. While a subcompact or compact may be okay for a college student or a commuter, a large shopping trip or taking a group of kids or friends out was just not possible. The explosion in popularity of the SUV means that today, a budget friendly SUV is attainable for nearly everyone. The following is our list of our four favorite budget friendly SUVs around $20,000.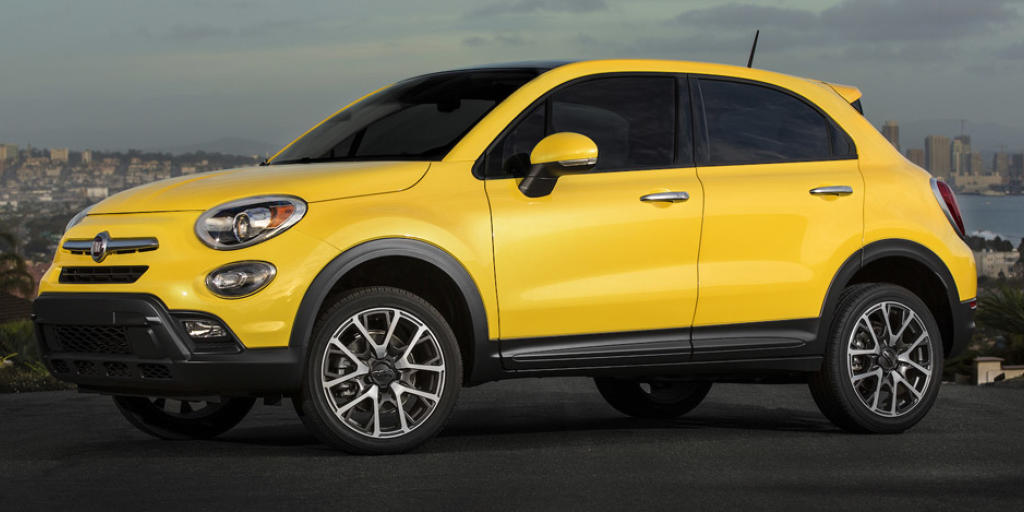 #1 - 2016 Fiat 500X Pop
The 2016 Fiat 500X is an all-new all-wheel-drive crossover SUV born from Fiat's marriage with Chrysler. Based on the current Jeep Renegade, the 500X is the largest Fiat model available in the United States. It is available in five trim levels, the Pop, the Easy, the Trekking, the Lounge, and the Trekking Plus. While all of them fit into the budget friendly category for an SUV, the entry level 500X Pop has a starting MSRP of just $20,000. Labeled by Fiat as "the no-nonsense urban adventurer," the Pop offers unique Italian styling, great fuel economy and a fun go-anywhere style. It is available in five great colors from Bianco Gelato (white) to Arancio (orange) to the basic black called Nero Cinema. Inside you will find flexible seating that offers an ample amount of passenger room as well as the capability to transport large items by simple folding down the rear seats. The 500X Pop also scores in the technology department with standard features that include a Plug and Play media hub and the Uconnect 3.0 infotainment system. Its nimble handling and comfortable ride comes from MacPherson independent front and rear suspension that makes even rough roads a pleasure to travel. Powering the Fiat 500X Pop is a 1.4-liter turbocharged four-cylinder engine paired with a 6 speed automatic transmission that offers 160 horsepower and 184 lb.-ft. of torque. While it may not be a speed record contender, the Pop has quick acceleration and responsive handling that make it easy to maneuver in rush hour traffic and tight parking lots, while still giving you the passenger and cargo room you crave. Fuel economy is also a big plus for the 500X Pop with and estimated mpg of 25 city and 34 highway. With so much for so little, the all-new 2016 Fiat 500X Pop is a great budget friendly SUV.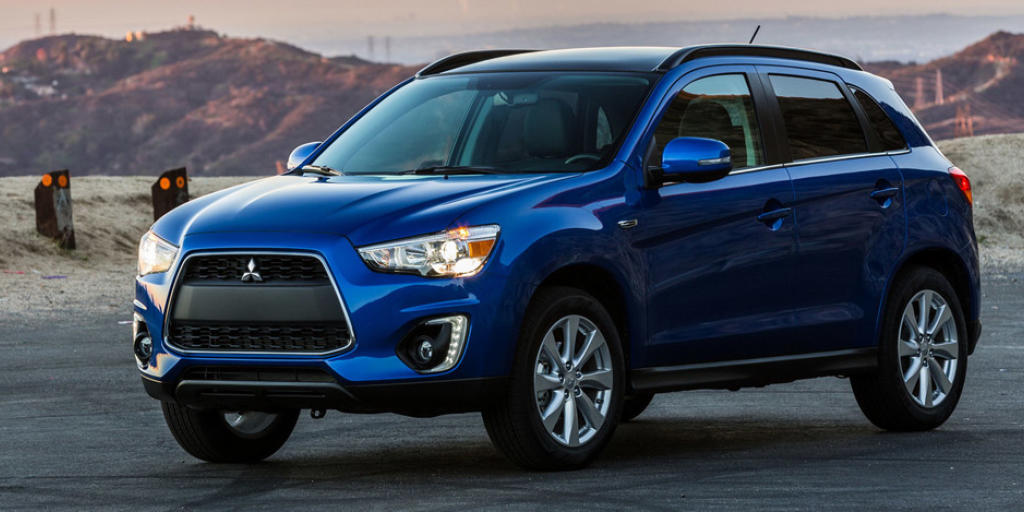 #2 - 2015 Mitsubishi Outlander Sport ES
The 2015 Mitsubishi Outlander Sport is a fun, fuel-friendly and best of all, budget friendly five-passenger crossover SUV. While it may not be the quickest or most spacious crossover SUV on the market, the Outlander Sport does offer an attractive and roomier option to the subcompact or compact sedan or coupe at just about the same price or less. Available in four trim levels, the ES, the 2.4 ES, SE and 2.4 GT, the entry-level ES has a surprisingly low starting MSRP of just $19,595. For 2015, the Outlander Sport line received some cosmetic and functionality updates and remains well equipped for their value price. The Outlander Sport ES comes standard with 18-inch alloy wheels, cloth seating, keyless entry, height-adjustable driver seat, and split-folding rear seats to accommodate larger cargo and increase capacity from 21.7 cubic feet to 49.5 cubic feet. The Outlander Sport ES is also well equipped with technology features including Mitsubishi's Fuse voice-activated electronics interface, Bluetooth and smartphone connectivity, CD player, and USB/iPod and auxiliary connections. Not only is the 2015 Mitsubishi Outlander Sport ES easy to buy, it is easy to own. Powered by a 2.0-liter inline four-cylinder paired with a 5 speed manual transmission or optional CVT, the Outlander Sport ES offers 148 horsepower and 145 lb.-ft. of torque. This equates to exceptional estimated fuel economy of 25 mpg city/32 highway for the CVT version and just a few mpg less with the standard 5-speed manual transmission. It is also available in your choice of front- or all-wheel-drive. The 2015 Mitsubishi Outlander ES is a fun crossover SUV that may not be that fastest vehicle in the race, but it will definitely make it fun getting to the checkered flag.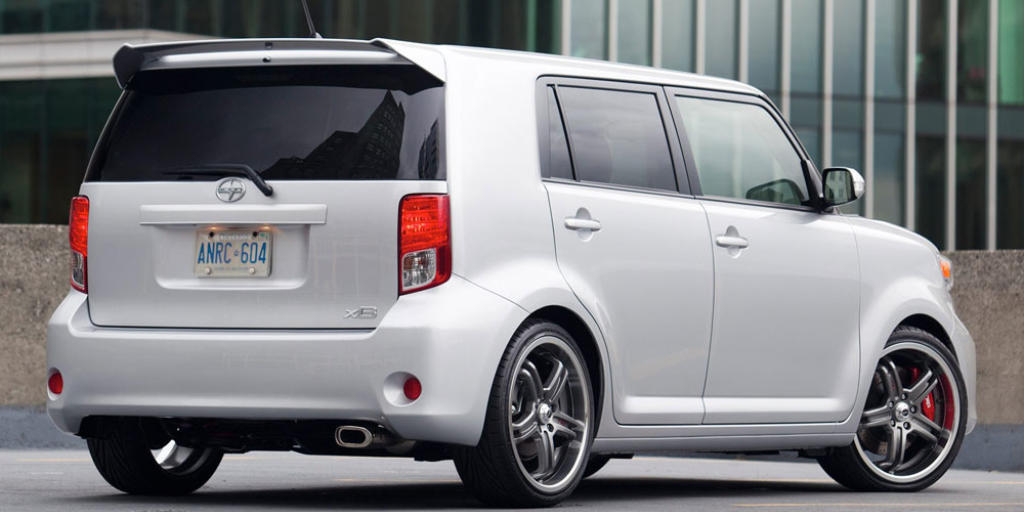 #3 - 2015 Scion xB
Scion has been quietly offering a line of budget friendly cars and compact SUVs since 2002 and the 2015 xB is one of the remaining originals in the lineup. The 2015 Scion xB seats five with convenient four-door access. Scion vehicles are known for their long list of standard features and prices that appeal to any budget conscious consumer. The unique shape of the xB means that although it is nearly 15 inches shorter than the compact Toyota Corolla, the interior space is immense compared to its competition. Another bonus of the Scion xB is its nearly limitless possibilities to customize it to fit your particular style without spending too much more than you would for the standard straight-off-the-dealership-lot version. With a starting MSRP of around $18,000 depending on which transmission you choose, the Scion xB is a roomy, fun budget friendly SUV. The 2015 Scion xB may be available in only one trim level, but its long list of standard features does not leave you feeling cheated. Standard features for the xB include full power accessories, cruise control, Bluetooth and audio connectivity, six-speaker Pioneer audio system, a 6.1-inch multimedia touchscreen, HD radio, iPod/USB and auxiliary audio inputs and new for 2015, a standard rearview camera. The xB also has immense cargo capability with 21 cubic feet available with the rear seats up and 70 cubic feet with the rear seats folded down. While the xB has nearly all the most popular features consumers want and then some, there are a plethora of dealer accessories and upgrade packages available at any Scion dealership that allow you to upgrade the wheels, add exterior accessories like foglamps and spoilers and a variety of technology upgrades including navigation and a BeSpoke audio system. Under the hood of the 2015 Scion xB is a 2.4-liter four-cylinder engine with your choice of a 5-speed manual or 4-speed automatic transmission. This combination gives the xB 158 horsepower and 162 lb.-ft. of torque as well as makes it one of the quicker SUVs in its class with a 0 to 60 mph time of just under 9 seconds. While fuel economy is not its best feature, it still provides you acceptable fuel savings with an estimated EPA of 22 mpg city/28 highway. The 2015 Scion xB is the perfect budget friendly SUV for those looking for value, cargo room and passenger room.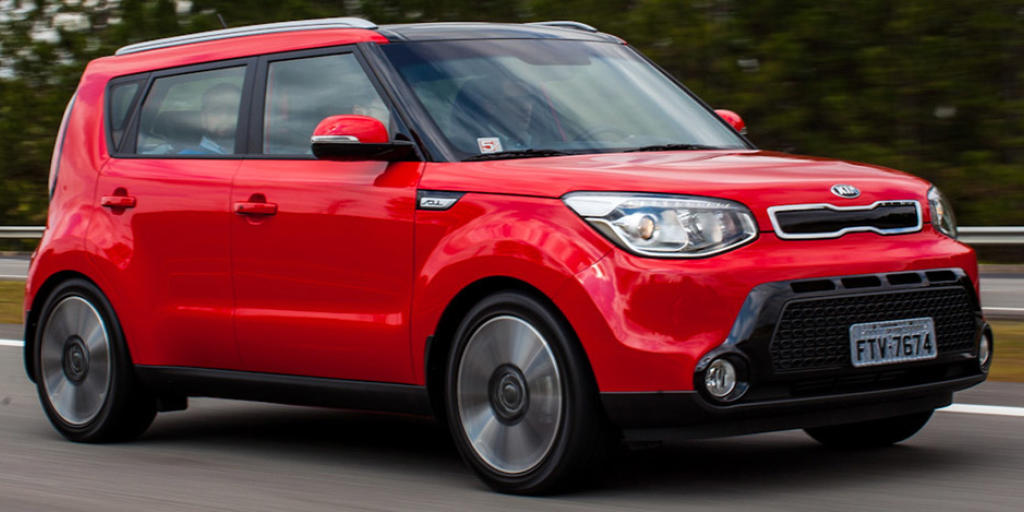 #4 - 2015 Kia Soul
While the outside appearance of the 2015 Kia Soul may not fit the standard perception of what an SUV is, its ample passenger space for five and generous cargo area certainly fit the bill. Like its above-mentioned completion, the Scion xB, the Soul's boxy shape provides a small footprint outside and plenty of cargo and passenger room inside. With a starting MSRP of just $15,190 for the base model, $18,690 for the + and $20,790 for the !, the Soul gives you multiple choices that still fit a smaller budget. No matter which version of the 2015 Kia Soul you choose, this budget friendly will give you plenty of value at an affordable price. The 2015 Kia Soul is available in three versions, the base, + (Plus) and ! (Exclaim). Standard features include full power accessories, air conditioning, cloth seating, 60/40 split-folding rear seat, Bluetooth and audio connectivity, a six-speaker audio system, iPod/USB/aux audio interfaces and 19 cubic feet of cargo room with the rear seats up and 61 cubic feet with the seats folded down. The + trim adds keyless entry, cruise control, upgraded cloth seating, a 12-volt power outlet, a cargo cover and front seat armrest with storage. Choosing the top of the line ! trim gives you 18-inch wheels, body-colored fascias and bumpers, power folding side mirrors, power driver seat, and simulated leather interior trim with chrome accents. In addition to the standard features, there are a number of additional packages available. The Eco package adds automatic start-stop and low-rolling resistance tires, the Sun and Sound package that adds a panoramic sunroof, 8-inch touchscreen display, navigation, HD radio and an Infinity audio system and the Uvo eServices package with automatic headlamps, rearview camera, speed alert and streaming Internet radio capability. The 2015 Kia Soul also offers two engine options depending on the version you choose, both offering great fuel-efficiency. The base comes standard with a 1.6-liter four-cylinder engine paired with a 6 speed manual or optional 6 speed automatic give you 130 horsepower and 118 lb.-ft. of torque with an estimated fuel economy of 24 mpg city/30 highway. The + and ! trims comes standard with a 2.0-liter four-cylinder paired with a 6 speed automatic transmission that puts out 164 horsepower and 151 lb.-ft. of torque for an estimated fuel economy of 23 mpg city/31 highway. Performance is right in line with its class with a 0 to 60 time for the Soul ! of around 8.7 seconds. The 2015 Kia Soul gives you a variety of choices, all with a valuable price making it a smart choice for a budget friendly SUV. With more people wanting SUVs, automakers have worked hard to develop choices for nearly any budget. A budget friendly SUV not only gives you more cargo room and passenger room than a comparably priced coupe or sedan, they are designed to offer you more fun for your money. Whether you want to take friends or family out for a night on the town or haul the kids and all their gear to soccer practice, these budget friendly SUVs can handle it with style. We hope that our choices in budget friendly SUVs help you find just the one to fit your budget and style.
Useful SUV Links
---
Recommended SUV News & Reviews