Just because you live in and commute in the city does not mean that you have to sacrifice the extra passenger room and cargo room that an SUV offers. With automakers making sure that they have a size and style of SUV for nearly everyone from the daily commuter to huge families with campers and boats, the number of city-friendly SUVs available is on the rise. While the large full-size SUVs are built on truck frames, the subcompact to mid-size SUVs are typically built on a car frame, giving them the same ride and handling as a car with a smaller footprint than a full-size SUV. If you are looking for a vehicle that gives you extra passenger and cargo room, great fuel-efficiency and all the handling you need to tackle cramped parking lots, here are our top three choices in city friendly SUVs. Here is our list of what we think are some of the most city friendly SUVs available at your local dealership right now.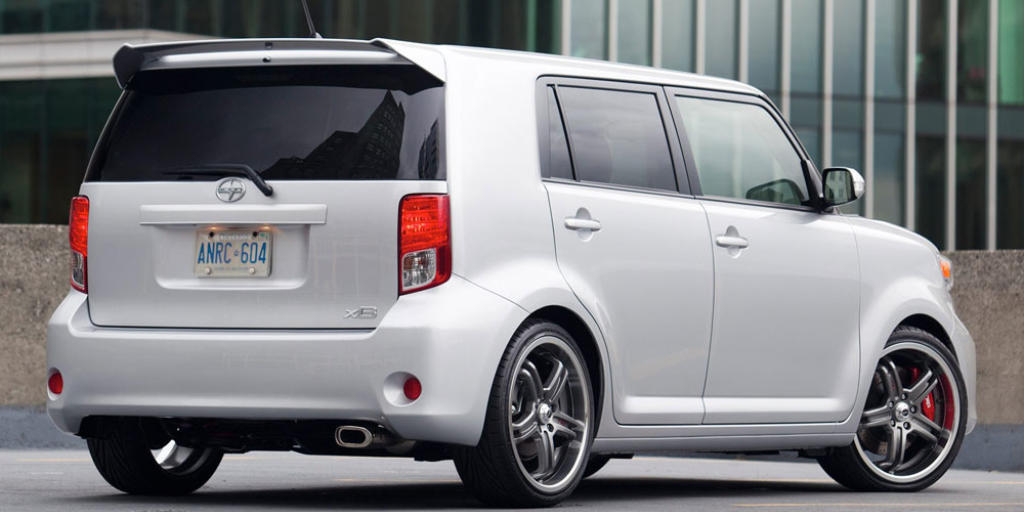 #1 2015 Scion xB
The 2015 Scion xB might not be the flashiest compact SUV on the market, its practicality, affordability, and small footprint make it a great choice for the city dweller. At more than a foot shorter than the Toyota Corolla, it is easy to handle and easy to park, especially with its newly standard rearview camera, but do not let its stature fool you. Inside there is room for four average size adults plus 21 cubic feet of cargo space. Fold the rear seats down and you open up an immense 70 cubic feet of cargo space, which is just slightly more than you get in a Ford Escape. Under the hood of the 2015 Scion xB is a 158 horsepower 2.4-liter four-cylinder engine paired with your choice of a standard 5 Speed transmission or an optional 4 Speed automatic transmission. With a 0 to 60 mph time of 8.6 seconds and a combined EPA-estimated fuel economy of 24 mpg, the xB gives you ample acceleration and fewer trips to fuel up. While the 2015 xB is only available in one trim level, Scion does offer a huge selection of accessories available through the dealership that include everything from larger wheels and tires to a variety of performance and technology upgrades.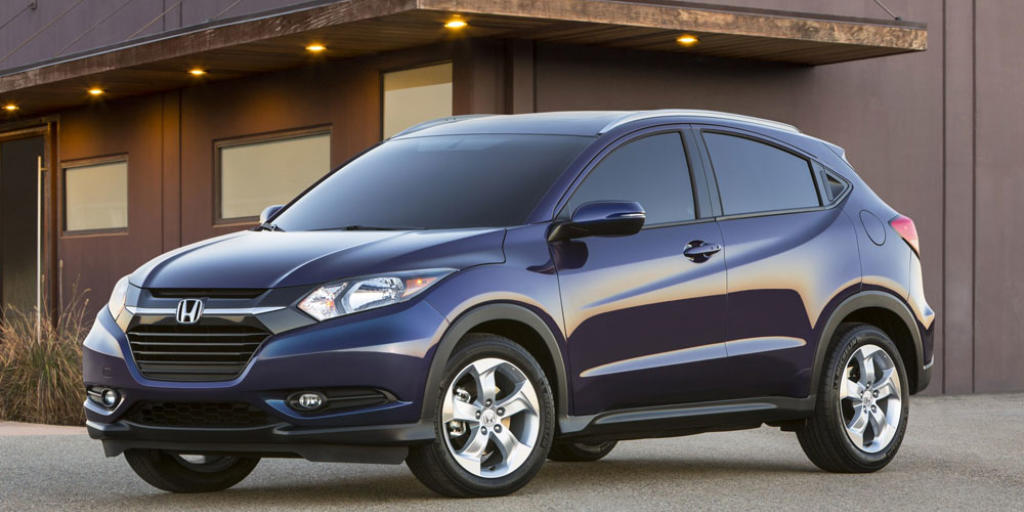 #2 2016 Honda HR-V
The 2016 HR-V is an all-new, very city-friendly SUV joining the Honda lineup. While it may look like a smaller version of the CR-V, the HR-V is a model all its own based on a stretched Honda Fit frame. While the HR-V and the fit share a similar frame that is where the similarities end. This small but mighty compact SUV has room for five passengers and still have 24 cubic feet of cargo space. Fold the seats down and it opens up nearly 60 cubic feet of cargo space, comparable to that of a midsize SUV. The HR-V also has unique seating that allows the bottom and top of the seats to fold up or down, giving you room for tall items in the back seat. Powering the 2016 Honda HR-V is the same engine found in the fuel-friendly Civic. This versatile 138 horsepower 1.8-liter four-cylinder can be paired with a CVT or 6 Speed manual transmission and has plenty of power for zipping around town or to the office. The HR-V is also available in a number of trims that range from the base LX, the mid-level EX and the top of the line EX-L with leather and navigation. The HR-V is also available in standard front or optional all-wheel-drive that provides extra traction when the front wheels slip. Fuel economy is also a bonus with the 2016 HR-V with a range between 28 and 31 EPA-estimated combined mpg depending on the engine, transmission, and transaxle combination.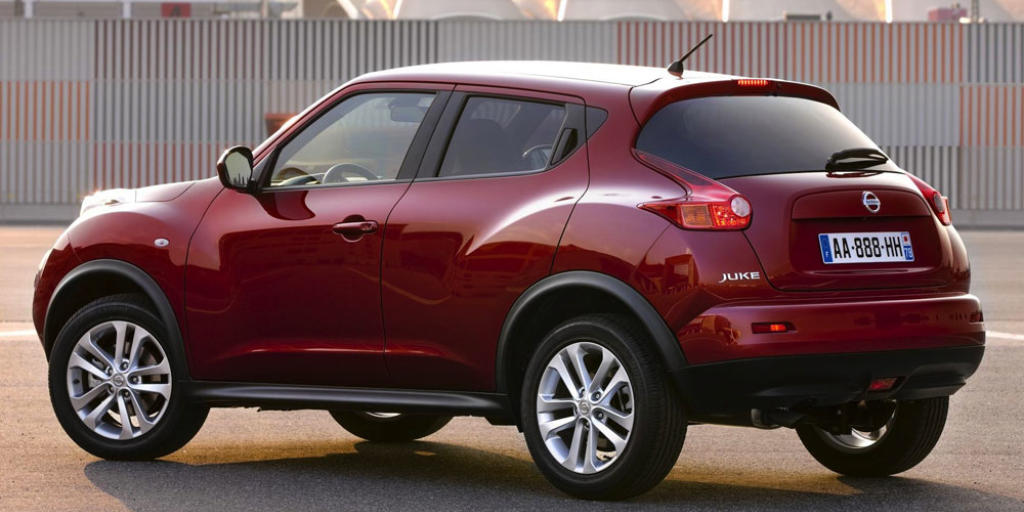 #3 2015 Nissan Juke
The 2015 Nissan Juke is probably the most unique city-friendly SUV on our short list. Its youthful style may not appeal to everyone, but for those that want a fun, city-friendly SUV, the 2015 Nissan Juke is certainly worth a closer look. Not only does its size make it perfect for any urban commute, its turbocharged engine and sport-tuned suspension make any drive that much more fun. For those that want an even more accelerating experience, the Juke is also available in high-performance NISMO RS version. While the Juke may not have the immense cargo room that others in its class have, the cabin is comfortable and Nissan has added a variety of strategically placed storage compartments. While there is only 10 cubic feet of cargo space available with a full house, fold the seats down and you gain a more adequate 36 cubic feet of open space. The 2015 Nissan Juke is available in five trim levels, the S, SV, SL, NISMO, and NISMO RS. The S, SV, SL, and NISMO are all powered by a sporty turbocharged 1.6-liter four-cylinder engine paired with a CVT or 6 Speed manual transmission based on your trim choice. The standard turbo 1.6-liter four-cylinder offers you 188 horsepower and an EPA-estimated combine mpg range of 28 to 30. The NISMO RS is powered by an upgraded version of the same turbocharged 1.6-liter four-cylinder engine with 215 horsepower and fuel economy at an EPA-estimated 27 mpg combined. All Juke models come standard with front-wheel-drive but offer the option of more sure-footed all-wheel-drive. The days of city dwellers having to settle for a cramped subcompact or compact car are over. Today, the number of city friendly SUVs available continues to grow and the selection is more varied than ever before. Whether you are looking for a simple, fuel-friendly SUV for your city commute and shopping trips or a sporty, fun to drive city friendly SUV that makes any commute more enjoyable, there is one out there for you. We hope that our choices of the top city friendly SUVs will help you find one that fits your urban lifestyle and help you join the growing community of happy SUV owners.
Useful SUV Links
---
Recommended SUV News & Reviews