The SUV has become one of the most popular choices of vehicles for a wide variety of consumers. An SUV appeals to everyone from the person who simply wants a larger vehicle with more cargo and passenger room to outdoor and off-road enthusiasts looking for something to haul everything they need for a trip down the road less traveled. There has also been a surge in aftermarket products available for SUVs to take them from off road ready to serious off-road warriors. While the smaller subcompact crossovers and CUVs are more suited to urban and suburban settings, the larger, more powerful SUVs can provide outdoor and off road enthusiasts with just the vehicle they need to carry passengers and cargo and still have power to tow a boat, camper, or trailer. The following are our top three choices of off road SUVs that are ready for any adventure.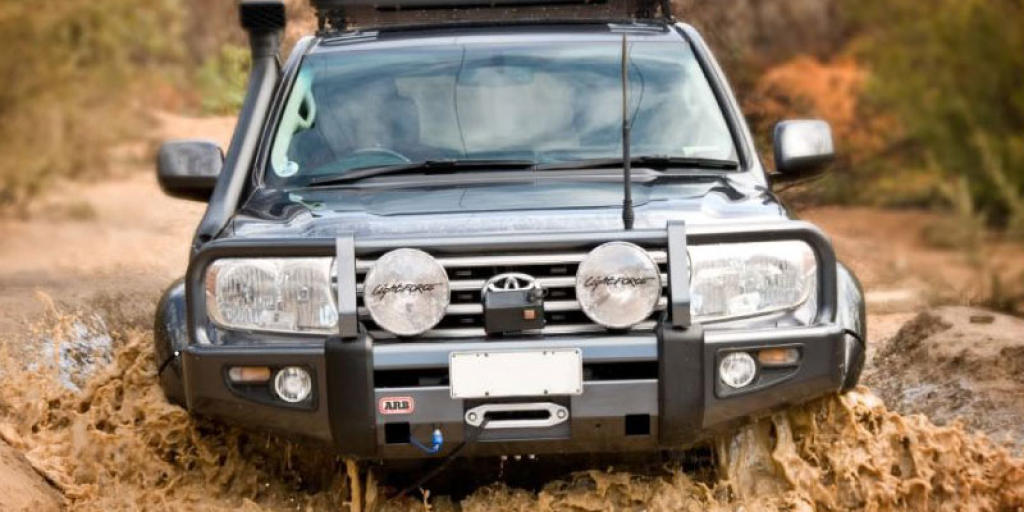 #1 2015 Toyota Land Cruiser
The Toyota Land Cruiser has been in production since 1951 with no signs of stopping. To prove its case, it has been one of the most popular vehicles in Australia since they first made their way there in the late 1950s. Toyota has used the rugged Australian Outback as a proving ground to test the abilities of the Land Cruiser to handle the intense heat and rugged terrain you will find nowhere else in the world. While the Land Cruiser has come a long way from its very utilitarian beginnings, it has maintained the off road capabilities it was born with. One of the best characteristics of the Land Cruiser is that it seems just as at home on level pavement as it does tackling the mud, rocks and inclines that come with off road driving. While the Land Cruiser is made for off road terrain, its luxury appointments give the driver and passengers the best of both worlds. It is only available in one trim level, but with standard features like perforated leather seating, heated first and second-row seats, an off road camera system, navigation system and rear-seat DVD entertainment package, it makes any road a pleasure. What makes the Land Cruiser a top off road SUV is its power and performance components. Under the hood is a 5.7-liter V8 engine that offers 381 horsepower and 401 lb.-ft. of torque, giving you plenty of power to carry eight people and tow 8,200 lbs. of boat, trailer, or camper. Its Kinetic Dynamic Suspension System is electronically-controlled by the Multi-Terrain select to adjust the suspension based on your choice of road surface, from highway pavement to rugged off road conditions including mud, dirt and large rocks. It is also equipped with the latest safety features and technology to ensure that your off road adventure is as safe as it is fun. While the 2015 Toyota Land Cruiser may be out of the average budget, for those wanting the ultimate off-road machine right out of the showroom, the Land Cruiser is the off road SUV you want.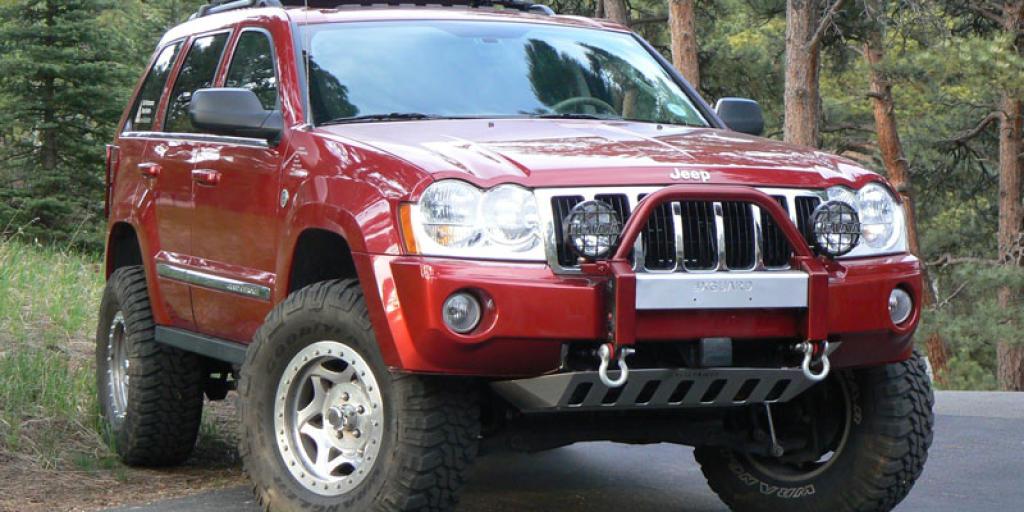 #2 2015 Jeep Grand Cherokee
Jeep's history of building tough, off road vehicles dates back to World War II and not much has changed today. The 2015 Jeep Grand Cherokee is a midsize SUV that remains of the few vehicles that is as comfortable on city streets and highways as it is tackling dirt, mud, and rocks off road. The Jeep Cherokee also comes in a variety of trims and engine choices that give consumers the ability to choose how fuel-efficient, how powerful, and how well equipped their dual-purpose Cherokee will be. The Grand Cherokee is also available in a powerful, performance SRT version. The 2015 Grand Cherokee seats five and comes in six trim levels - the Laredo, Altitude, Limited, Overland, Summit, and the high-performance SRT. Each trim is available in rear- or four-wheel-drive except the SRT, which is only offered in 4WD. All trims are well appointed with the latest in comfort and technology features and Jeep offers a couple of option packages that add to the Grand Cherokee's off road prowess. There is a choice of two Off-Road Adventure packages that add skid plates, a two-speed transfer case, a Selec-Terrain system, hill descent control, on/off road tires, air suspension, and a locking rear differential. These two packages are available for all trim levels. Jeep also gives you a wide range of power choices for the Grand Cherokee from the standard 3.6-liter V6 with 290 horsepower and 260 lb.-ft. of torque in the Laredo to the 6.4-liter 475 horsepower V8 with 470 lb.-ft. of torque under the hood of the SRT. The Limited, Overland and Summit trims offer two additional engine choices. Consumers looking for fuel economy can choose the 240 horsepower 3.0-liter diesel V6 with 420 lb.-ft. of torque or those wanting more power can choose the 360 horsepower 5.7-liter V8 with 390 lb.-ft. of torque. All engines are paired with an 8 speed automatic transmission. The Jeep Grand Cherokee is also very capable when it comes to hauling with a towing capacity ranging from 7,200 lbs. to 7,400 lbs. depending on your engine choice.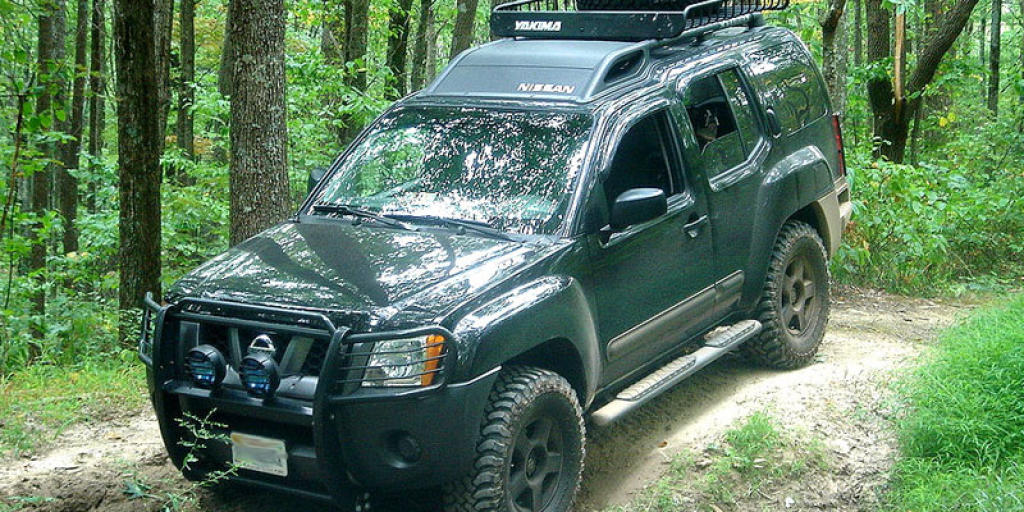 #3 2015 Nissan Xterra
While many modern crossovers and SUVs are built on car frames, the 2015 Nissan Xterra is one of the few left still built on the traditional truck frame. While this does not give it the same car-like ride and handling of other SUVs, it does provide the high ground clearance, tougher suspension and low-range gearing that makes it a serious off-road contender. While the Xterra leans farther to the off-road side, it does offer a more civilized approach to off-roading than those vehicles built with only off-roading in mind. The Xterra seats five and is available in an entry-level X trim, midrange S trim, and an extra off-road capable Pro-4X version. The 2015 Nissan Xterra is available in three trim levels, each one capable of providing a pleasurable on or off road experience. The base X trim is a great choice for someone who wants a versatile SUV. It comes with a long list of standard features but nothing too over the top. The mid-level S trim adds additional off-road friendly features including a first aid kit, an "Easy Clean" washable cargo area, a roof-mounted gear basket, and front tow hook. The Pro 4-X is ready to drive from the showroom to the trail. It comes standard with an electronic locking rear differential, hill-start assist and hill-descent control, off-road tires, Bilstein shocks, skid plates and roof mounted off-road lighting. You can also add on a 10 ft. by 10 ft. hatch-connected tent, just in case. Power all 2015 Nissan Xterra trims is a 261 horsepower 4.0-liter V6 with 281 lb.-ft. of torque. The X and S trims are available in rear- and four-wheel drive while the off-road ready Pro-4X is only offer in 4WD. The Nissan four-wheel-drive system has a low-gearing range that makes the Xterra's off-road capability that much better. Based on the trim you choose you also have a choice of a 6 speed manual transmission or a 5 speed automatic transmission. If you want to go right from the dealership to your favorite off-road trail, the 2015 Nissan Xterra is the off-road SUV for you. Off-roading is not just for the Jeep Wrangler and off-road pickups, there are still plenty of qualified off-road SUVs that offer the versatility to handle multiple passengers and plenty of cargo. Just because you need extra seating and more room for groceries does not mean you have to be confined to the paved road. Off road SUVs are a great way to combine your daily life with your choice of weekend adventures from heading down the dirt road to your campsite or hitting the more rugged terrain where you made your own road. Choosing the right off-road SUV may take a bit of time, but we hope that these three choices will help you start on your journey to finding the perfect all-purpose SUV.
Useful SUV Links
---
Recommended SUV News & Reviews