If there is one thing that is certain about the future of the SUV is that there will be even more styles, sizes and engine options than ever before. The push toward alternative fuel vehicles and fuel economy numbers higher than consumers have ever seen before means that even the larger SUVs will be offered in hybrid or EV versions. While the new fuel economy standards are getting closer to a reality with each new model year, many current production SUVs already exceed the proposed mileage standards set to launch in 2017. Automakers develop concept cars and concept SUVs for a number of reasons, most of which are testing the waters to see what may or may not be their next must have addition to the lineup. It also offers them an opportunity to see what technology and features consumers give thumbs up or thumbs down. The following is our favorite concept SUVs with the greatest potential to hit the showroom.
Infiniti QX30
With the luxury SUV market continually expanding, nearly every high-end automaker has at least one new production model and one concept SUV waiting in the wings. While the Infiniti QX30 is closer to production than many concept SUVs debuted this year, the final product will most likely be quite a bit different from the futuristic version on display at auto shows around the world. The Infiniti QX30 is a compact crossover SUV that is following the growing trend of making an SUV that has the heart of an SUV and the outward appearance of a sport coupe. Rumored to go into production in 2016, the Infiniti QX30 will retain gasoline power even though the push is towards hybrid and alternative fuel vehicles. While it will not be as green-friendly as other concept SUVs on display, it will still offer exceptional fuel economy without sacrificing power or performance. It will most likely be powered by a 2.0-liter turbocharged four-cylinder engine paired with a 7-speed automatic currently found in Infiniti crossover SUV models. The concept QX30 is filled with the latest in technology and the most luxurious of appointments, some of which may hit the chopping block before production to allow it to be priced competitively. Some features, such as the digital instrument cluster and door-mounted surround sound speakers, are more realistic and provide a glimpse into what all future models may be equipped with.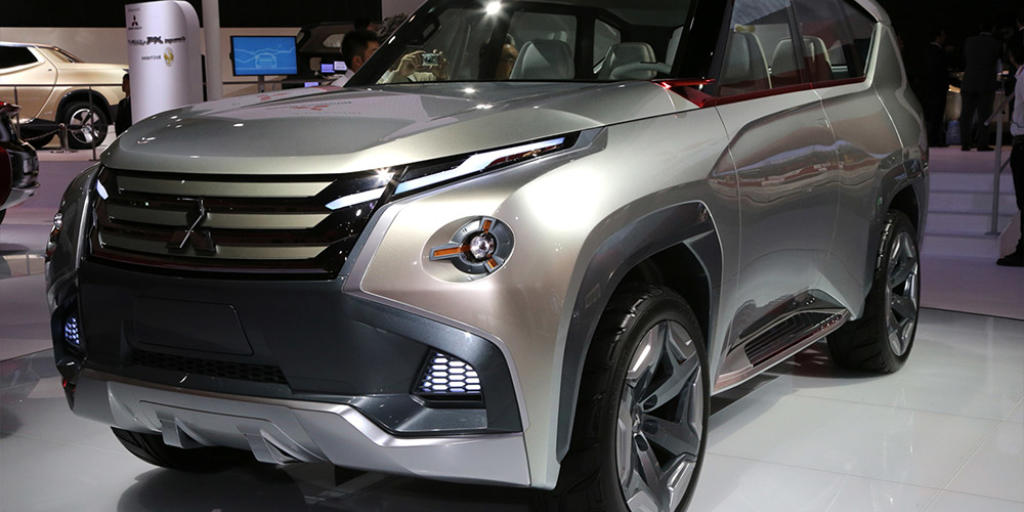 Mitsubishi GC-PHEV
The Mitsubishi GC-PHEV concept SUV represents Mitsubishi's re-entry into the large SUV market. It has been nearly 10 years since their last large SUV, the Montero, was discontinued. The difference with this large SUV is that it will no longer be a gas-guzzler but a green-friendly plug-in hybrid. The GC-PHEV is nearly the same size as a Chevrolet Tahoe or Ford Expedition and just as spacious, but the bonus of hybrid power makes it a sensible choice over the not-so-fuel efficient competition. Destined to be under the hood of the Mitsubishi GC-PHEV is a 3.0-liter V6 engine and 70 kW electric motor paired with an 8-speed automatic transmission that offers and impressive estimated 355 horsepower. Extra electricity will be held in a 12 kWh lithium-ion battery pack mounted under the cargo area to conserve space. Like many future EVs, the Mitsubishi GC-PHEV concept SUV will have many benefits that its gasoline-powered competitors cannot provide. In addition to great fuel economy, the GC-PHEV will have the capability of serving as a 1,500-watt generator for your home if needed. It will also feature Mitsubishi's Super All Wheel Control system that delivers power to each individual wheel as needed. While there are no production rumors for the GC-PHEV in the United States, Mitsubishi does plan to provide consumers with a plug-in hybrid version of its Outlander in the interim. For those that want the size of a full-size SUV, but do not want the gas guzzling that goes with it, the Mitsubishi GC-PHEV concept SUV should be on the top of your wish list.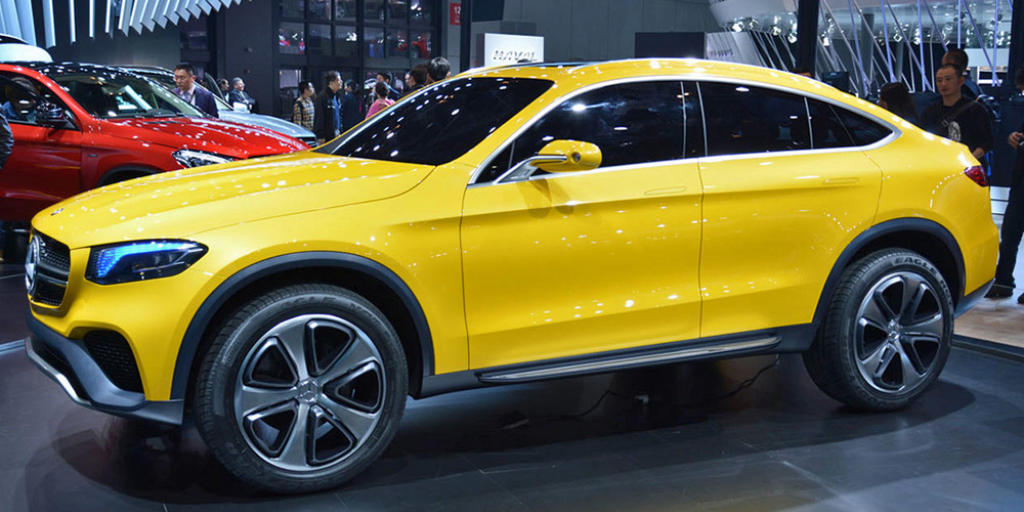 Mercedes-Benz Concept GLC Coupe
While Mercedes-Benz calls the concept GLC a coupe, it is certainly not a two door car but it is every bit as sleek and stylish as any Mercedes coupe or sedan. The GLC coupe is a small crossover concept SUV that is designed to be tough competition for this growing segment. Already putting itself ahead of its nearest competitor, the BMW X4, the GLC coupe wins with its dimensions. It is nearly two inches longer than the X4 and almost 5 inches wider. While this may not sound like a lot, any extra inches of passenger or cargo room can quickly move the GLC coupe to the top of any shopping list. It also has a muscular look and demanding stance enhanced by 21-inch tires that is designed to appeal to younger buyers looking for the spaciousness of an SUV and the performance of a Mercedes-Benz. Powering the Mercedes-Benz GLC Coupe concept SUV is a 367 horsepower V6 engine paired with a nine-speed automatic transmission that offers 384 lb.-ft. of torque. Add in the Mercedes-Benz 4Matic all-wheel-drive system and you have a nimble, powerful, fun to drive concept SUV. Like most Mercedes-Benz models, it will also gain an AMG distinction with a tuned version of the same V6 engine and the additional handling and cosmetic upgrades that go with it. As the latest GLC Coupe concept SUV appears nearly road ready, there is a good chance that this latest addition to the Mercedes-Benz crossover SUV lineup will be available in the very near future. While many concept SUVs go no further then something cool to see at an auto show, many are used to debut the latest model destined for production. While most concept SUVs are over the top in the looks and flamboyancy departments, much of the technology they are used to debut ends up in future production models. They also introduce consumers to the possibilities for alternative fuel options that have never been offered before, especially in any size SUV. With a variety of engine options from traditional gasoline to high-performance hybrid, the lineup of current concept SUVs offers a choice for nearly every consumer. The next time you get to see a concept SUV whether online or in person, take a good look at, you might just be gazing into the future of what you will be driving very soon.
Useful SUV Links
---
Recommended SUV News & Reviews