The luxury crossover class is full of vehicles that offer plenty of passenger room, elevated views, and superior storage space compared to their hatchback and sedan counterparts.
The word luxury only elevates expectations from these cars. Crossovers are supposed to be smooth and efficient yet powerful, capable yet quiet. Even when measured against all of these seemingly contradictory standards, the 2018 Mercedes-Benz GLC Crossover manages to tick every box and rise to the top. The crossover also won a most coveted safety award.
Safest Luxury SUV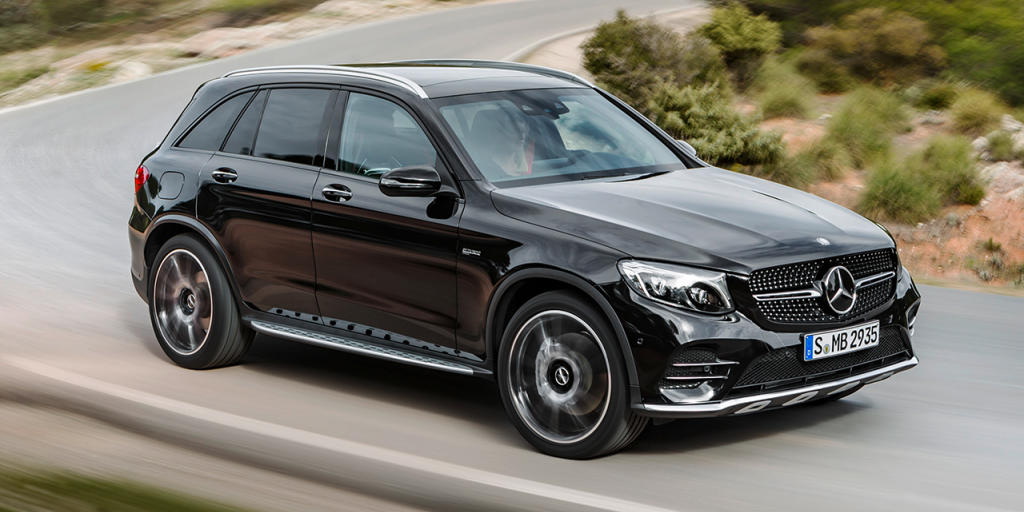 When you raise C-class sedan and add some interior room, you get the Mercedes-Benz GLC class, a competent luxury crossover from Mercedes that features the award-winning interior of its sedan sibling. There are quite a few standard safety and tech features in this SUV including cross traffic assist and collision protection, keyless start, and adaptive air suspension.
The GLC comes with a 2 Liter 241 horsepower, turbocharged inline four-cylinder engine paired with a 9-speed paddle shiftable automatic transmission and rear wheel drive. It's also available with 4MATIC, Mercedes Benz's torque vectoring all wheel drive system. The seats are supremely comfortable, the interior is whisper quiet. It's everything you would expect from a Mercedes Benz: solid, luxurious, and capable.
The GLC crossover also became the latest vehicle to get the highest award from the IIHS (Insurance Institute for Highway Safety), the Top Safety Pick+. This is the first ever time a Mercedes received the highest ratings possible in every single crash test including the notoriously difficult small front overlap crash test.
IIHS Award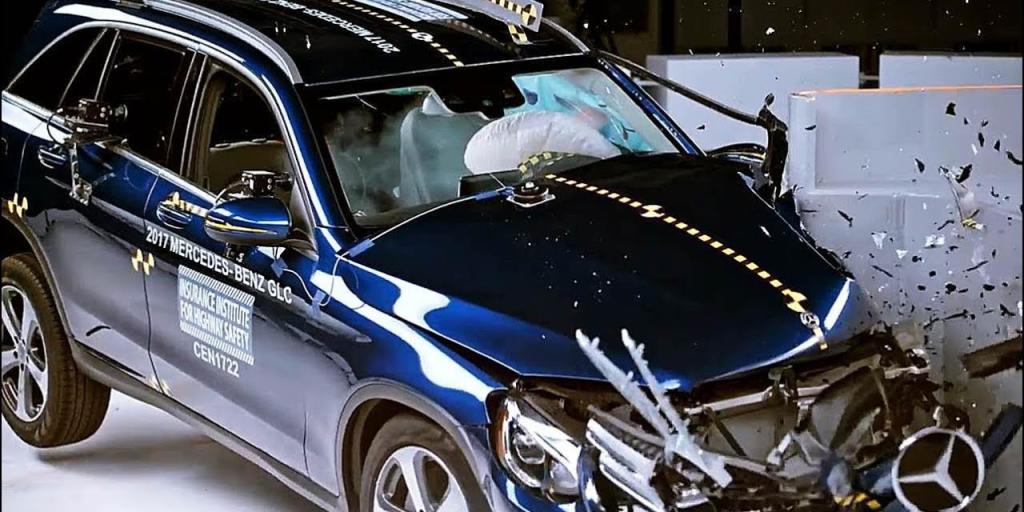 In order to earn this award, the SUV also needs to receive very high marks when it comes to the headlight testing and automatic emergency braking. The IIHS ranked the GLC as superior, the highest rating they have for collision avoidance systems both on their standard model, as well as the higher trim's PRE SAFE+ with pedestrian recognition and blind spot monitoring.
Both of the systems managed to bring the car to a stop pretty well and avoided a crash at speeds of 25 mph and 12 mph. The base model, however, did lose a point because it didn't have sufficient driver warning systems in place. Still, we commend Mercedes-Benz for including these life-saving technologies standard.
Among the headlight options available on the crossover, both optional sets are good enough to get the Top Safety Pick+ rating. The top two types of headlights are adaptive LED variants. The basic halogen headlights got the second-best rating of acceptable, which is actually quite impressive because most headlights are rated "poor" by the IIHS. The high-end headlights both earned a good rating, the highest, making them among the few that do. So, if you're looking for the best safety equipment on your GLC, spend the extra money on the LED lights.
The standard powertrain of the GLC may not make it an eminently powerful SUV when compared to other luxury crossovers but there are several impressive engines available at a premium. When it comes to the standard four-pot edition, the SUV is decently quick. It can go from 0-60 mph in 5.9 seconds. But, when you're driving it on a regular basis, you will never feel like the car is too eager to move ahead.
Part of this blame goes to the 9-speed auto transmission. It is programmed to have the SUV begin in second gear while it is in the default mode, Comfort. Sport and Sport+ drive settings can override this mode. You can also override it using the steering mounted paddle shifters, which completely eliminate this issue by allowing you to hold revs high. However, the alternative modes will need to be selected every single time you start the SUV.
Features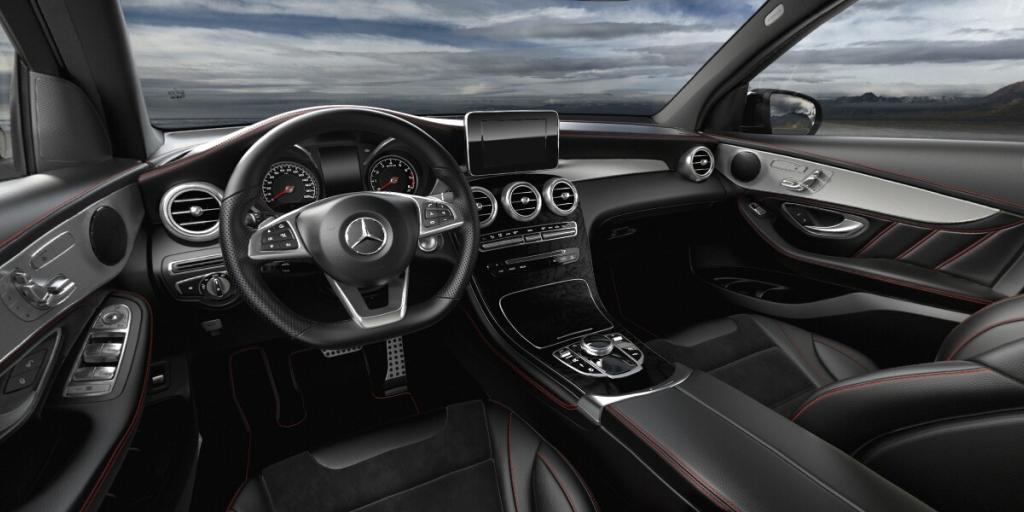 There are many additional premium features which you can get with the GLC like a proximity key, navigation, satellite radio, a perfume atomizer, blind-spot monitoring, illuminated door sills, and swiveling LED headlights.
The GLC certainly has one of the most lavish cabins of all luxury SUVs. It shares a lot of its design with the C-class and makes use of top-notch materials. Apart from this, it possesses a comfortable and accommodating rear bench that offers more than enough leg and headroom.
Each and every trait, from the leatherette-trimmed dash to the metal speaker covers, to the open-pore wood trim seem like someone obsessed over just about every minute. The result is an interior that feels much more expensive than some other crossovers that cost a lot more. Few can surpass the German automaker's quality.
Raising the Bar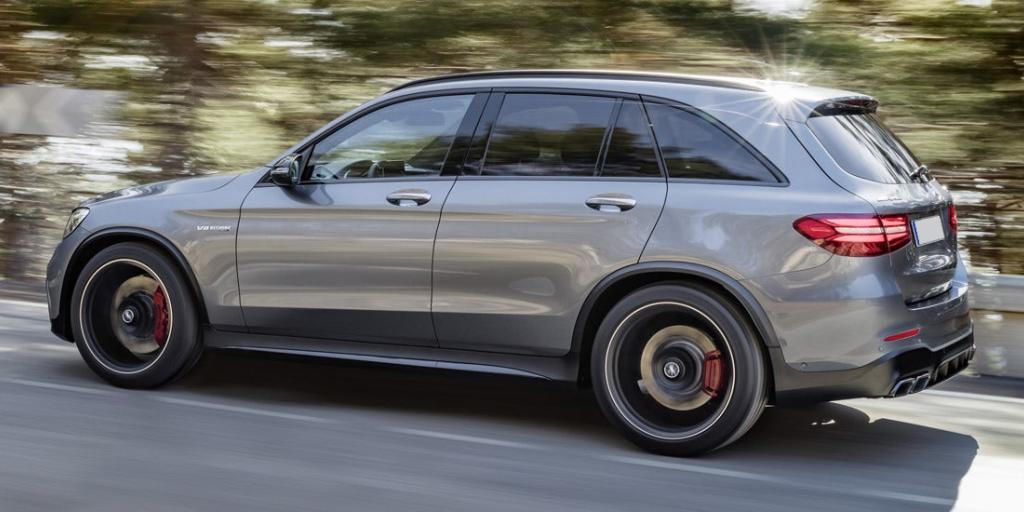 The attention to detail is even more evident when you move from the regular GLC to one of the high-performance models, either the AMG GLC 43 or GLC 63. Not only will you get a biturbo, handbuilt V6 or V8 engine that delivers absurd acceleration figures, you also get AMG sport-tuned air suspension, an AMG tuned transmission, AMG tuned 4MATIC all-wheel drive, an AMG sport exhaust, summer tires, exclusive bodywork, and bigger brakes.
All of the AMG models come with unique additional features like a flat-bottomed steering wheel with special aluminum paddles and exclusive contrast stitching that complement the intoxicating power these models deliver. The majority of buyers are going to be more than happy with the cheaper GLC 300. It delivers plenty of performance for daily driving and can be outfitted with tons of options. Besides the GLC 300 and AMG models, there's also a GLC 350e plug-in hybrid for the environmentally conscious. All can accommodate five passengers comfortably or plenty of cargo with the seats folded.
For performance enthusiasts, most will be satisfied by the AMG GLC 43. Those of you looking for something really special; the AMG GLC 63 comes with a turbocharged V8 that makes 469 horsepower. Just remember that the hybrid and V8 versions may require some wait time. But hey, they're probably worth it.
Useful SUV Links
---
Recommended SUV News & Reviews